Chill out with this easy, breezy delicious tropical smoothie!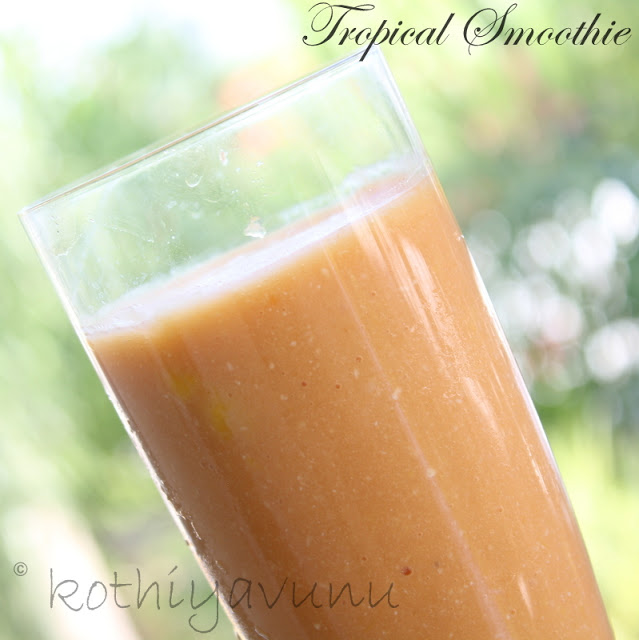 Sometimes we do not get to eat all of the fruit that we would need or want, smoothies are a wonderful way to sneak nutrients into a diet. This wonderful nectar of blended fruity wholesome goodness that is not only enjoyed in the spring and summer, but all year around! This delicious tropical smoothie is packed with essential fats, proteins, antioxidant-rich fruits and fiber ! Besides the fantastic taste, the color of this drink is so vibrant and soothing, it will certainly brighten up your day. Enjoy!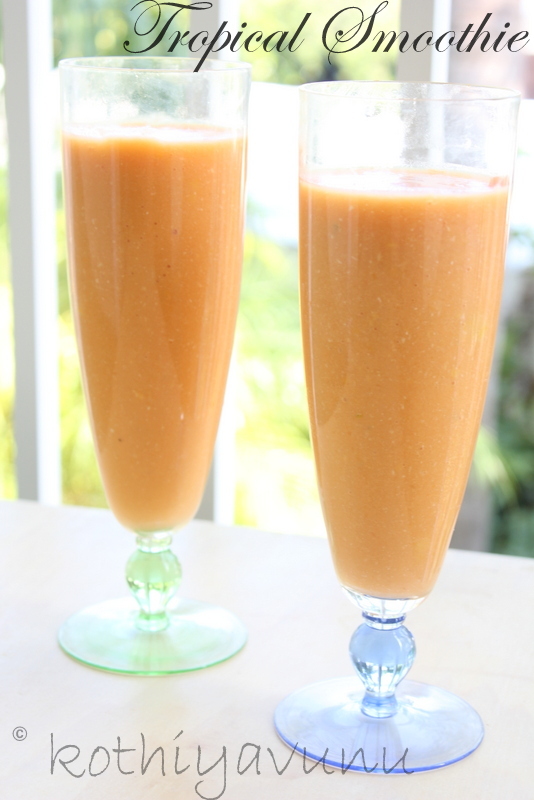 Recipe for Tropical Smoothie /Mixed Fruit Smoothie – Healthy and Delicious
Preparation Time : 1 minute
Cooking Time : No cooking required
Serves : 4-5
Ingredients:
Mango : 1 cup (chopped)
Pineapple : 1 cup (chopped)
Banana : 1
Fresh Papaya : 1 cup (deseeded and chopped)
Ground Flax Seed : 3 tbsp (optional)
Honey : 2 tbsp
Coconut Water : 1 can 14 oz
Juice of 1 lime
Ice Cubes : 1 cup
How to make Tropical Smoothie Recipe
1. In blender, first add the coconut water, so fruit won't stick to the bottom of the blender; then add other fruits and ingredients; Blend it for 30 seconds to 1 minute. Serve and Enjoy!
Notes :
The sky's the limit in terms of variations. If you prefer; instead of coconut water you can do with coconut milk, almond milk or soy milk.
The flax seed is optional, but it decreases cholesterol and it does have great anti inflammatory properties, so take advantage of it and add it !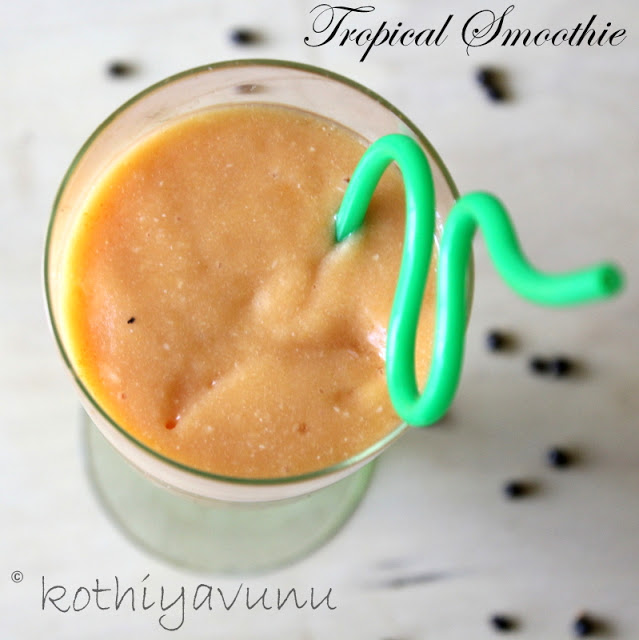 Related Posts :
Cheers!
Sangeetha