Gorgeous, rich creamy Mango panna cotta!
A quick hello to everyone. I know that I keep saying this but it has been so hectic! Needless to say, Yes I'm a tad busy! I haven't been able to browse in a while, but since it has been all about moving and packing lately. Yep we did big move; now we are Sad and Glad! Miss FL and all our lovely friends there 😉 but same time, glad and excited about exploring new places, meeting new people and hope to meet our old friends often 🙂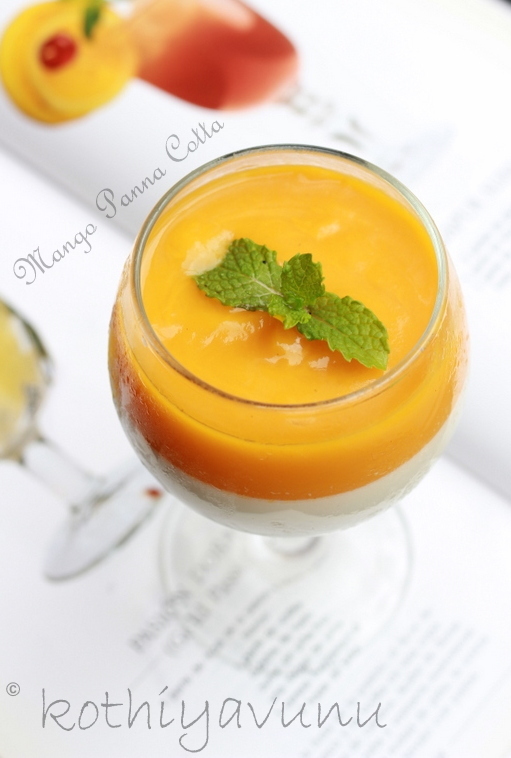 Yes I know time flies by and you just need to take the time to enjoy the moment whenever you can. I can always relate to Ferris Bueller classic quotes into conversations! "Life moves pretty fast. If you don't stop and look around once in awhile, you could miss it".
Now on to recipe, One of the best things that I made before I packed up my Florida kitchen is the dish you see. Oh I love this classic Italian dessert panna cotta…why I didn't post this super delicious panna cotta with mango gelee till now. I must have made before. Better late than never, right?
Here you go…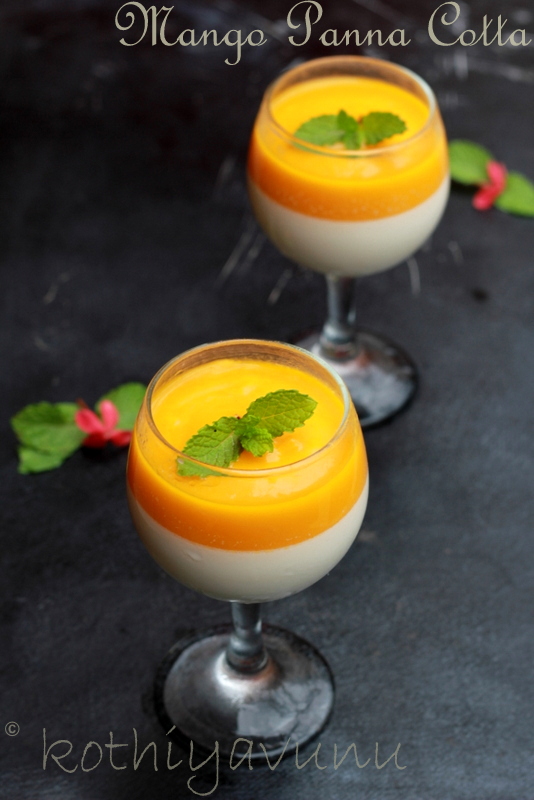 Mango Panna Cotta Recipe – Panna Cotta with Mango Gelee
Preparation Time : 10 minutes + Setting Time : 3-4 hrs
Cooking Time : 15 minutes
Serves : 4
Ingredients:
For Pannacotta :
Heavy Cream : 1 cup /240 ml
Sugar : 1 tbsp /15 grms (or to your taste)
Milk/Half & Half : 1 cup /240 ml
Unflavored Gelatin : 1 packet /11/2 tsp
Honey : 1/3 cup /80 ml
Pure Vanilla Extract : 1 tsp
For Mango Gelee :
Mango Puree : 1 cup / 240 ml
Sugar : 1/4 cup /60 grms (or to your taste)
Cool Water : 3 tbsp/45 ml
Unflavored Gelatin : 1 packet /11/2 tsp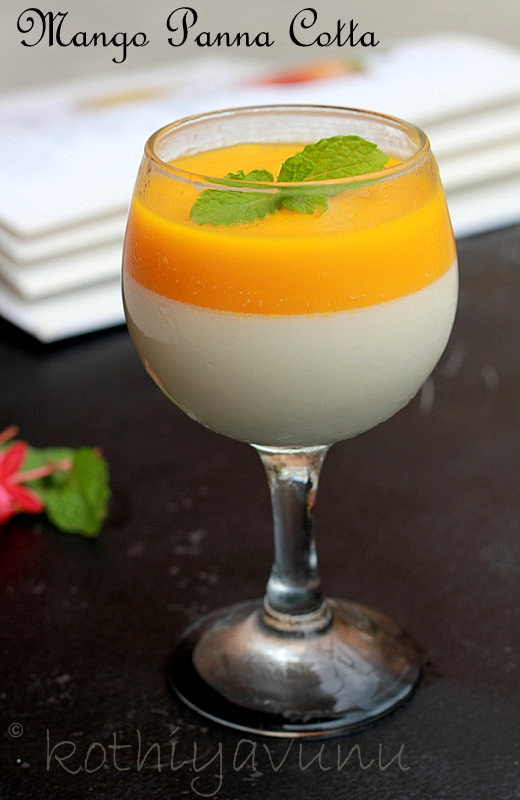 How to make Mango Panna Cotta :
How to make Panna Cotta :
1. Pour 1/2 cup of the milk into a bowl and sprinkle the gelatin over. Let stand until gelatin has softened, about 5 minutes.
2. Meanwhile, in a small saucepan combine remaining cup of milk, cream, honey, sugar,and bring to a simmer over medium. Heat untill all the sugar and honey have dissolved 5-7 minutes. Remove from heat and stir in the the vanilla extract.
3. Now add and mix the gelatin until it is completely dissolved and allow the mixture come down to room temperature.
4. Pour into the serving bowls/glass as desired, cover with plastic wraps and refrigerate at least 2-4 hours or until set.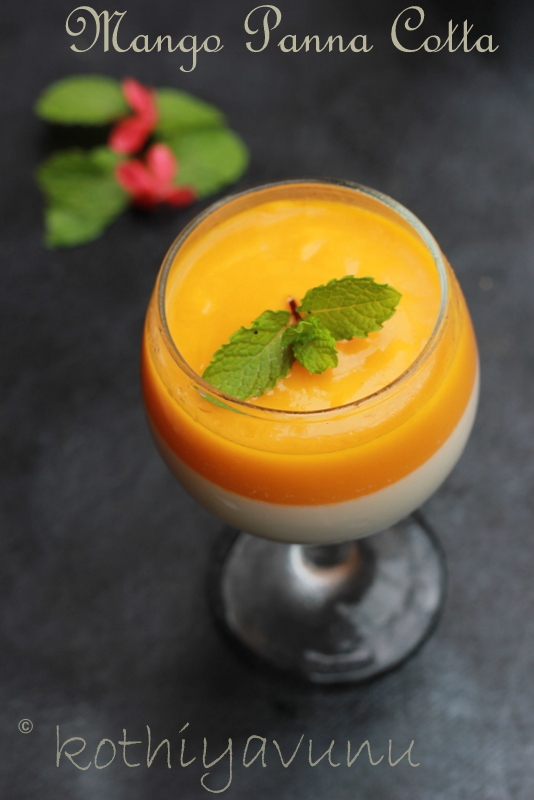 How to make Mango Gelee :
1. Sprinkle gelatin over cool water.
2. Pour mango puree and sugar in a small saucepan and simmer until sugar has dissolved.
3. Now mix the gelatin into the mango mixture and stir until gelatin has dissolved.
4. Remove from heat and allow to cool; pour it over the frozen pannacotta.
5. Allow to set it in a refrigerator for 3 to 4 hours and garnish with some with fresh fruits or topping of choice…Enjoy!
Notes:
Vegans could replace gelatin with Vege-Gel (Vegetarian substitute for gelatine). It works the same good like traditional gelatin.
If you can't make fresh mango puree; you can use store bought mango pulp for making this.