Dear Friends and Readers,
Hooorrayyy!!! 'Kothiyavunu' celebrates its 3rd birthday! Come & grab your share of Homemade Motichoor Ladoo/Laddu and Enjoy! 🙂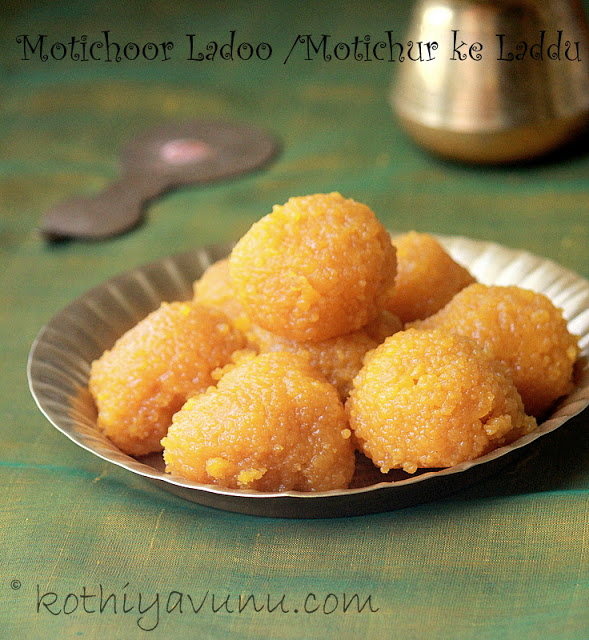 It all started as a mere time pass and it has grown into something that is a part of me now. Yes, I am talking about this little humble blog. 🙂 Looking back, it has been a very interesting 3 years, to say the least – lots of ups and some downs, a lot of learning and some mistakes but overall, enjoying the journey thus far. I have had my own struggles and even wanted to stop blogging as I couldn't manage it by myself at times. But each and every one of you, stood by my side and encouraged me to keep going. You have allowed me into your homes and your lives. I'm so humbled by this gesture. Thank you from the bottom of our hearts for sticking around and finding an interest in my ramblings.
I never knew I even had love for cooking until I started this little space of mine! I guess it was hidden in me until I started a this blog. Blogging has helped me grow as a cook and at the same time, I find myself more knowledgeable and blogging helped me to know many people and gain some friends. Big Thank You friends and readers for all the kind words and all the support, encouragement, comments and suggestions without which I would not have come so far…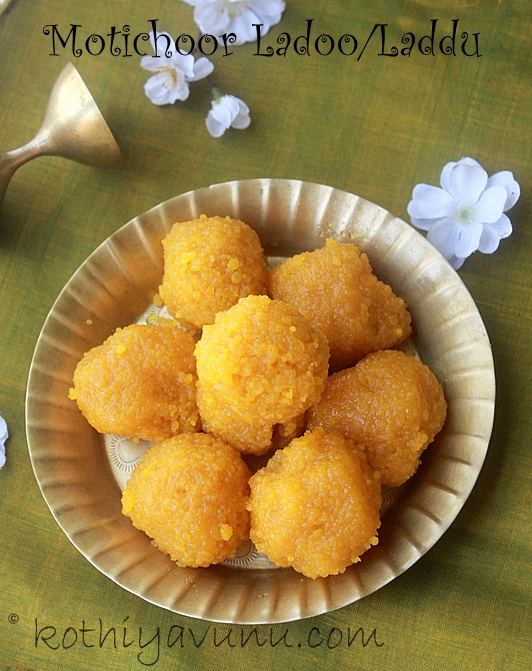 What would be more unique a sweet to celebrate this occasion. Ladoo/Laduu is a popular sweet Indian delicacy made from gram flour droplets, which are sweetened, mixed with dried fruits, pressed into balls.The most popular kinds are the
Boondi laddu
, Motichur laddu and Malai laddu. So today I am sharing motichur ladoo for you all. The difference between motichur and boondi laddus is that the boondis in the motichur ladoo are very small boondi's like a pearls and they are lighty fried in ghee, however boondi in the boondi ladoo are made with very large sized droplets and they are fried in oil. Though I have made the
Boondi laddu
, so many times, but this is my first time trying motichoor ladoo and to my surprise, my first attempt was a success, though it didn't look professional, it tasted delicious. It is little time consuming to make, but its worth all the effort…Do try this when time permits, but don't forget to pour your thoughts, would love to hear that 🙂
Here you go…
Motichoor Ladoo Recipe – Motichur Laddu Recipe – Motichur ke Laddu Recipe
Preparation Time : 20 minutes
Cooking Time : 45 minutes to 1 hr
Makes : 25-30 (depending upon size of balls/ladoo)
Ingredients :


For the Boondi :
Gram flour /Besan Flour : 1 1/2 cups
Semolina /Rava : 1 1/2 tbsp
Baking Powder : a pinch
Water : 3/4 cup
Ghee : as needed for frying

For the Sugar Syrup:
Sugar : 1 1/4 cups /250 grams
Milk : 1 tbsp
Water : 11/2 cups + 2 tbsp
Saffron : a few strands

Other ingredients :
Saffion ; a few strands
Rose Water: 2 tsp
Pistachios : 2 tbsp (finely chopped)
Cardamom powder : 1/2 tsp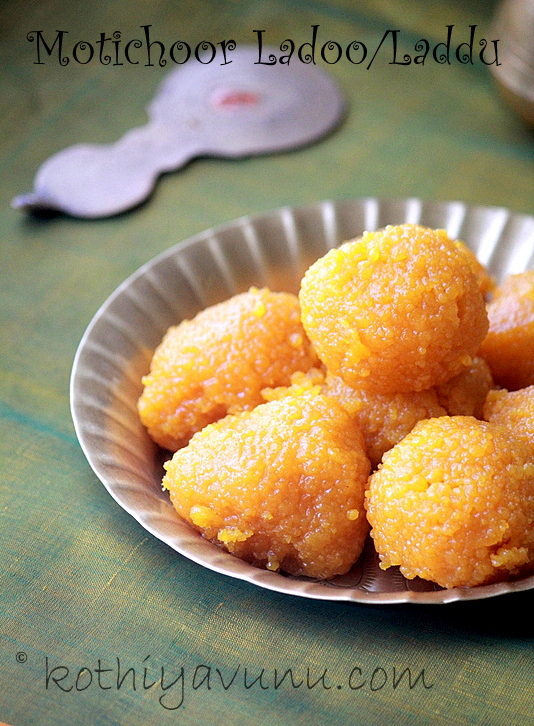 How to make Motichoor Motichur Laddu/Ladoo :
Preparing boondi batter :
1. Combine the gram flour, semolina with water to make a smooth pancake-like batter or slightly thicker than dosa batter and keep it aside.(Note : It should be neither too thick nor too watery.)
Preparing sugar syrup :
1. Combine the sugar and milk with water in a pan and heat while stirring continuously till the sugar dissolves. When the syrup comes to a boil, the impurities in the sugar will begin to float on the surface, forming a grey layer.
2. Heat over a medium flame to allow the grey layer to float. Do not stir at this point as the layer will break and it will not clarify the syrup.
3. After about 5 minutes, slowly drizzle 2 tablespoons of water from the sides of the pan with the help of a ladle. Water added at this stage will bring down the temperature of the sugar syrup and will not allow it to boil and break the grey layer.
4. Continue to simmer the syrup over a medium flame for about 3 to 4 minutes and then gently remove the grey layer using a slotted spoon.
Add the saffron food colour to the syrup and make a syrup of one string consistency. Keep warm.
Preparing Boondi :
1. Heat the ghee in a frying pan on medium high heat. The frying pan should have at least 1 1/2 inches of ghee. (Note : To test if the ghee is the right temperature, drop a pinch of batter into the ghee; if it rises immediately without changing color then the ghee is ready to start frying)
2. When hot, hold a perforated spoon about 1 to 1 1/2 inches above the oil over the center of the frying pan with one hand. With your other hand pour some of the batter onto the perforated spoon to cover all of the holes without spilling over the edge of the perforated spoon. If you hold the perforated spoon higher than 11/2 inches above the ghee boondi will not be round.The batter will start dropping through the holes into the ghee. If the batter doesn't drop right away through the holes, pour the batter on the skimmer back into the batter bowl, mix a little more water to the batter and start again. Drop enough boondi into the ghee so they just cover the surface of the ghee in frying pan in a single layer
3. Fry them until the sound of sizzling stops and boondis are light gold in color taking care to ensure that they are not very crisp.
4. Remove the boondi out of the ghee with a slotted spoon (Note : this allows excess oil to drip back into the frying pan)
5. Add the boondis to the warm sugar syrup and mix well so that the bundis soak in the syrup well.
6. Before making each batch of boondi, wash and dry the perforated spoon every time you pour the bundi batter through it.
7. Repeat the process of making boondi and adding to the syrup with rest of the batter. You may have to adjust the heat in between making boondis.When finished frying the boondi, let them soak in the syrup for few minutes.
8. Allow the mixture to cool. (Note : Don't let them to cool off completely. If the boondis become cold you will not be able to form them into ladoos)
9. Add 2 tablespoons of hot water, the saffron, chopped almonds, chopped pistachios, powdered cardamom and rose water and mix well.
10. To make the ladoos, scoop up some of the boondi mixture into your palm with a spoon.
11. Gently squeeze the mixture between both palms to shape into a round ball about the size of a golf ball. As you are squeezing some of the syrup will come out. You can make the ladoo larger or smaller if you have a preference.Now, take ghee on your palm and smooth out all ladoos firmly between your two palms. This process makes laddus smooth and shiny.
12. As the ladoos cool to room temperature they will become firm but they should still be moist…Sereve and enjoy!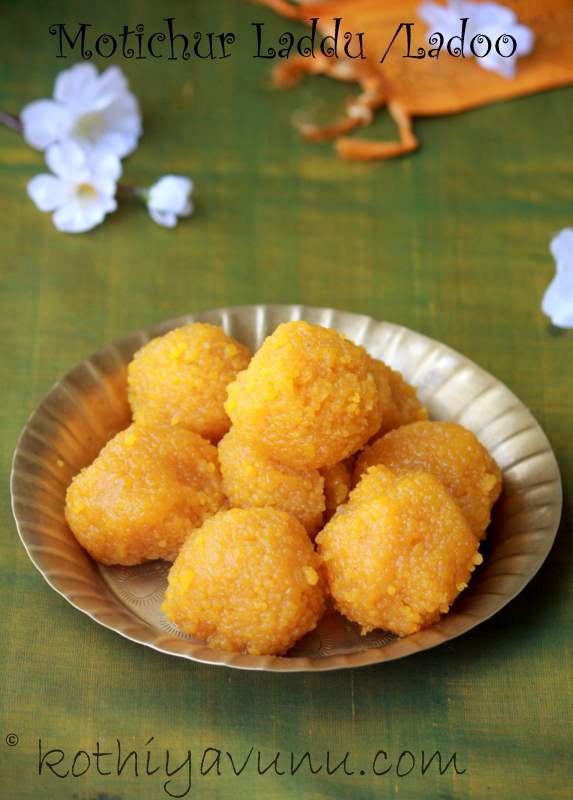 Notes :
For making Motichoor Ladoo, we need finely-perforated ladle /skimmer with very fine holes. which available in the market. Don't worry, if you don't have finely-perforated ladle /skimmer with very fine holes.You can try with fine mesh strainer (or) use the regular perforated spoon used for boondi ladoo and make boondi's, then put the fried boondi's in electric stand mixer with flat paddle attached and pulse 1 time together coarsely on low speed and proceed making boondis.
Ladoos will keep at room temperature in a covered container for up to 5-8 days and for one month in the refrigerator.
If you are not able to make laddus, try sprinkling some milk and make laddus.
If you are not able to make ladoos, don't worry. You can still enjoy them as "meethi boondi" or sweet boondi.
Related Posts :
Sangeetha