Bringing the fresh homemade sambar powder straight from my amma /MIL kitchen. This is a long due recipe for me… I actually got a lot of recipe requests for this and do you remember I had mentioned in my earlier
sambar post
, that I will be sharing the sambar powder's recipe.
This post has been lying in my drafts for long time now with all the writing and no pics…Though I had sambar powder in my counter top and often used, somehow something kept me away taking the pics and posting it here. Better late than never, right? 🙂 Finally here it is…
The spices used gives sambar its uniqueness. Yes, each household has their own unique sambar powder recipe. Mine is from my MIL, which she learned from her mom. My MIL makes these fresh homemade spice powders in India and would send it to me or when ever I go to India. I bring a good amount of all spice powder and save them in ziplocks in the freezer, so the aroma stays. Just as I have written and measurements came along.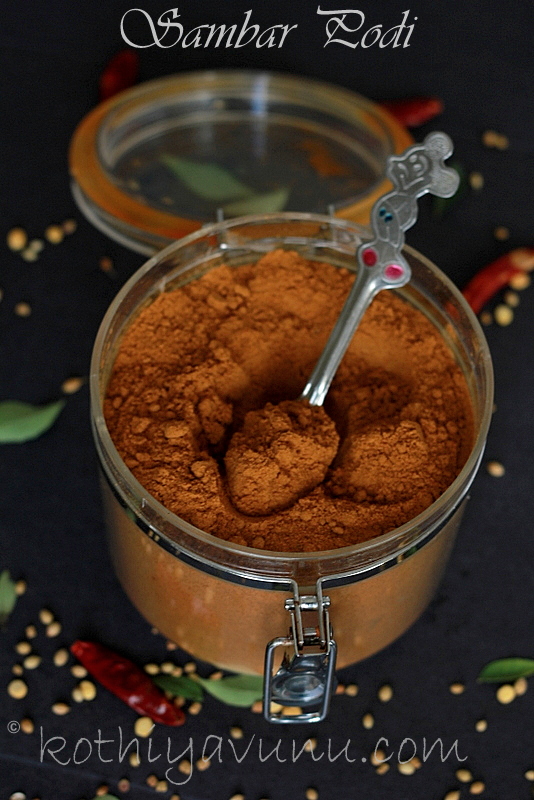 Back home in India, normally these powders are grounded in huge grinding mills. so is easy to make these powders; But is not possible for those who reside in US, though I am not sure about the other countries. Alternative way is to make them with coffee grinding machine. It could get laborious but fresh aroma of the homemade sambar powder are worth the effort.
So Suchithra, Uthra, Sangeethaa, Aparna, and to all who have requested this recipe while ago…here comes my version of sambar podi/powder. Hope all of you will like this version… Enjoy! Do give it try and don't forget to pour your thoughts 🙂
Homemade Sambar Powder Recipe – Kerala Style Sambar Podi Recipe – South Indian Curry Powder Recipe
Preparation Time : 4 hrs
Cooking Time : 15 minutes
Makes : 1 1/2 kg (approx)
Ingredients :
Coriander Seeds : 500 grms /1.1 lb/2 cups
Whole Dried Red Chillies : 1 kg /2.2 lb /4 cups or depending on spice level.
Thoor Dal /Split Yellow Lentils : 200 grms /3/4 cup
Channa Dal /Gram Dal/Split Chickpeas : 50 grms /1/4 cup (Adding gram dal will make the sambar gravy thicker. So adjust quantity more or less is according to your choice.)
Turmeric Powder : 2 tsp
Fenugreek Seeds /Uluva : 2 tsp
Cumin Seeds /Jeera : 2 tsp
Black Pepper Corns : 1 tbsp
Asafetida /Hing /Kayam : 1 small piece or 1/2 tsp powder
Curry Leaves : 1/2 cup
Oil : 1/2 tsp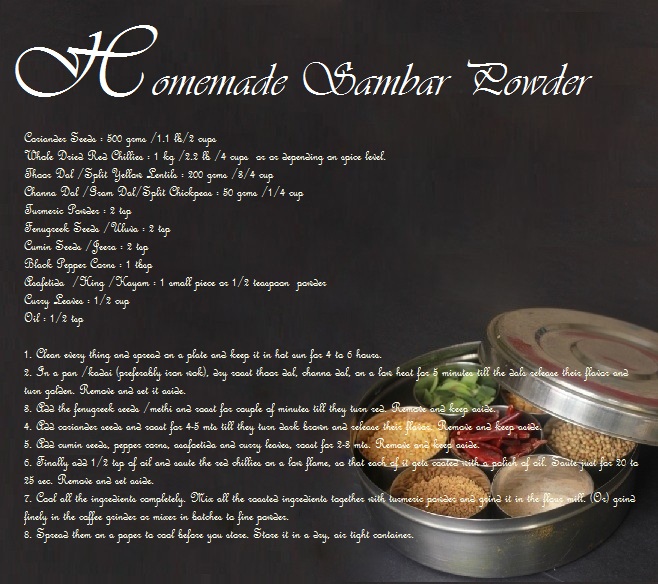 How to Prepare Sambar Powder – Sambar Podi:
1. Clean every thing and spread on a plate and keep it in hot sun for 4 to 6 hours.
2. In a pan /kadai (preferably iron wok), dry roast thoor dal, channa dal, on a low heat for 5 minutes till the dals release their flavor and turn golden. Remove and set it aside.
3. Add the fenugreek seeds /methi and roast for couple of minutes till they turn red. Remove and keep aside.
4. Add coriander seeds and roast for 4-5 mts till they turn dark brown and release their flavor. Remove and keep aside.
5. Add cumin seeds, pepper corns, asafoetida and curry leaves, roast for 2-3 mts. Remove and keep aside.
6. Finally add 1/2 tsp of oil and saute the red chillies on a low flame, so that each of it gets coated with a polish of oil. Saute just for 20 to 25 sec. Remove and set aside.
7. Cool all the ingredients completely. Mix all the roasted ingredients together with turmeric powder and grind it in the flour mill. (Or) grind finely in the coffee grinder or mixer in batches to fine powder.
8. Spread them on a paper to cool before you store. Store it in a dry, air tight container.
Notes :
These sambar powder stays 6 month, if they are properly stored outside on countertop and upto a year when kept in freezer.
For daily use, use a small container with spoon.
Grinding in the coffee mixer or mixer will be coarse in texture,when compared to powder grounded in flour mill .