Excite your taste-buds with an explosion of flavors! Chicken Biryani.
If you had to choose one favorite biryani, what would it be? Oh I know its pretty tough question. I'd have a hard time answering it, as well. Have you tried Pakistani biryani ?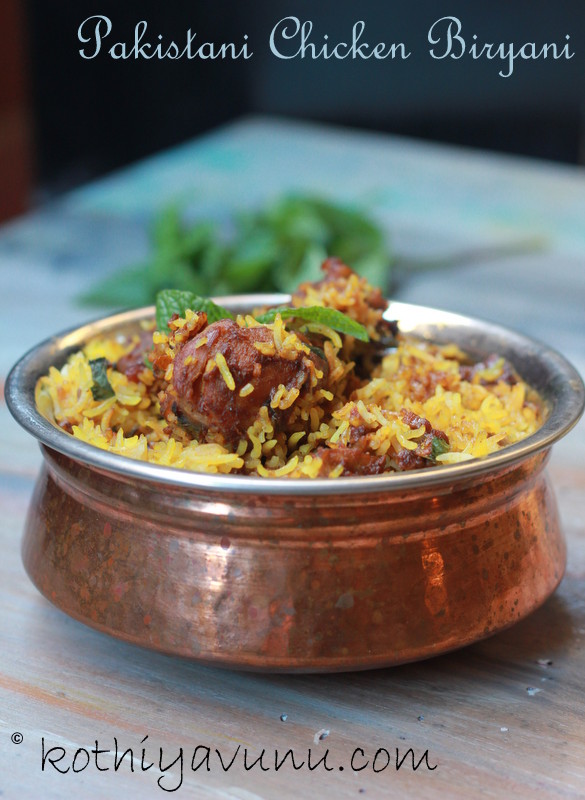 Yes today recipe is classic Pakistani chicken biryani…Need I say more? No, but I will 🙂 Last week I was making my menu and 'S' suggested trying, " Pakistani version of biryani". I thought that was a fantastic idea as I have been meaning to try it for quite some time. I remember one of my friend Saima shared with me some Pakistani and Afghan recipes long back, which she tried and tested and i noted that in my collections of recipes book, so I started skimming through the book and came across this recipe.
I knew that it was the version I wanted to make and it was a major win. These chicken biryani and full of fresh flavor! I love it because of all the wonderful fresh interesting ingredients it uses and all the exciting flavors you can find in it. Actually original recipe calls for mutton /lamb and it's is not marinated, but here I tried with chicken and marinated the chicken according to my family's taste-buds. So variations are open. I have this weakness, whenever I see a different 
biryani recipe
, I try it. This is the seventh kind of biryani, I'm posting here… So if you are person like me and love different kind of briyani. I highly recommend you try this soon, if you haven't done so far. You can also check other 
biryani
. I have posted earlier.Here is my version slightly adapted from my friend Saima's recipe for all biryani lovers! Do try and let me know your feedback. Hope you will fall in love with it, like we did !
Pakistani Chicken Biryani Recipe – Chicken Biryani Recipe- Pakistani Style
Preparation Time : 30 mins to 1 hr for marinating and 10 mins of preparing other things.
Cooking Time : 1 hrs
Serves : 6

Ingredients :
For Fried Onions :
Onions : 5 large onion (peeled, finely sliced and fried until crisp) (or) you may use store bought ready fried onion.
Cooking Oil : 1/4 cup or as needed
For Marinating Chicken : 
Chicken or Mutton /Lamb : 2.2 lb /1 kg (cut into medium-big pieces)
Raw Papaya  : one 2″ piece (made into a paste)
Half of fried onions (see the step below to fry onions)
Yogurt /Curd : 1/2 cup (beaten)
Ginger : 1/2″ piece (minced)
Garlic : 3 cloves (minced)
Red chilli Powder : 1 1/2  tbsp (or to your spice level)
Turmeric Powder :  1 tsp
Garam Masala : 1 tsp
For the Chicken Masala :
Ghee/Clarified butter or Cooking oil /Canola oil : 5 tbsp
Crushed Red Chilie Flakes : 1 tsp
Garam Masala Powder : 2 tsp
Garlic : 3 cloves
Ginger : 1″ piece
Green Chillies : 4 (or to your spice level)
Turmeric Powder : 1tsp
Whole Garam Masala : (Green Cardamom : 5 pods, Black Cardamom : 1 pod, Cinnamon Stick : one 2″ piece)
Whole Black Pepper Corns : 1/4 tsp
Tomato : 4 (medium, finely chopped)
Yogurt /Curd : 1/4 cup (beaten)
Juice of half a lemon
Mint Leaves : 1/2 cup  + 1/4 cup for garnish (chopped)
Coriander Leaves /Cliantro : 1/2 cup + 1/4 cup for garnish (chopped)
Salt to taste
For Rice :
Basmati rice : 2 1/2 cups /540 grms, (soaked in cold water for 30 minutes and drained)
Cumin seeds : 1/2 tsp.
Whole Garam Masala : (Cloves : 4, Bay leaves : 2, Black Pepper Corns : 10, Green Cardamom : 3,Black Cardamom : 1 and Cinnamon stick : one 1″ piece)
Safforn Threads : 1/2 tsp (dissolve in 1/2 cup of warm water and set it aside)
Rose essence : 1/4 tsp
How to make Fried Onion : 
1. Heat oil in a pan  over high heat. Add finely thinly sliced onions; cook for 20 to 25 minutes, untill dark brown; stirring occasionally, sprinkle little sugar to caramelize, remove and drain on to the paper towel; set aside. (Note : Use half of fried onions while you marinate chicken and save other half for chicken masala.)
Marinating Chicken: 
1. In a big bowl, add all the ingredients listed above " For Marinating Chicken"  and allow the chicken to marinate for 1/2 to 1 hours.
How to cook Chicken Masala : 
1. Grind ginger,garlic,green chillies to coarse paste and set it aside.
2. Heat ghee/clarified butter or cooking oil /canola oil in large cooking vessel /pot over high heat (Note : We going layer the rice in this same vessel/ pot, so make sure to use large capacity-cooking vessel/pot, say like 4-5 qt capacity.)
3. Add garam masala powder, red chile flakes, turmeric powder, whole black pepper corns , whole garam masala listed above " For Chicken Masala"; saute until fragrant for a minute. (Note : Make sure not to burn the spices)
4. Add grounded gralic-ginger-green chilli coarse paste, chopped tomatoes and cook, stirring for couple of minutes.
5. Add the marinated chicken  and adjust the salt, and cook until lightly browned, about 5 minutes. Cover, reduce heat to medium; cook until chicken is tender, about 15 minutes.
6. Now add remaining half of fried onions, 1/2 cup of yogurt, chopped mint, and chopped coriander /cilantro leaves (save little for garnish); cook, uncovered, for 10 minutes more. Set aside.
How to cook rice for Biryani :
1. Soak the rice for 30 mins and drain the water completely.
2. Bring 4 cups of water to a boil in big saucepan. Add cumin seeds and all whole garam masala listed above "For Rice", and add salt to taste .
3. Cook the rice till ¾ done (Note : it takes 5-8 mins approx;  depending upon the rice variety your using, so cook accordingly.) and then drain in the colander and set it aside. Optional – remove the whole masala from the rice if you don't prefer.
Final Cooking and Layering Biryani:
1. Transfer half the chicken masala to the same cooking vessel /pot in which you cooked rice. Top the chicken masala with half the rice.
2. Pour half the saffron mixture onto rice along with a few drops of rose water ; mix gently into rice with fork.
3. Top with remaining chicken masala and remaining rice; drizzle with remaining saffron and drops of rose water; mix gently with fork. Sprinkle few corainder and mint leaves as final layer over the rice.
4. Cover and steam on very low heat until rice is tender, about 8 minutes. Remove from the fire.
5. Let it rest unopened on cooking vessel/pot for another 10 mins. Open and garnish with remaining chopped mint and cilantro.
Serve hot with Raita, Pickle or Boiled egg and Pappadam on the side and Enjoy!
Notes :
Chicken may be substituted with mutton/lamb/goat or beef or pork as you wish.
Original recipe doesn't call for any marination, but I personally prefer marinating the poultry /meat, cause makes it more juicy and flavorful.
I prefer to use fresh fried onions instead of store bought as it gives a great taste to dish.
Always sprinkle corainder and mint leaves as final layer over the rice, which makes the biryani taste more flavorful.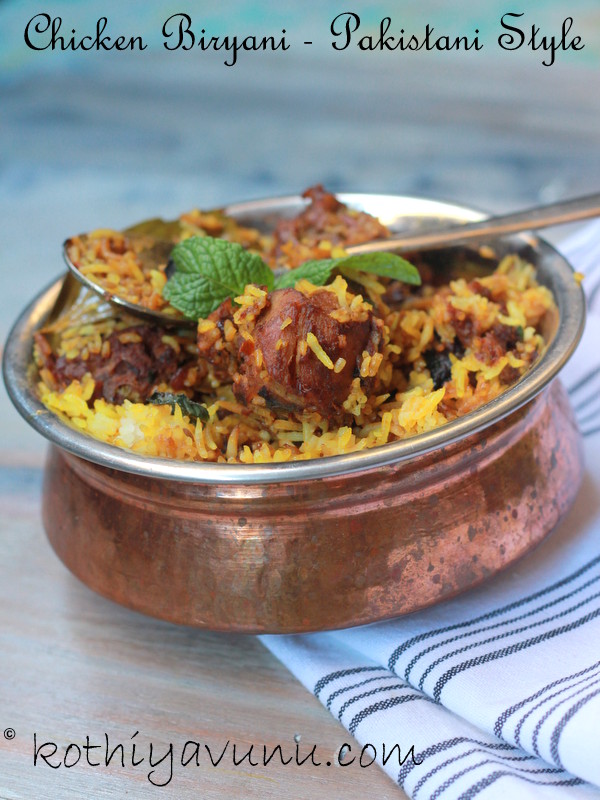 Happy Cooking and Happy Eating 🙂
Sangeetha