Finally I'm ready with my long due recipe Chuttaracha Chammanthi. You won't find any surprise in the fact that most of the dishes in Kerala ask for coconut base. This is a one of those superb combination of roasted coconut and spices.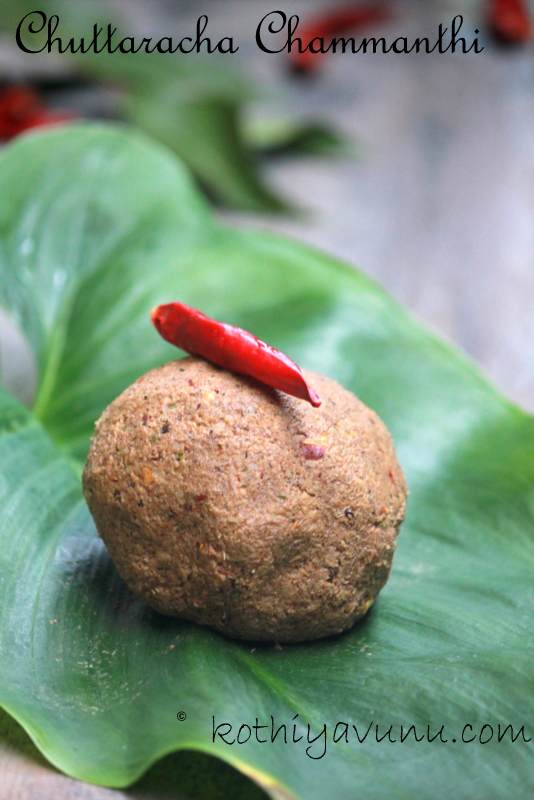 Traditionally, In a burning charcoal red chillies and coconut are roasted and then pounded and grounded with all other ingredients in ammikallu (the flat stone with a cylindrical pestle). But then later those were replaced by gas and all modern gadget like blender(mixie) /grinder that made life so easy.
There is something special in the taste of roasted coconut and spices freshly grounded in ammi kallu. When such traditional dishes like this are made, I wish i had the ammikallu here. The one I have made here is not the traditional version. I just dry roasted the coconut pieces and grounded in mixie.
Hope you all will enjoy this classic chammanthi as much as we do 🙂 !

Chuttaracha Chammanthi Recipe – Thenga Chuttaracha Chammanthi Recipe – Roasted Coconut Dry Chutney Recipe
Preparation Time : 5 mins
Cooking Time : 10 mins
Serves : 4
Ingredients :
Coconut : 1/2 portion or Sliced Coconut Pieces : 1 cup
Dry Red Chillies : 6-8 (or to your spice level)
Shallots /Small red Onion : 4-6 nos
Tamarind : gooseberry size or if your using tamarind paste : 1/2 tsp
Ginger : 1 big piece
Curry leaves : 1 sprig
Salt to taste

How to make Chuttaracha Chammanthi Recipe – Thenga Chuttaracha Chammanthi :
1. Dry roast the coconut slices in a heavy bottom pan, turn the sides, when both sides turns to golden brown.
2. Add the dry red chillies and sauté till the coconut slices and the dry red chillies change the color. (Note : Take care not to burn them.) Remove from the fire.
3.. Allow to cool, when it cools down grind it together with shallots/small red onion, ginger, curry leaves, tamarind and salt. (Note : Sprinkle a couple of spoons of water only if needed.)
4. Serve with warm kanji /rice gruel, rice or with any dishes of your choice…Enjoy!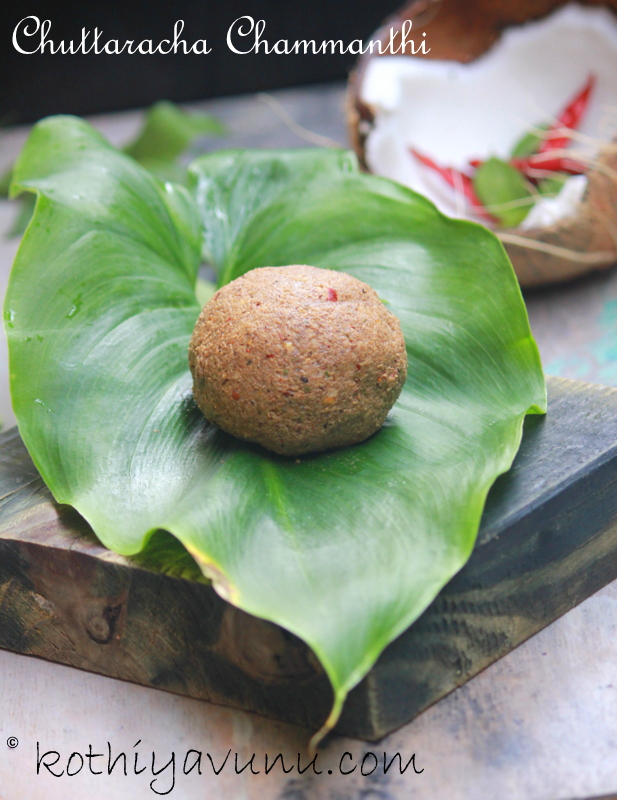 Related Posts :
Mulaku Chammanthi /Dry Red Chilli Chutney
Uppumanga Chammanthi /Salted Mango Chutney
Ulli Chammanthi /Shallots /Pearl Onion Chutney
Pavakka /Kaypakka Chammanthi /Bitter Gourd Chutney
Manga Chammandi /Raw Mango Chutney
Kanthari Mulaku Chammanthi/ Hot Green Chilly Dip
Biryani Chammanthi /Chutney
Nadan Chammanthi Podi /Idi Chammanthi /Roasted Coconut Spice Chutney Powder
Happy Eating!
Sangeetha