Today featuring Puttu Recipe…I know I don't have to explain to a Keralite, what Puttu (steamed rice flour and coconut) is. Most of us from Kerala love this simple and delicious breakfast dish and to my family, it's one of the favorites. It is staple Sunday breakfast in our house.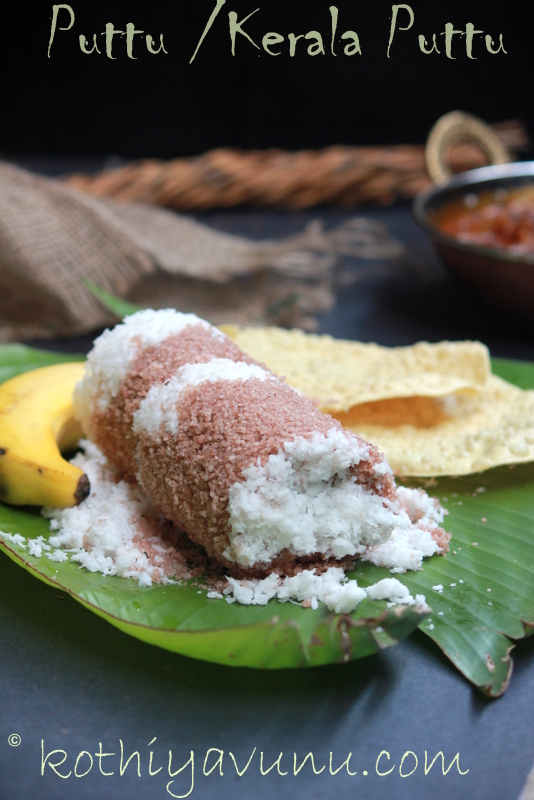 Puttu (steamed rice flour and coconut) is a popular breakfast dish of Kerala served mostly either with spicy Kadalakari/Black chickpeas in a spiced coconut gravy or Cherupayar curry/Green gram curry. Puttu and curry is really complete only when served with the small yellow bananas and fried pappadam.
Log-shaped puttu is made by steaming roasted rice flour and fresh coconut in round metal vessel with flat bottom and cylindrical tube fitted over a pot; it's called puttu kudam and puttukutti in malayalam. Either white rice flour or red rice flour are used.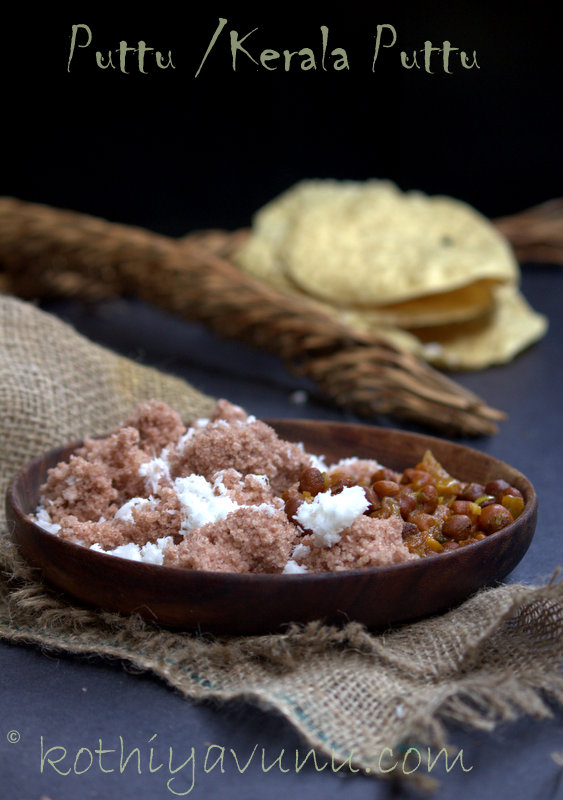 In olden times puttu was steamed in bamboo logs, which gave the dish an earthy fragrance. Now-days in practical, the puttu kudam has replaced easily to the pressure cooker and stainless steel puttkutti. Oh, yes I can guess what you're thinking? If you don't have one? Don't worry, still  you can make, with a steamer or you can steam it in small bowls or in a plate mixing the coconut and wet rice flour together.  Either way, it's delicious!
One of the best vivid memories from my childhood is a plate of hot steamed puttu steamed in bamboo log and Spicy red fish curry /Meen mulakittathu. Oh My! I have no word's to explain the taste 🙂  Have you ever tried this combo? If you haven't, what are you waiting for?
Other Puttu Recipe You Might Like :
Puttu Ularthiyathu /Puttu Upma
Puttu Recipe -How to make Kerala Puttu Recipe -Steamed Rice Flour with Coconut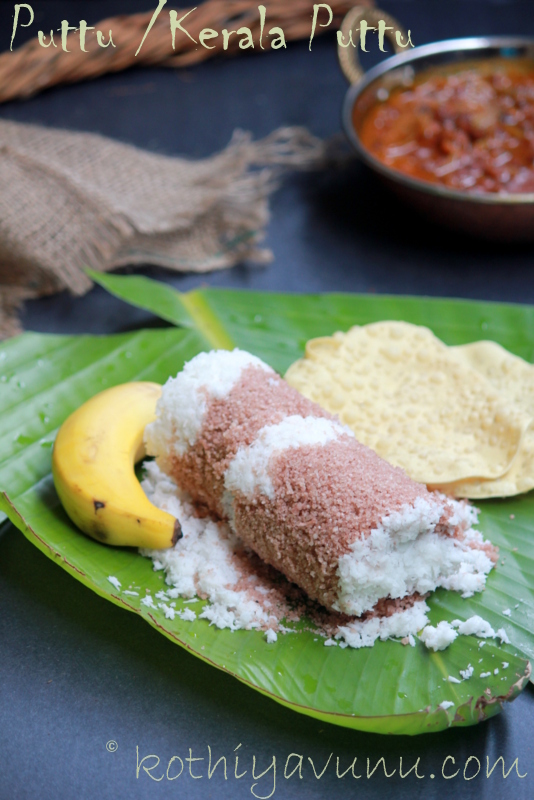 Puttu Recipe - Kerala Puttu Breakfast Recipe
Puttu - A popular and healthy Kerala Breakfast !
Ingredients :
Rice-Pachari /Rice flour or Puttu Podi : 2 cups (Use either the white rice flour or red rice flour. I have used the red variety)
Freshly Grated Coconut : 1 cup
Salt : ½ tsp
Water : 1 cup or enough to moisten the flour
How to Make :
In a heavy skillet, dry roast the rice flour over medium heat, stirring continuously. After about 5 minutes remove from the stove, and let it cool.
Add salt to 1 cup of water and wet the puttu podi/powder, a little at a time, and mix well till you reach breadcrumbs consistency. (Note : The rice flour mixture should be wet but not lumpy. The right consistency is reached when you press little flour in your fist and it forms a shape and not crumble off.)
Now fill your pressure cooker or puttu kudam with water till two thirds full. Place on the stove. Take the cylindrical tube part, insert the flat disk with holes at the bottom of the tube.
Fill half of the tube with a fistful full of grated coconut and then add the prepared rice flour till half and fill the rest of the tube with more prepared rice and sprinkle grated coconut on the top. (Note: The rice flour must be loosely filled and not packed.)
Cover the cylinder tube and place on the cooker spout or on puttu kudam once the steam starts coming out.
Steam for 6 to 8 minutes; when the puttu is cooked, steam will start coming through the holes on the lid. Remove the tube from the pot and open the lid. Using the handle of a large spoon, slowly push the puttu, and slide it onto a plate.
Serve hot with Kadalakari -Kerala Style Black Chickpea Curry or pappadam and yellow small bananas and Enjoy!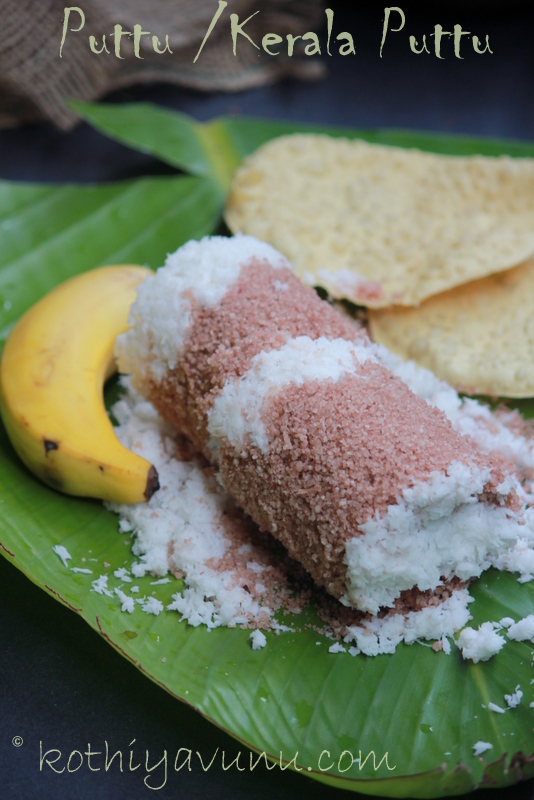 Hope you all will enjoy making this Healthy & Easy Puttu Recipe. Don't forget to share your thoughts!
Have a good day!
Sangeetha
Like this Recipe? Sign up, and get more recipes delivered directly to your inbox.