Woohoo, It's Friday! I am chilling at home and looking forward to having dinner with friends. Hope you guys have exciting plans for the weekend too.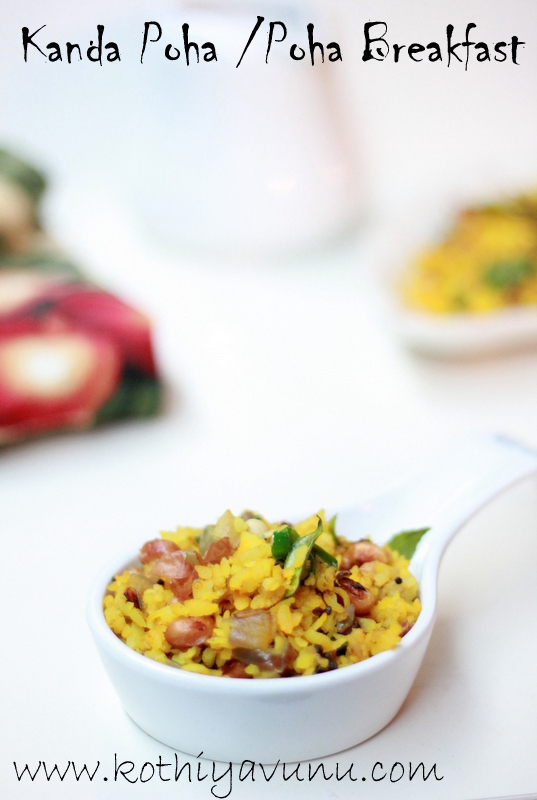 I've decided to go light on cooking. I have been making easy dishes for the past few days. So today I'm sharing easy to make Kande Poha/Aval Upma.
Poha/ Aval is flattened rice (beaten rice flakes ) can be cooked in a variety of ways. Any dish or recipe made of poha is easy to cook and nutritious. It is used to prepare snacks or light and easy fast food like chivda, upma, mixture, etc and variety of cuisine. It can be eaten raw, soaked in milk or water or cooked with tempered veggies and many sweets with poha or also very popular. Check here for sweet poha recipes.
Kande poha is a healhty popular Maharashtrian Breakfast recipe made from flattened rice (beaten rice flakes) with lots of onions. Kanda pohe'(onion poha) or batata pohe (potato poha) are the common breakfast or snack items and it's famous mumbai roadside/street food recipe. Kanda means onions in Marati and Poha is rice flakes. This is a really a quick breakfast lunch box or snack recipe…if you have poha and onion you could whip up a nice yummy breakfast in no time. Do try and let me your feeback…Enjoy!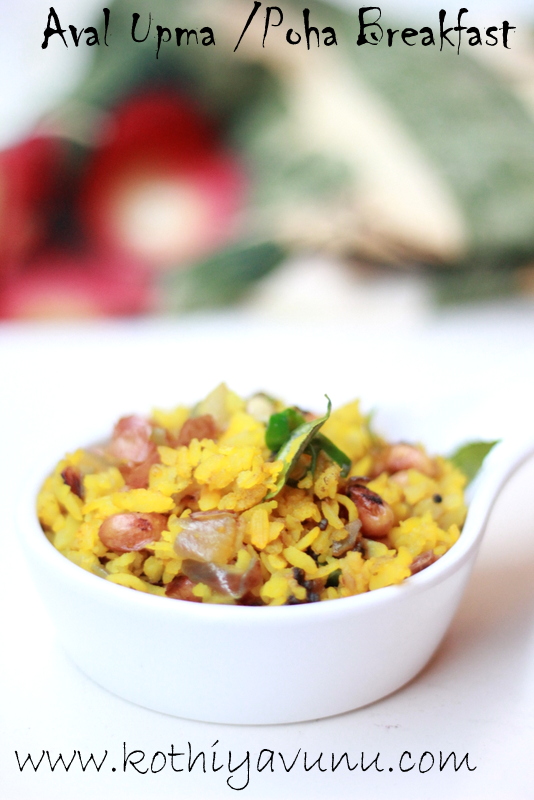 Poha Kada Recipe – Poha – Aval Upma Recipe – Breakfast Poha Recipe
Preparation Time : 5 minutes
Cooking Time : 10 minutes
Serves : 2
Ingredients :
Thick Poha /Aval /Flattened rice : 2 cups /150 grams
Onion : 1 large (finely chopped)
Green Chilies : 2 or to your spice tolerance (Slit lengthwise)
Peanuts : 1/4 cup
Asafoetida Powder : 1/2 tsp
Mustard Seeds : 1 tsp
Turmeric Powder : 1/2 tsp
Sugar : 1/4 tsp
Curry Leaves : few
Cilantro /Coriander Leaves : · Few sprigs
Cooking Oil /
Ghee
/Butter : 2 tsp (I used coconut oil)
Salt to taste
Lemon juice to taste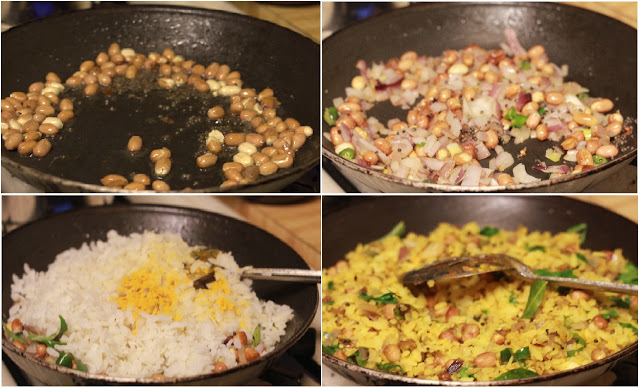 How to make Kanda Poha /Aval Upma /Poha Breakfast:
1. Wash the poha/aval/flattened rice in cold water well and let it drain for 10 minutes.
2. Meanwhile heat oil/ghee/butter. Add mustard seeds and asafoetida. When the seeds splutter, add the peanuts and stir until roasted.
3. Add the chopped onions, green chilies and salt to taste.
4. Once onions turns to translucent, add the curry leaves and turmeric powder. Now add the sugar and mix until combined.
5. Add the drained Poha /aval/flattened rice and stir to combine.
6. Close with the lid and reduce the heat to low. Keep this for couple of minutes.
7. Squeeze some lemon juice and garnish with cilantro before serving hot/warm. Serve and Enjoy!
Notes:
You can also add other vegetables like boiled or frozen Green peas, boiled Potatoes.
Adding peanut is purely optional. If using, either use roasted peanuts or toast them separately and add them towards the end.
To make it Mumbai's famous street style version, garnish this with freshly grated coconut and sev.
The sugar is optional. I added little, but you can skip it if you don't like.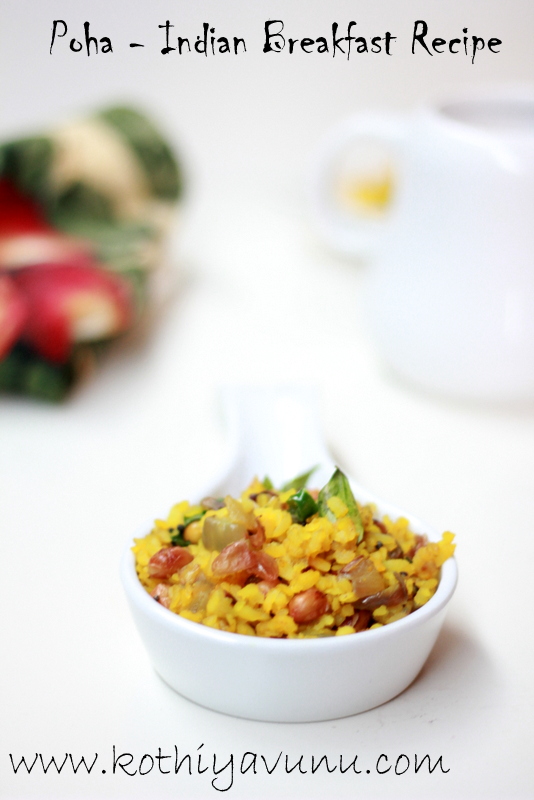 Happy Weekend!
Sangeetha