What are your Easter plans? I am sure you all have planned a yummy menu and other activities to share with friends and family. I have a delicious chicken mappas recipes to share with you, if you haven't planned one yet! I know your family and friends will love this classic recipe!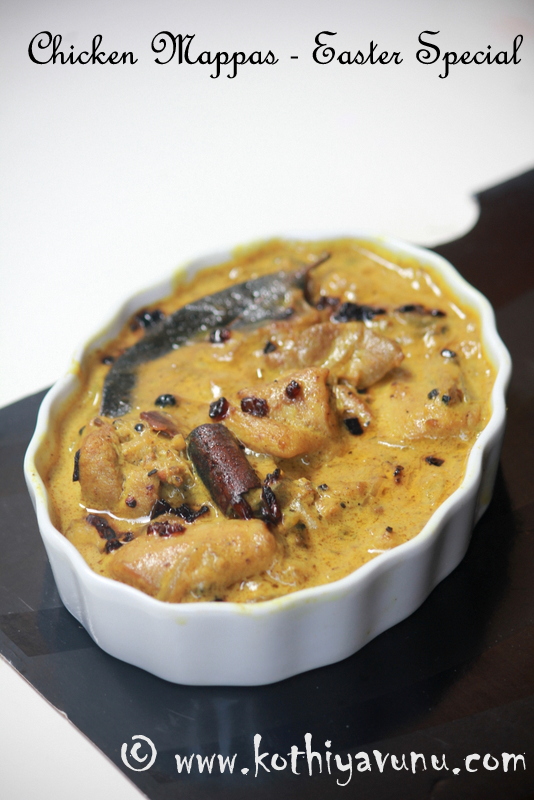 I've been getting requests for this recipe for a long time. Somehow, it took me this long to get to this but I'm glad to say finally, I made it here. Thanks to all who requested for recipes and waiting so patiently.
So let's get into Easter special recipe: Kerala style Chicken Mappas or Nadan Kozhi Mappas. Mappas is a typical Kerala Syrian christian delicacy, wherein poultry, meat, fish or vegetables is cooked in creamy coconut milk with tomatoes. It is an excellent side dish and goes with rice,
Appam
,
Kallappam
,
Vattayappam
,
Puttu
,
Roti.
I got this recipe from one of the old magazine.The original recipe was duck mappas and I made an experiment on chicken. It's very tasty, and easy to make.
Add it to your everyday menu, either for your family or as a party dish for your friends! Wish you a all Happy Easter 🙂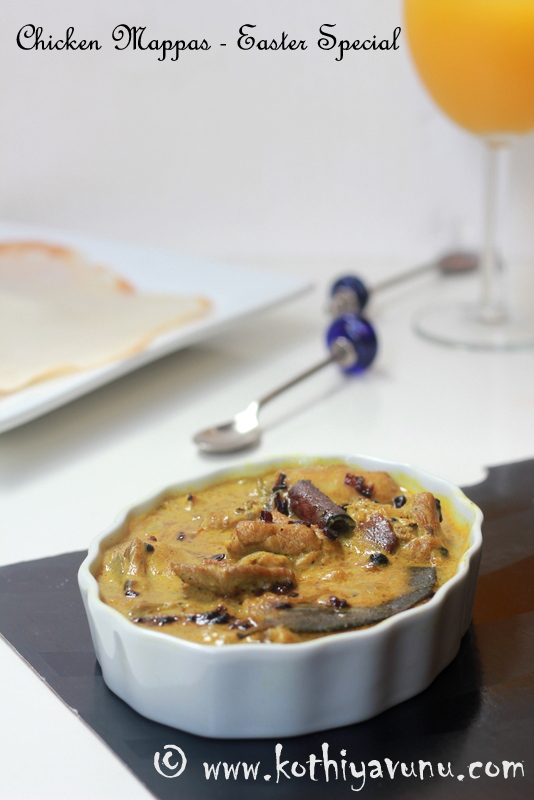 Chicken Mappas Recipe | Nadan Kozhi Mappas Recipe | Chicken Curry in Coconut Milk Recipe
Preparation Time : 30 minutes
Cooking time : 30 minutes
Serves : 4
Ingredients :
To marinate :
Chicken : 1.1 lb /1/2 kg
Turmeric powder : 1/4 tsp
Chicken Masala or Garam Masala : 1/2 tsp (I used eastern chicken masala)
Freshly Grounded Pepper powder : 1/2 tsp
Salt to taste
To Gravy :
Whole Garam Masala : Whole Pepper Corns : 2 tsp, Fennel Seeds : 2 tsp, Cardamom Seeds : 2, Cloves : 2
Cinnamon Stick : 1/2 " piece, Bay Leaves : 1, Mace : 1
Onion : 1 (large -sized, finely thinly sliced)
Tomato : 1 (use 1/2 of tomato chopped finely for sauteing and reserve other half for later use).
Ginger : 1″ piece, (minced or finely chopped)
Garlic : 5 to 6 cloves, (minced or finely chopped)
Green Chilly: 2 or 3, slit.
Curry Leaves : 1 sprigs
Turmeric Powder : 1/4 tsp
Coriander Powder : 1 tbsp
Freshly Grounded Pepper powder : 2 tsp
Garam Masala Powder : 2 tsp
Freshly squeezed Semi Thin Coconut milk – 2nd extract /Randampaal : 1 cup (you can also use canned coconut milk or coconut milk powder, If using canned thin it with 1/4 cup of water)
Thick coconut milk – 1st extract /Onnampaal : 1/2 cup
Coconut Oil : 2 tbsp

To Seasoning :
Coconut Oil : 1 tbsp
Small Red Onion /Shallots : 4-6 (finely sliced)
Curry leaves : 1 sprig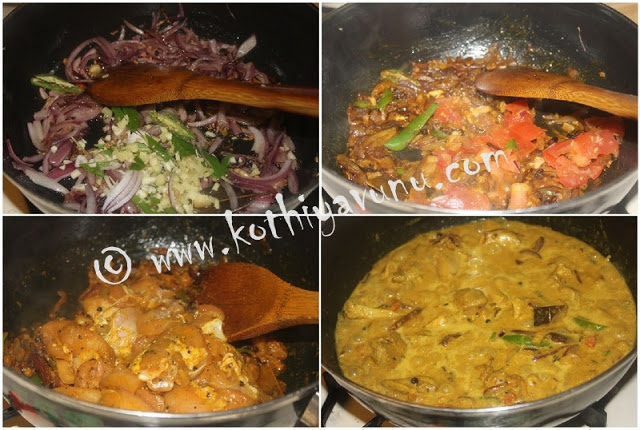 Learn How To make Chicken Mappas | Nadan Kozhi Mappas | Chicken Curry in Coconut milk :


1. Marinate the chicken with above listed ingredients "To Marinate" and keep it aside for 30 minutes.
2. Heat a pan /kadai with coconut oil; add all the whole garam masala, simmer the fire and then add sliced onion, ginger-garlic, green chilly, and curry leaves; saute for couple of minutes.
(Notes :
Onion need not be browned, just beginning to brown is enough.)
3. Now reduce the fire to low; add the spice powder leaving ½ tsp of garam masala behind for final tempering and saute for couple of minutes till the raw flavor vanishes; drizzling little water to prevent sticking.
4. Add 1/2 of chopped tomato, stir for a minute. (
Note :
Do not saute the tomatoes for long, they just have to blend into the masala)
5. Add the marinated chicken, adjust the salt and cook on high heat, stir until they are well coated with the masala for about 4-5 minutes. Reduce to medium heat and cook the chicken for 4-5 mts, uncovered.
6. Now add the semi thick coconut milk allow to boil. Turn the heat to medium low, cover and simmer until the chicken is almost cooked, about 20-25 minutes. Occasionally open lid and combine well, so that the chicken does not get sticked to the bottom.
7. Once the gravy has reduced, reduce the fire to low; add the thick coconut milk and gently stir. At this point add the reaming 1/2 of chopped tomato kept aside and add into the gravy. Allow it to stand for a min or two and then switch off fire.
8. In a frying pan, heat coconut oil, sliced small onions/ shallot, curry leaves and 1/2 of the garam masala powder left aside and saute till it turns to light brown and add to the curry…Serve with piping hot plain boiled rice or with
Appam
,
Kallappam
,
Vattayappam
,
Puttu
and Enjoy!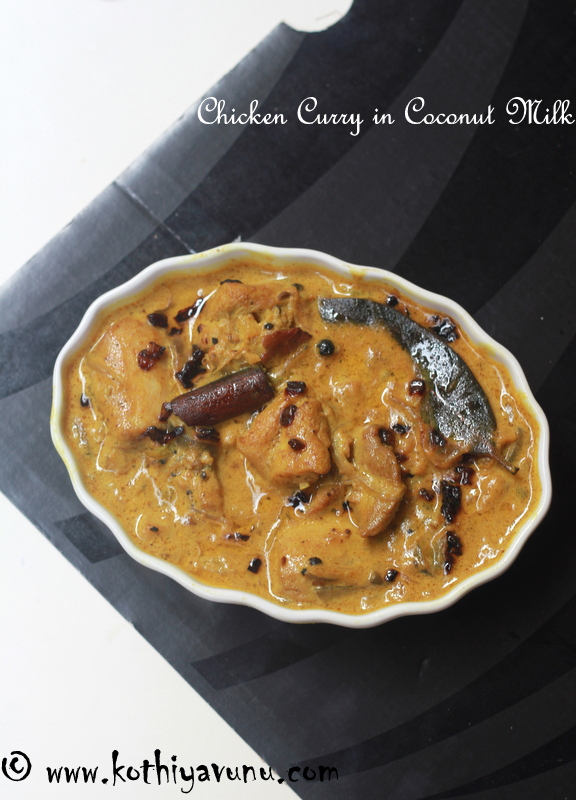 Notes :
Using freshly squeezed coconut milk, ground black pepper and coconut oil enhance the authentic taste and flavor.
Related Posts :
I hope you and your family have a wonderful Easter!
Sangeetha