Sometimes you really don't need a cooking. Just do it. Yes, today's traditional Assamese breakfast known as Jolpaan doesn't need any cooking. Jolpan is a snack, breakfast or a mini meal usually consists of various forms of rice like ground roasted rice (xandoh), boiled in its husk and flattened (chira/aval), puffed rice (akhoi /malar, mudhi /murmura /pori), and variety of glutinous rice found in Assam called as bora saul, kumol saul; this unique variety of rice can be eaten without cooking, just by soaking them and all these rice forms are eaten along with curd /yogurt (doi), jaggery (goor), and various pitha. It is served with great fervor during the most popular festival Bihu of Assamese culture, in weddings and other occasions too.
Without further ado, lets get on to the recipe…Enjoy!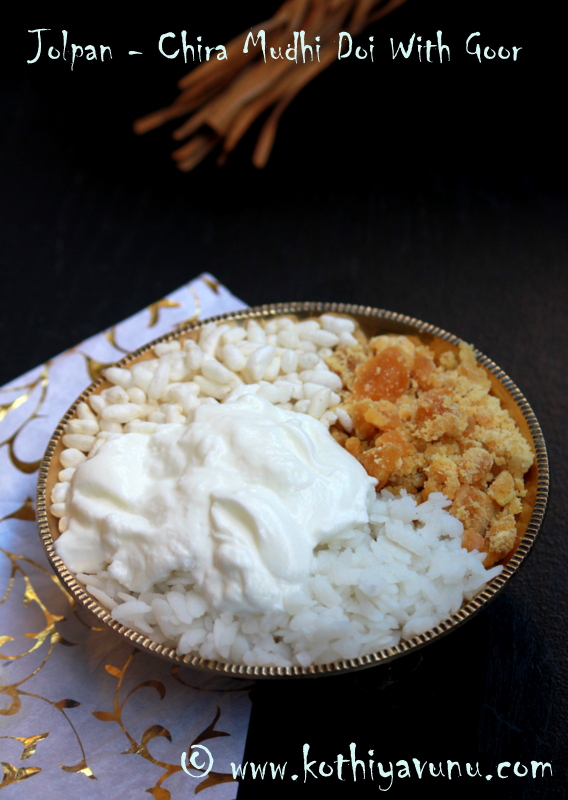 Jolpaan Recipe – Assame Breakfast | Jolpan – Chira-Mudhi-Doi-Goor Recipe
Preparation Time : 5 mins
Cooking Time : no cooking needed
Serves : 2
How to make Jolpan – Chira-Mudhi-Doi-Goor :


Wash and soak the chira /aval /poha /beaten rice for few minutes (say 2-5 minutes). In a bowl just spread the beaten rice-chira/aval, puffed rice-akhoi /malar or mudhi /murmura /pori and jaggery /goor as needed. Now add curd /yogurt – doi above to it . Serve and Enjoy!
Adapted from : here
Related posts:
Aval Varattiyathu /Aval Vilayichathu /Sweetened Poha/Beaten Rice Flakes
Have a great day!
Sangeetha