Howdy folks? Hope everyone had a lovely weekend and hoping to have a great week ahead.
Yes, my last post was Jalebi, so today I wanted to post a Fafda, a very popular breakfast, snack of Gujarat.
Lately I was so enthusiastic about cooking and experimenting different dishes…Continuing with the exploration of the Gujarat's much-loved combination of Fafda-
Jalebi
. Fafda are spicy and crunchy which is made of chickpea consists of long strips of dough which have been deep fried and
Jalebi
are sweet, tangy and soft fried sweet dipped in sugar. This sweet-salty combination is traditionally served during Dussera as a breakfast and is a favorite street food in Gujarat. You can find Fafda combination with
Jalebi
in every street corner of Ahmadabad.
It is easy to make at home, yet tastes like it came from your favorite street shop. Do give it try and enjoy this classic snack with your loved ones…
Fafda Jalebi Recipe – Gujarati Snack
Preparation Time : 5 minutes
Cooking time : 15-20 minutes
Serves : 4
Recipe Adapted from here

For Fafda Recipe :



Ingredients :
1. In a blow, add 2 tbsp oil, salt, turmeric powder, crushed black pepper, ajwain seeds, and baking soda together in a bowl and mix well.
2. Add the gram flour/ chickpea flour, add water little by little and make a soft dough just like chapatti dough. Knead the dough at least for 5-6 minutes and add 1 tbsp oil; again knead the dough nicely and leave it aside for 15 to 20 minutes covering with kitchen towel or with a clingfilm.
3. After 15 to 20 minutes; take a some portion of the dough and give them oval shape and place it on a greased surface.(
Note :
Take flat surface like chopping board but not very smooth, it helps when you remove the fafda from the board.)
4. Take a oval dough ball; with base of your palm press the dough and increase the length of ball with hands and keep it on the board under your palm. Press it with the palms and it in front direction. Roll out the thin layer and cut out strips from it.
5. Fry these strips over medium heat until crisp. Let them cool.
6. Now delicious fafda is ready to eat. Serve with spicy
green chilly chutney
or chutney of grated papaya and fried green chilly.
For Jalebi Recipe : Click here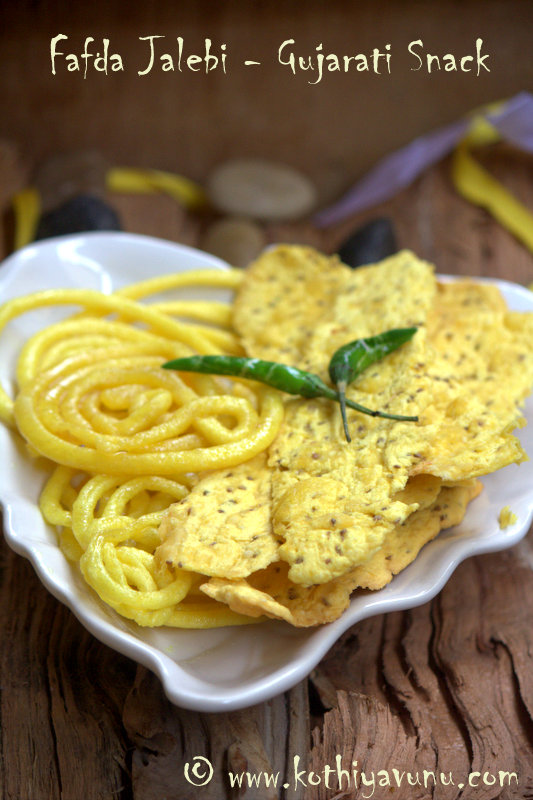 Click here for more Snack recipes
Cheers !
Sangeetha