A new and exciting, yummilicious Pazham Ada Pradhaman. Who wouldn't love them?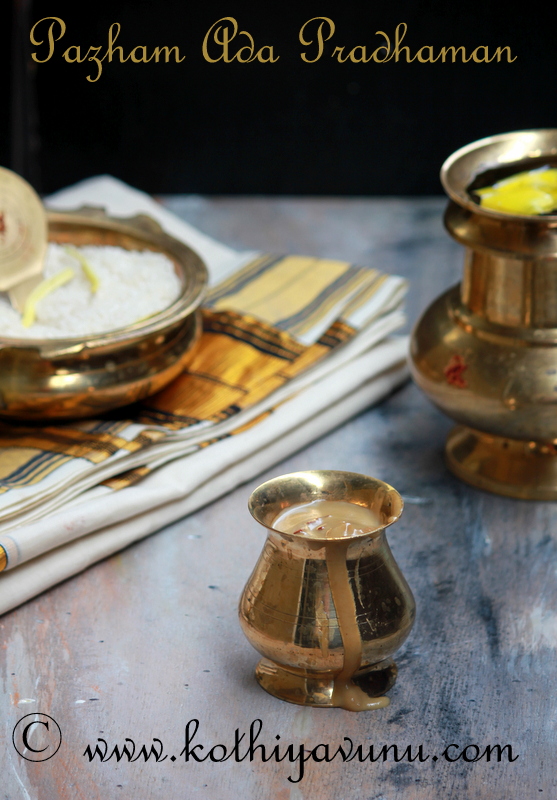 This exotic version comes with flavor of banana and yummy tastes of original Ada pradhaman. I saw this recipe over on
Archana's blog – Spicyana
and knew I had to try it. Yes I admit, I have weakness for
payasam's
🙂 though I have posted
pazham pradhaman
, which indeed inspired many people, this pazham ada payasam recipe will surely be the next hit.These are without a doubt amazing! After reading through the recipe which by itself a perfect treat, but I made a few adaptations of my own.
Enough saying much on this post, I will let the pictures do the rest :-). Endless and delightfully delicious possibilities. Enjoy!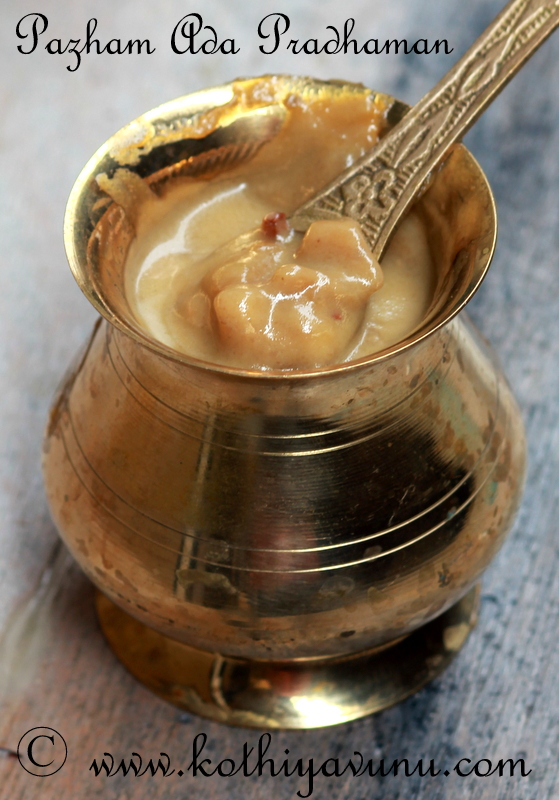 Pazham Ada Pradhaman Recipe | Pazhaada Pradhaman Recipe – Kerala Sadya Recipe
Preparation Time : 20 minutes
Cooking time : 1 hour
Serves : 4-6
Ingredients :
For Pazham Ada :
Very Ripe Plantains /Nenthrapazham : 2 (big)
Unroasted rice flour /Unakkalari podi : 1/2 cup
Water : 1/4 cup (may be less or more depending on the rice flour)
Ghee or Clarified butter : 1 tsp
Banana leaves /Vazhayila : Fresh or frozen for spreading the dough
Salt a pinch
For Pradhaman :
Jaggery /Sharkkara : 2 cups /500 grams or to your taste (melted & filtered)
Semi Medium Thick Coconut milk – 2nd extract /Randaampal : 2 cup or if you using store bought can : 1 (14 oz) can diluted with 1 cups of water. (see the method given below if you are using fresh coconut milk)
Thick Coconut milk – 1st extract /Onnampaal : 1 cup
Cardamom Powder /Elakka Podi : 1/4 tsp
Dry Ginger Powder /Chukku Podi : 1/4 tsp
Cumin Powder /Jeeraka Podi : 1/4 tsp
Coconut Pieces (cut into very small bits) /Thengakothu (preferably copra) : 1 tbsp
Ghee or Clarified butter : 2 tbsp
How to make Pazham Ada Pradhaman | Pazha Ada Payasam :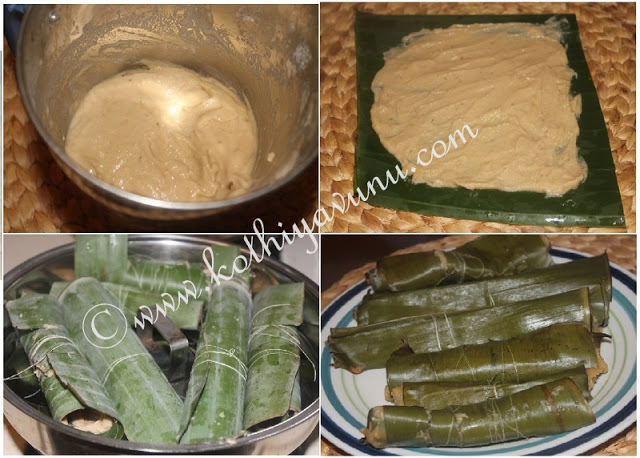 Making Pazham Ada :
1. Peel plantains and puree till very soft paste in a blender.
2. Add ghee followed by rice flour little at a time say 2 tbsp, blending in between. Add some water to loosen the batter if it gets too thick. (
Note :
The batter should resemble thick dosa batter so while adding water be very careful. The batter should fall from the spoon in thick sheets when lifted.)
3. Clean and wipe the plantain leaf pieces or if you don't not access to banana leaf then use parchment paper pieces and spread the drop of
ghee or clarified butter
on the leaves.
4. Now spread a thin layer of the batter on the banana leaf or parchment paper.
5. Roll the banan leaf or parchment paper tightly starting from the short side; and tie with the string. Repeat the same with the rest of the batter.
6. Steam, cook it for 20-30 mins; the water droplets on the banana leaf and the tenderness of it will make sure that the ada is cooked well. Carefully open it, sprinkle cold water if its sticky. Cool down the rolls completely then chop the cooked ada sheets into thin bits.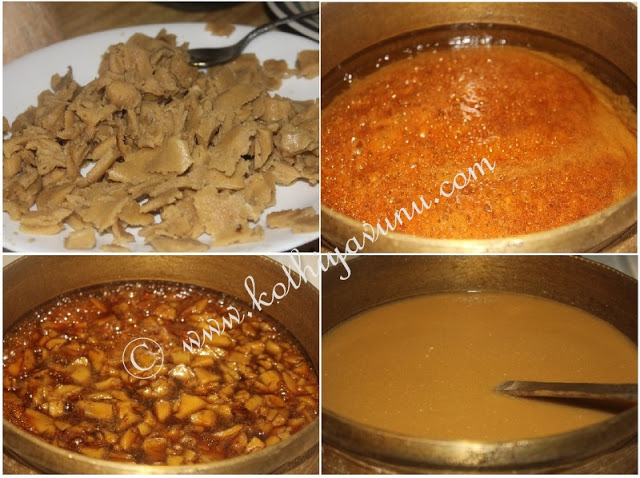 Making Pazham Ada Pradhaman :

1. Melt the jaggery in 2 cup water in a wide mouthed heavy bottomed pan or uruli (Kerala style shallow kadai used for making payasam) over medium low heat and keep on stirring till it is fully melted (almost the consistency of honey) It would not take more than 15- 20 mins.
2. Add 1 tbsp
ghee or clarified butter
and the chopped pazha ada to the jaggery syrup in the uruli /pan and cook for a few minutes over medium heat.
3. Add the semi thick coconut milk /2nd extract/randaampal; mix well and boil again stirring continuously over medium-low heat for about 8-10 minutes or until the mixture thickens.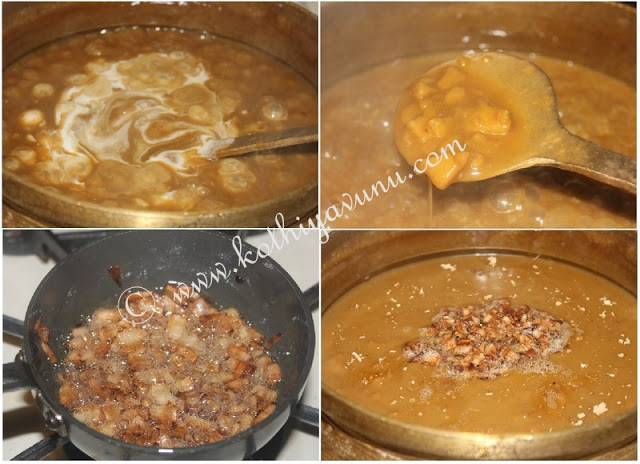 4. Finally add the thick coconut milk – 1st extract /onnampaal and cook for a minute at low heat and switch off the flame. Keep stirring until the milk is incorporated. (Note: Do not boil the coconut milk, boiling will result in separated coconut milk.)
5. Switch off the stove add cumin powder, dry ginger powder and cardamom powder. Mix well.
6. Finally, heat
ghee or clarified butter
in a small frying pan. First fry the coconut pieces until brown and drain on to a paper towel and add it to the pradhaman. Let it stand for 20 minutes for the flavors to blend.
7. Delicious Pazham Ada Prathaman is ready to serve…Serve warm or cold and Enjoy!
Notes :
This payasam tends to thicken over time. If you feel it is too thick when serving, you can dilute it by adding more thick coconut milk or boiled milk as needed.
The amount of jaggery can be vary according to your taste. You can substitute jaggery with molasses and brown sugar.
Do Try this…Hope you will all enjoy, but don't forget to share your feedback!