Mutton Varutharacha Curry Recipe – Eid Special | Spicy Mutton Curry | Goat meat in Roasted Coconut Gravy
Preparation Time : 10 mins
Cooking time : 30 mins
Serves : 4
Ingredients :


For Gravy :
Mutton /Goat /Lamb (with bones) :
1 kg /2 lb (Cut into medium pieces)
Samll Onion:
1/2 cup (thinly sliced) or substitute with Onion :1 (medium size)
Tomato : 1 small (thinly sliced)
Turmeric Powder :
1/4 tsp
Coriander Powder :
1 tbsp
Red Chilli Powder :
1 tbsp or to spice tolerance
Coconut Oil /Cooking Oil :
1 tsp
Curry Leaves :
few
Vinegar :
2 tbsp
Hot Water : 2 1/2 cup
Salt to taste
To roast and grind:
Grated coconut (fresh or frozen):
3/4 cup
Whole Coriander:
1 tbsp or substitute with coriander powder :1 tbsp
Whole black pepper :
11/2 tsp or to your spice tolerance
Shallots/Small red Onions :
3-4 (thinly sliced)
Garlic :
2 cloves
Green Cardamom pods :
3
Cinnamon Stick :
1/2″
Fennel seeds : 1/4 tsp
Bay Leaves : 1
Curry Leaves :
1 sprig
Coconut oil :
1 tbsp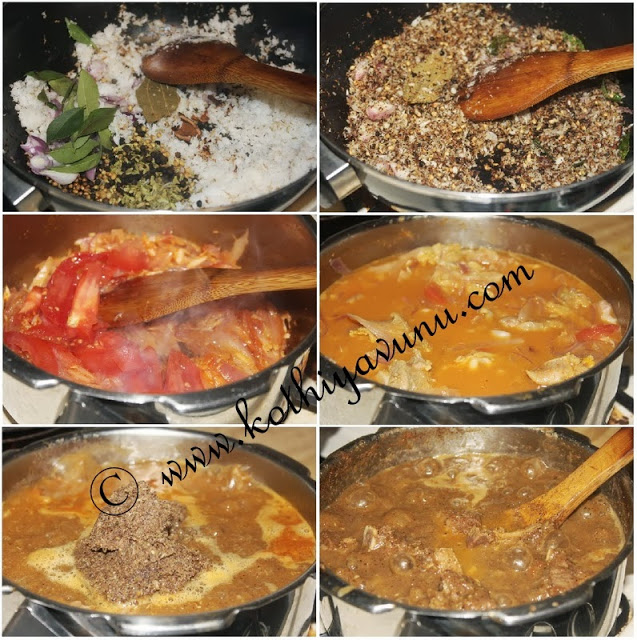 How to make Varutharacha Mutton Curry |Spicy Mutton Curry :
1. Wash and cut mutton in to medium pieces, and place in a pressure cooker along with turmeric powder, red chilli powder, coriander powder. Add 1/2 cup of hot water and salt to taste; cook for about 8-10 minutes after the first whistle (after it comes to full pressure) reduce the fire to medium and then switch of the flame and let it cool naturally. At the end of the cooking, if there is a lot of gravy, cook it down till there is just enough liquid to coat the meat pieces. Alternatively, mutton can be cooked in a regular pan; In a pan; cover and cook the meat along with turmeric powder, red chilli powder, coriander powder. Add 1/2 cup of hot water for about 20 to 30 minutes or till the mutton is soft.
2. Meanwhile heat oil in a small frying pan (preferably coconut oil) and add all ingredients listed above 'To roast and grind'. Fry till the coconut turns golden brown. Remove from fire and let it cool. Grind the same adding little water till it become smooth paste.
3. In a large pan /kadai, add oil (preferably coconut oil) and sauté the sliced shallots/small red onion or sliced onions, and curry leaves. Once the shallots or onions turns to translucent and light brown. Add the sliced tomato and saute till it turns soft and mushy.
4. Add the cooked mutton/goat meat and sauté for few minutes on high heat; so that the spices sticking on the meat gets browned a bit.
5. Now add the grounded coconut paste and mix well and sauté for another couple of minutes.
6. Add 2 cups of hot water and the vinegar and mix well. Adjust the salt.Bring to a boil and reduce the heat to medium.
7. Cover and cook for 10 minutes or until the gravy turns dark brown in color and the gravy thickens.
8. Remove from the fire; sprinkle little coconut oil on top and keep covered until its ready to serve.
9.Serve with Steamed rice,
Ghee Rice
,
Pathiri
,
Appam,
or
Kerala Parotta
, and Enjoy!
Notes :
The color of curry depends on how well you roast the coconut and spices.
This is a very hot dish. Add or reduce chilli flakes and pepper powder according to your taste. Optional – To bring down the heat, you can substitute red chilli powder with paprika powder without effecting the consistency and flavor of the curry.
Using freshly ground pepper adds to it taste and I prefer to use shallots instead of onions as it gives a great flavor to dish.
Using coconut oil enhance the flavor.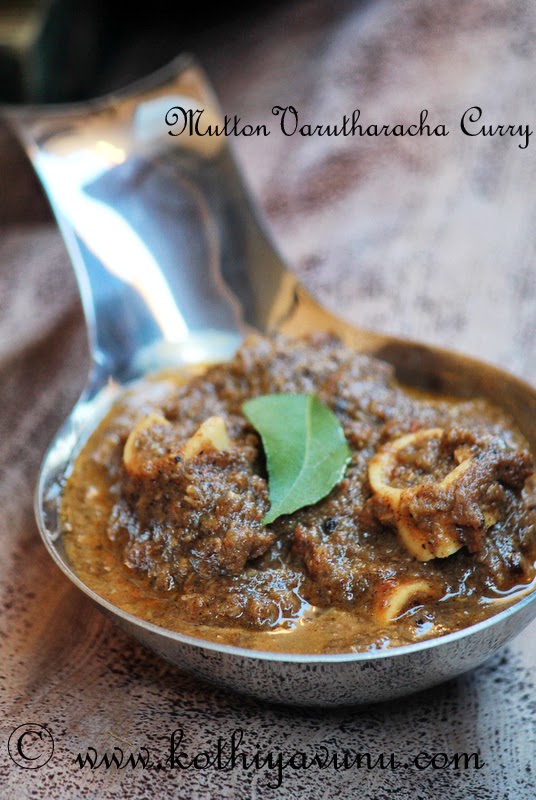 Related Posts :
Varutharacha Kozhi – Chicken Curry
Njandu Varutharacha Curry
Varutharacha Meen Muringakka Pacha Manga Curry
Vautharacha Sambar
Check here for more Mutton /Goat Recipe
Once again Eid Mubarak to all!
Sangeetha