Spicy, Tangy, Healthy and Delicious drink Anyone?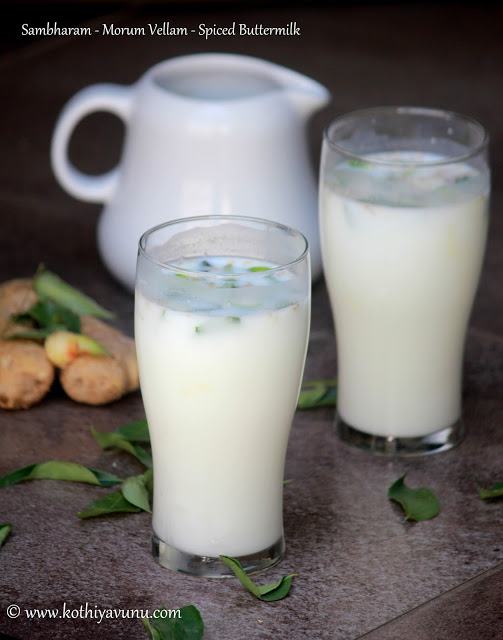 Spiced Buttermilk is called sambharam in Malayalam. Sambharam/Spiced buttermilk is a famous drink; it is a cool and energizing drink for hot summer days. It is part of the Kerala Sadya Recipes. It is served at the end of the meal. It help you to feel a little bit more refreshed after a heavy meal and good for digestion also. It also goes by several names depending on the states in India, like the neer mor or Masala mor, Masala majjige, Chaas, etc.Whatever be the name recipe followed is the more or less the same. It takes only 2 minutes to prepare, naturally healthy best drink for summer.
This is one of my kids favorites drink and am sure it will be loved by kids and adults equally…so if you're a fan of spiced buttemilk/sambaram, be sure to give this one a try!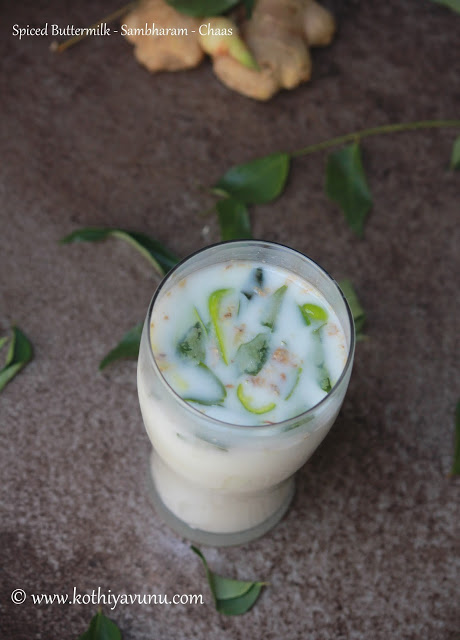 Sambharam – Morum Vellam Recipe | Spiced Buttermilk Recipe | Neer Moru Recipe | Chass Recipe
Prepration time : 2 mins
Serves : 2 (Tall class)
Ingredients :
Yogurt : 1 cup
Ginger : 1/2 inch, crushed or grated
Green Chillies : 2 or to your spice torelence level (chopped)
Curry leaves : 2 sprigs ( torn into pieces
Lemon / Lime leaves /Narakathinte ela : 3 (torn into pieces)
Cold Water : 2 to 3 cups or as required,
Salt to taste
How to make Sambharam – Morum Vellam – Spiced Buttermilk – Neer Moru – Chass :
1. Blend the yoghurt with enough water in a mixer.
2. If you are using buttermilk, add water and whisk well.
3. Stir in the chopped green chillies, grated or crushed ginger, torn curry leaves and lemon leaves and salt to taste. If your prefer to drink it cooled refrigerate it for half an hour before serving. Enjoy!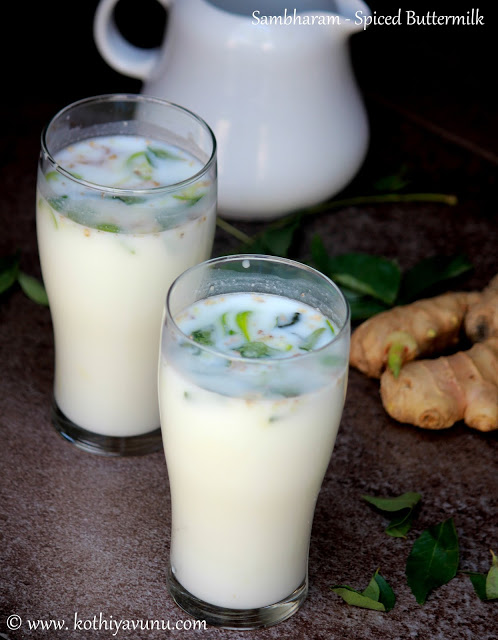 Related Posts :
Cheers!
Sangeetha