Serve up something healthy Spicy Baked Fish -Kerala Style. I don't need to say much on this post, I will let the pictures do the work 🙂 Perfectly seasoned and unbelievable tasty!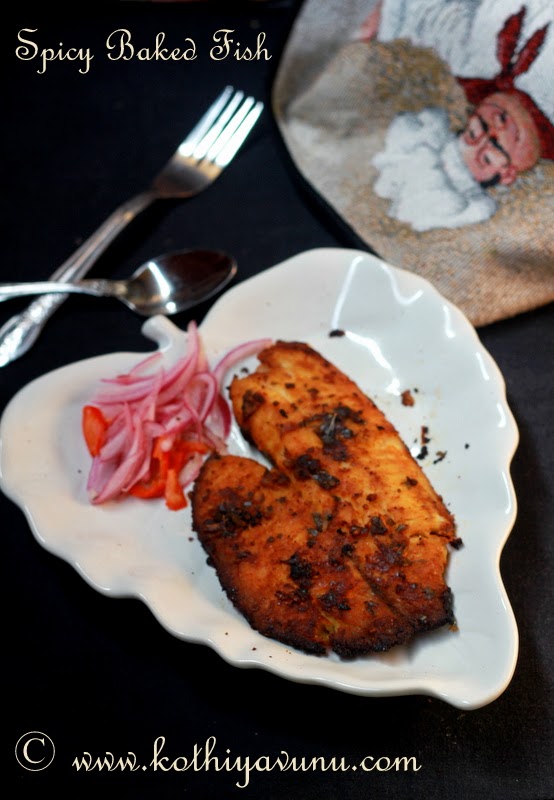 You May Like These As Well…
How to Make Spicy Baked Fish -Kerala Style |Baked Fish Recipe|Baked Fish with Indian Spices :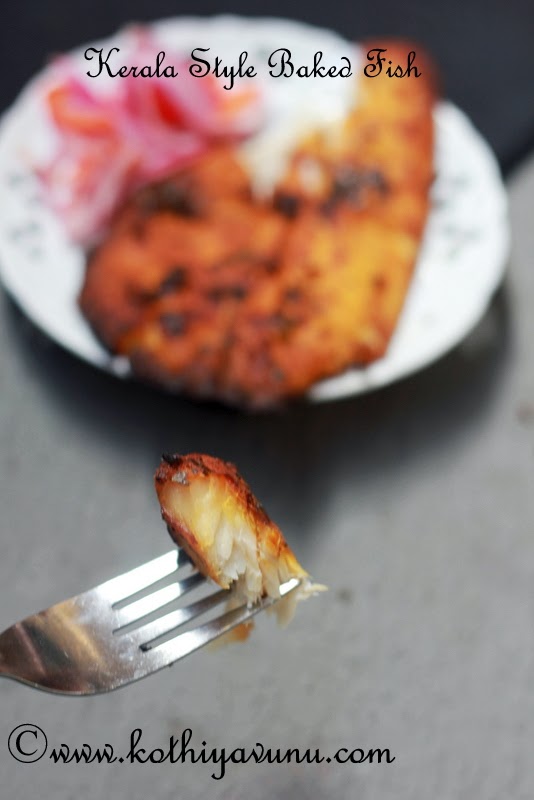 Spicy Baked Fish -Kerala Style | Baked Fish with Indian Spices
Serve up something healthy Kerala Style Spicy Baked Fish. Perfectly seasoned and unbelievable tasty!
Ingredients :
Fish Fillets : 4 (can use any fleshy fish,I used Tilapia Fillets)
To Make Paste :
Shallots /Red Small Onion : 2 (crushed)
Turmeric Powder : ¼ tsp
Red Chilly Powder : 1 tbsp
Coriander Powder : ½ tsp
Black Pepper Powder (freshly crushed) :1/2 tsp or to your tolerance level
Ginger-Garlic Paste: 2 tsp
Fresh Lemon Juice or Vinegar : ½ tsp
Olive Oi1 : 1 tsp
Curry Leaves (crushed) : 1 tsp
Salt to taste
How to Make :
Clean and pat dry the cleaned fish using a kitchen tissue.
Make a paste with all the ingredients listed above "To Make Paste" by adding a little oil or water.
Apply the masala paste on the fish fillets one by one and keep the marinated fish pieces for ½ hour to 1 hour in refrigerator.
Preheat oven to 400 degree F /200 degree Celsius.
Line a baking pan with aluminum foil and spray or brush lightly with some olive oil.
Place the fish fillets in a single layer an inch apart on the baking tray and bake uncovered for around 15 minutes.
Turn the fillets carefully and bake for another 15 minutes depending on how crisp you want your fish to be. If you want a nice crispy crust, broil it during the last 2 mins.
Serve with lime, onion wedges and hot steamed rice or on its own and Enjoy!
Notes
Temperature setting and cooking time may vary depending on oven, so adjust the timing accordingly.
Make sure the fish fillets are not thin or else it starts falling apart and also be careful not to bake it for too long or else it will become dry
If you prefer broil then make sure you keep an eye on the fish, because it can easily burn the fish.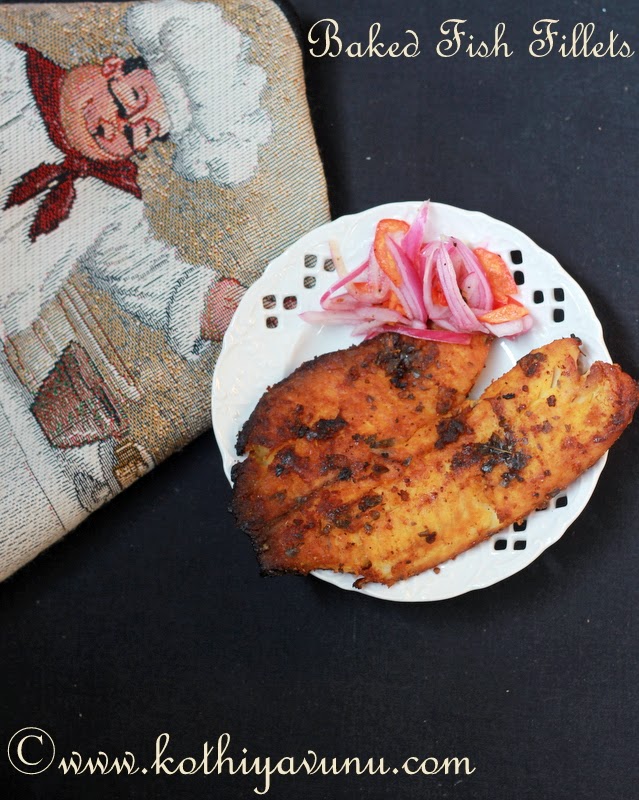 Hope you all will enjoy making this Healthy Baked Chicken -Kerala Style! Don't forget to let me know your opinion if you try.
Cheers!
Sangeetha
Like this Recipe? Sign up, and get more recipes delivered directly to your inbox.