These chicken puffs are one of my all time favorite and it is yet another snacks that brings back fond memories. Nostalgia!  The other day I craved for chicken puffs which was always a post work day treat from my office cafeteria back home.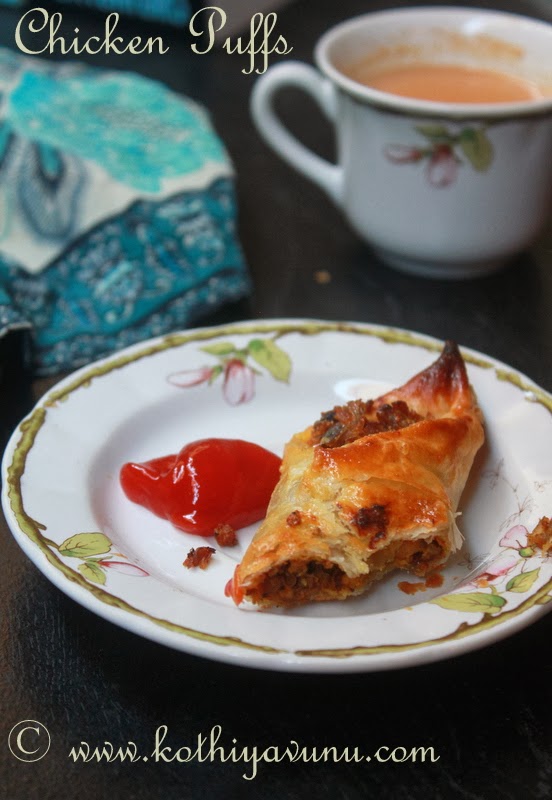 Yes, you guessed what would happened next?:) They are a splendid treat to the taste buds. Especially homemade ones, nothing can beat homemade! Enjoy them as it is or douse them generously with ketchup and have at it. Come back to pour your valuable feedback! Enjoy!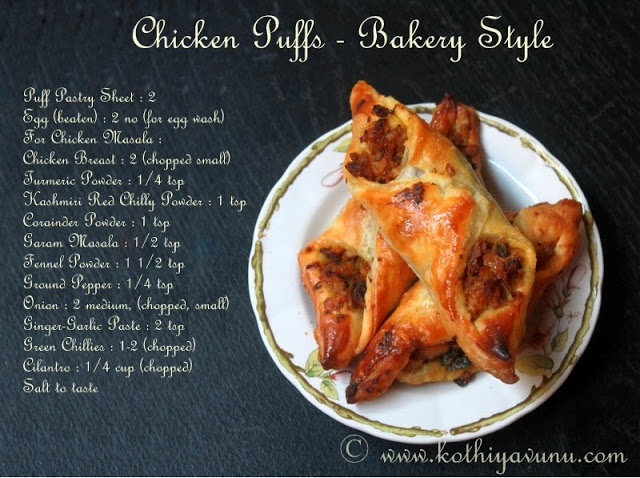 Chicken Puffs Recipe – Kerala Bakery Style | Spicy Chicken Puffs Recipe
Preparation Time : 30 mins
Cooking Time : 25 mins
Makes : 12 puffs
Ingredients :
Puff Pastry Sheet : 2
Egg (beaten) : 2 no (for egg wash)
For Chicken Masala :
Chicken Breast : 2 (chopped small)
Turmeric Powder : 1/4 tsp
Kashmiri Red Chilly Powder : 1 tsp
Corainder Powder : 1 tsp
Garam Masala : 1/2 tsp
Fennel Powder : 1 1/2 tsp
Ground Pepper : 1/4 tsp
Onion : 2 medium, (chopped, small)
Ginger-Garlic Paste : 2 tsp
Green Chillies : 1-2 (chopped)
Cilantro/Coriander leaves : 2 tbsp (chopped)
Salt to taste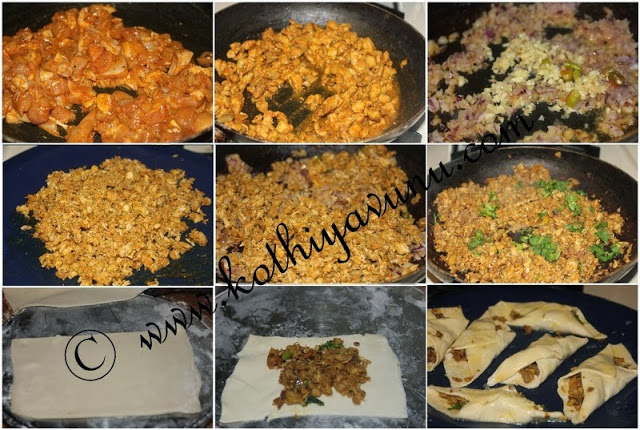 How to make Chicken Puffs – Spicy Chicken Puffs :
1. Thaw the puff pastry sheet at room temperature for 30 minutes or  depending on the instructions given in the pack.
2. Preheat oven to 400 degree F and start to make the masala so that once you are done it will be perfect to bake them.
3. In a saucepan, combine the chicken with all the above listed ingredients 'For Chicken Masala'. Cover and cook till the chicken has cooked well and turns light brown. Let it cool; shred the cooked  chicken and keep it aside.
4. Heat a oil in non-stick pan, add chopped onions and saute till translucent. Add ginger-garlic paste and green chilly, saute for couple of minutes.
5. Add the cooked shredded chicken and saute well. Taste and adjust the seasonings.
6. Add the chopped coriander leaves and mix well; remove from the heat and keep it aside.
7. Roll out the puff pastry sheet and cut into 6 equal pieces, cut through the folds on it and then, cut the three big pieces into two each pieces onto a square shape.
8. Take 1 tbsp of cooked masala and keep on the middle of each pastry slice.
9. Try to fold the pastry slice diagonally and for the pastry to stick in the center just dab it with some egg wash or water.
10. Optional – Do some egg wash on top of the pastry for some glossy finish, you could even add some sesame seeds on top for a perfect bakery effect.
11. Arrange them on a greased baking tray lined with parchment paper.Bake for 15-20 minutes until the top turns golden brown.
12. Enjoy your chicken puffs  with hot tea or coffee!
Notes :
Let the chicken masala cool down completely before setting it in the oven, if its done when hot the pastry would be sticky and stretch.
Temperature setting and cooking time may vary depending on oven so adjust the timing accordingly.


Related Posts :