Healthy & Yummy Roasted Asparagus! The other day, I was on a call with our friend and as always our talks led to how to feed healthy foods to kids.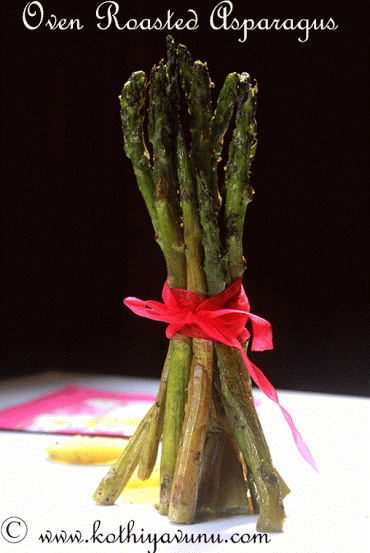 Like most parents, she struggled to get her kid to eat healthy, balanced meals, so I advised her to try giving roasted asparagus and artichokes, then she requested for recipe, therefore I guess at least some of you will need this recipe. There is nothing special to be explained about this dish.
I adore asparagus.This is mainly for those who are not familiar with asparagus. Asparagus has many health benefits; it's rich in fiber and potassium.It's so easy to prepare, for those of you who haven't tried it before, here you go! It is for kids and adults alike.Try and incorporate this roasted Asparagus into your diet and reap the health benefits of this fantastic vegetable! Enjoy!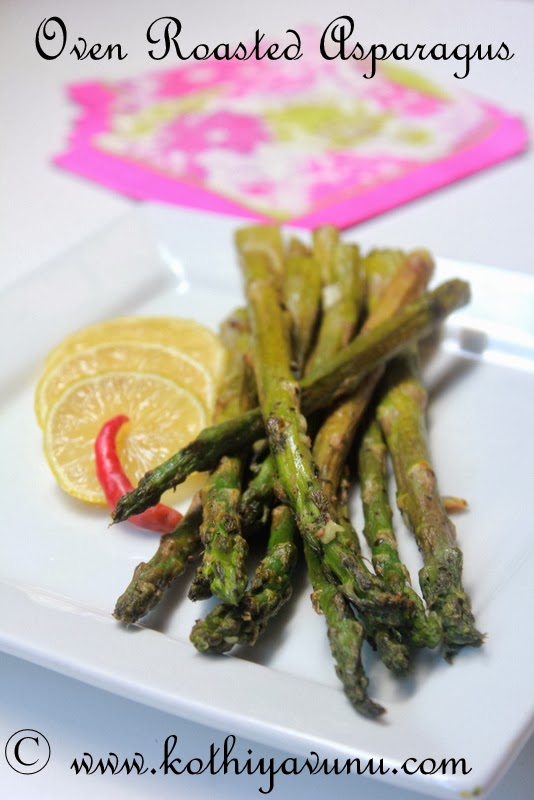 Oven Roasted Asparagus Recipe
Preparation time : 5 mins
Cooking time : 12-15 mins
Serves : 4
Recipe Slightly Adapted : Ina Garten
Ingredients:
Asparagus : · 1 bunch (about 1 lb.)- thicker, larger stalks work best
Extra virgin olive oil : 1 tbsp
Black Pepper powder : 1/2 tsp
Garlic : 2 cloves, (minced)
Salt to taste
Lemon Juice to taste (optional)
Baking sheet, aluminum foil (optional)

How to make Oven Roasted Asparagus :
1. Preheat oven to 450 degrees F.
2. Wash asparagus and pat dry. Trim off the tough, thick end part of each stalk.
3. Line the baking sheet with aluminum foil for easier cleanup, if desired. Spread asparagus out on ungreased baking sheet. Drizzle extra virgin olive oil evenly over the top of the asparagus.
4. Use your fingers to gently rub each stalk evenly with the olive oil. Sprinkle the asparagus generously with salt, minced garlic and pepper. Place in the oven.
5. Roast the asparagus for 12-15 minutes turning them over in between, You will know they're done when the asparagus turns lightly browned, the stems are tender, and the tips of the asparagus begin to get crisp. Small or very thin stalks may take less than 12 minutes to roast. Adjust the seasonings. Sprinkle a little lemon juice(optional).Serve hot and Enjoy!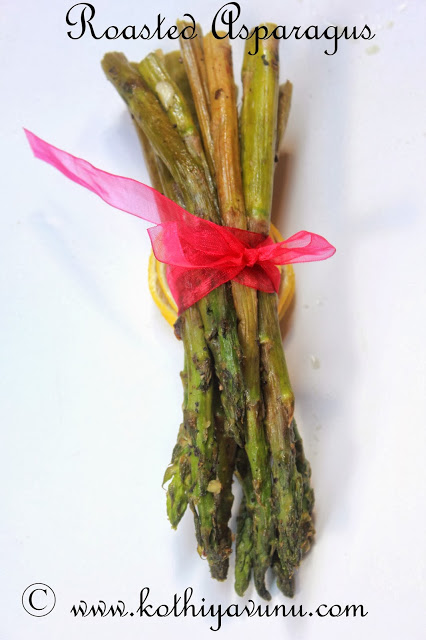 Related Posts :
Chicken Asparagus Spirals
Cheers!