So I suddenly have a Prawn obsession. I guess that's not something suddenly new for me 🙂 I always loved anything with prawns.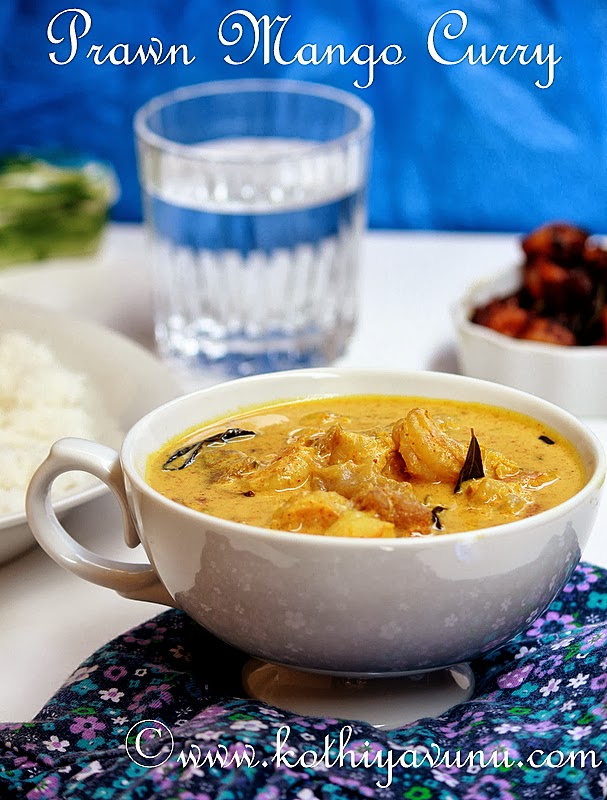 Well, now, I just want to share quickly with you, one of my favorites at my in-laws place.My MIL prepares wonderful varieties out of chemmeen/prawns and Chemmeen Manga Curry(Prawn Mango Curry) is just one simple delicacy which is sure to please anyone's taste buds.
Prawn Mango Curry Recipe – Nadan Chemmeen Manga Curry Recipe
Preparation Time : 10 mins
Cooking Time : 15 mins
Serves :4
Ingredients :
Prawns /Shrimp/Chemmeen : 1 lb/1/2 kg
Raw Mango /Pacha Manga : 1/2 to 1 small or 1 cup (peeled, sliced lengthwise- little finger-size)(refer notes)
Shallots /Red Small Onion /Pearl Onions : 6-8 (thinly sliced)
Ginger : 1/2 " piece
Garlic : 2 cloves
Green Chilli : 2, slit lengthwise
Curry leaves : 2 springs
Turmeric Powder : 1/4 tsp
Red Chilly Powder : 1 tsp
Coriander powder : 1/2 tsp
Coconut Oil : 1 tsp
Semi Thick Coconut milk – 2nd extract /Randampaal : 2 cup
Thick Coconut milk -1st extract /Onnampaal : 1/2 cup
Salt to taste
For Tempering :
Fenugreek Seeds : 1/4 tsp
Red Small Onion /Shallots : 6-8 (finely chopped)
Curry Leaves : 1 sprig
Coconut oil : 1 tsp
How to make Nadan Chemmeen Manga Curry /Prawn Mango Curry :
1. Crush together red small onion/shallots, garlic, ginger, green chillies and curry leaves. You may give it a pulse in a mixer/food processor.
2. In a pan (preferably in 'Kalchatti' an earthen pot), add the above crushed shallots-ginger spice mixture, turmeric powder, coriander powder, red chilli powder and salt to taste; add 1 tsp of coconut oil and start mixing it with your hand.Mix it thoroughly.
3. Now add semi thick coconut milk /2nd extract /randampaal and half of the thick coconut milk/1st extract /onnampaal to it so that the mixture just covers the ingredients.
4. Switch on fire and bring this to a boil. Once boiling add sliced raw mango pieces and cook until mango pieces are tender and cooked through.Stirring occasionally.Otherwise there is a chance of getting coconut milk curdle.(Note : If mango is not sour enough, you can add a piece of kudam puli or a little tamarind extract while boiling the gravy.
5. Now reduce the flame to medium- slow, add the prawn pieces; check and adjust the salt. Close and cook it for 5 mins(approx) or till the prawns completely absorbs it.
6. Pour the remaining half of the thick coconut milk /1st extract/onnampaal; reduce the fire to low for a minute and gently shake so that it gets mixed.
7. In a frying pan, heat coconut oil, splutter fenugreek seeds, sliced small onions/ shallot, curry leaves, saute till it turns to light brown and add to the curry…Serve with piping hot plain boiled rice or with
Appam
,
Puttu
and Enjoy!
Notes:
Coconut milk can be replaced with grated coconut. Grind along with small onions-ginger spice mixture(step1), to a very fine paste and follow the rest of procedure mentioned above.
Mango can be replaced with other souring agents such as kudam puli (gamboge) or tamarind.
The taste of the curry depends on the mango, and the quality of the coconut milk. I prefer using fresh squeezed coconut milk.
For prawn curry smaller prawns are more tastier than big one.
Keep this curry for at least 1-2 hours before serving, so that the gravy absorbs all flavors.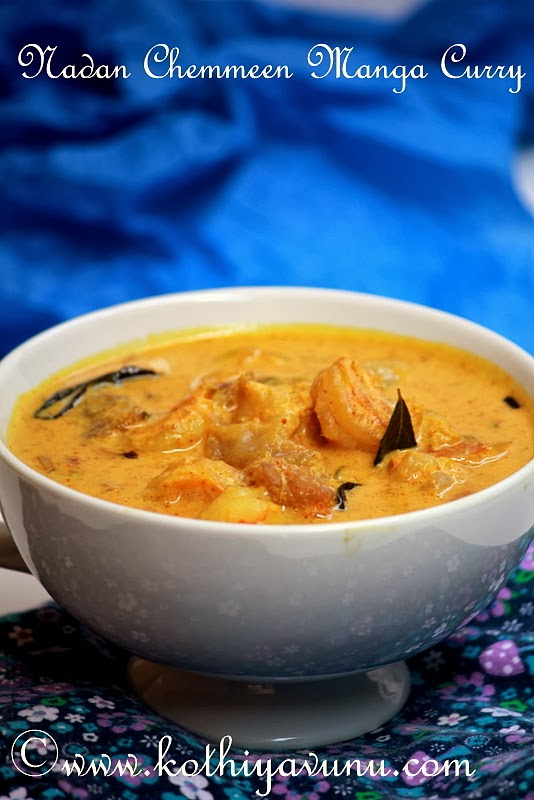 Related Posts :
Padavalanga Chemmeen Curry /Snake Gourd with Prawns/Shrimp Curry
Chemmeen Ulli Theeyal /Prawns Shallots Theeyal
Chemmeen Muringakka Curry /Prawn Drumstick Curry
Chemmeen Thenga Pal Curry /Prawns Coconut Milk Curry
Prawn /Chemmeen Curry


Until next time, Bon Appetit,
Sangeetha