Holiday season is now officially on and you can smell the holiday spirit in the air… so what are the plans with you? planned a fun-filled vacations? or how many parties you have planned? 🙂 Whatever your plans are, wishing you all a wonderful Holiday Season! We planned a small vacation with our friends and looking forward to it.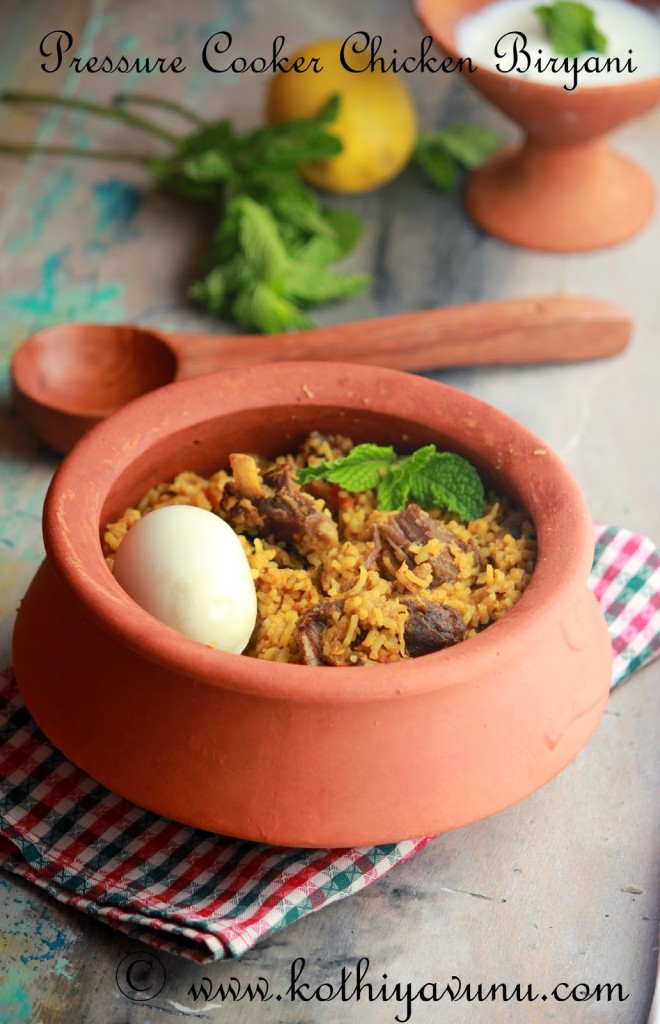 Well, talking about today's recipe, this pressure cooker biryani recipe has been lying in my drafts for a while now. I didn't liked the pictures so I kept postponing the post, but couple of day before one of reader Ms.Kavitha Nair requested for the same and I couldn't take new pictures of this, but I promised her to post it before Christmas and here it is finally. Kavitha is very loyal reader of this humble blog and she always encourages me lot by sending the pics of what she tried and even she sends good recipes for me to try.Thanks Kavitha! If you do have the picture of a recipe that you tried from here and I love to see that. Do send it to me and I will add it to the reader testimonials album !:-)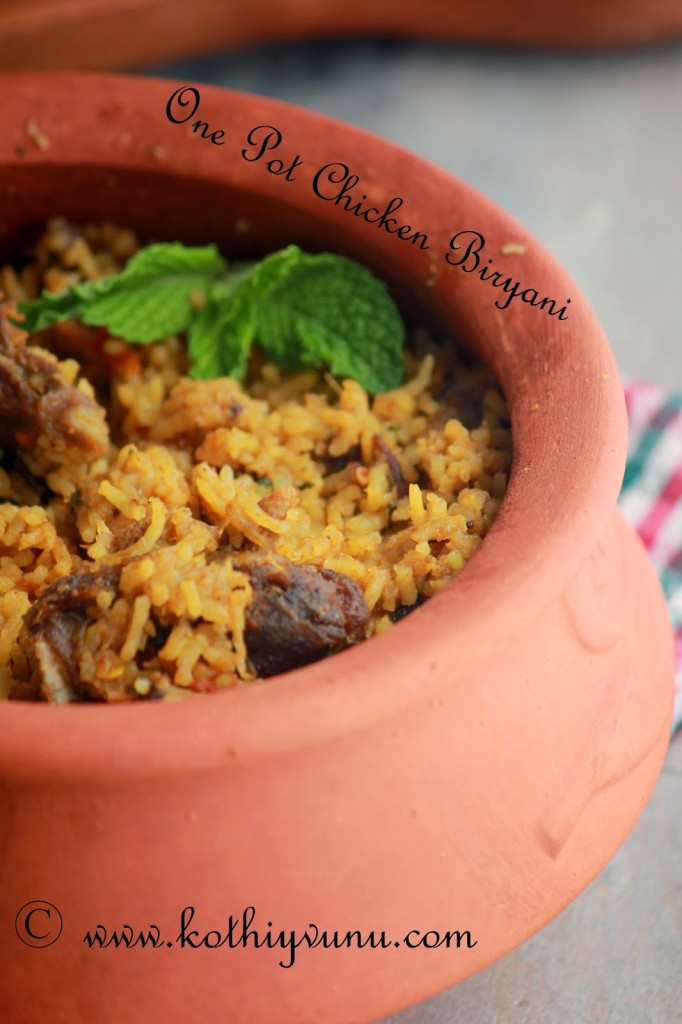 If you know my blog well, then you know I'm a great biryani fan. I love to try different versions.Yes, biryani is one dish one which takes quite a twist when it comes to method for preparation. Everyone has secret ingredients and their own twits to bring out the best flavor and texture. Today I'm sharing pressure my verison of making chicken biryani using pressure cooker for Kavitha and for you all too. Do give a shot and let me your thoughts! Enjoy!
Pressure Cooker Chicken Biryani Recipe – One Pot Biryani Recipe – Christmas Special Recipe
Preparation Time : 30 mins to 1 hr for marinating and 10 mins of preparing other things.
Cooking Time : 45 mins
Serves : 4-6
Ingredients :
Basmati Rice : 2 cups
Hot Water : 3 cups
Onion : 2 large (thinly sliced)
Tomato : 1 (finely chopped)
Green chilli : 4 (slit lengthwise)
Ginger Garlic Paste : 3 tbsp
Thick Curd / Yogurt :1/2 cup
Turmeric Powder : 1 tsp
Red chilli powder : 1/2 tsp or to your spice level
Coriander Powder : 2 tbsp
Biryani Masala or Garam Masala Powder : 1 tbsp
Cumin Powder / Jeera Podi : 1 tsp
Coriander Leaves :1/2 cup
Cooking Oil : 3 tbsp
Salt to taste
Lemon Juice as needed
For Marination :
Chicken : 1.1 lb/1/2 kg
Raw Papaya : one 1″ piece (made into a paste)
Yogurt /Curd : 2 tbsp (beaten)
Green Chilly-Ginger-Garlic minced together : 1 tsp
Red chilli Powder : 1 1/2 tsp
Turmeric Powder : 1/2 tsp
Homemade Briyani Masala
or Garam Masala : 1/2 tsp (How to make Biryani Masala check
here
)
For Nutty Paste :
Fennel seeds : 1 tsp
Poppy seeds : 1 tsp
Grated Coconut : 3 tbsp
Cashew nut : 8 nos
For Seasoning:
Fennel Seeds : 1 tsp
Whole Garam Masala : (Green Cardamom : 5 pods, Black Cardamom : 1 pod, Cinnamon Stick : one 2″ piece)
How to make Pressure Cooker Chicken Biryani – Easy One Pot Biryani :
1. Wash and soak the basmati rice for around 15 min,then drain it and set aside.(
Note :
Soaking time varies with the quality and brand of rice, if pressure cooking , soaking time should be very less.)
2. In a bowl, add all the ingredients listed above " For Marination" and allow the chicken to marinate for 1/2 to 1 hours.
3. Soak the poppy seeds, fennel seeds, cashewnut in the water for 10-15 minutes and grind it to smooth paste along with grated coconut and keep it aside.
4. In a pressure cooker heat oil and 3 tbsp
ghee
, add all the ingredients listed above
" For Seasoning" saute until fragrant for a minute. (
Note :
Make sure not to burn the spices)
5. Add the sliced onion, green chilli and saute on a low heat till brown. Add in ginger garlic paste and saute for a minute.
6. Add in chopped tomatoes, all spice powders, 1/2 of chopped coriander leaves and mint leaves. Combine well.
7. Add in yogurt and mix well. Now add in the marinated chicken pieces, salt to taste and cook until lightly browned, about 5 minute.
8. Add the nutty paste and cook for a minutes. Pour in 3 cups of hot water and bring to boil.
9. Meanwhile heat 1 tbsp
ghee
in another pan over medium heat, add the drained basmati rice and fry for couple of minutes.
10. Now add in the lightly fried basmati rice to the pressure cooker, adjust the salt and mix well. Add the remaining chopped coriander and mint leaves and sprinkle little
briyani masala or garam masala.
11. Bring this mixture to a boil, cover with lid and pressure cook it for 1 whistle. Immediately shift the pressure cooker from the hot burner, this reduces too much browning on the bottom of the pan. Let the steam release completely. Allow 15 minutes and then open.
12. Now open the pressure cooker and squeeze some lemon juice and gently fluff rice with a fork.
13. Transfer the rice to a wide tray and gently spread to cool. Now add the 1tbsp
ghee
on the top.Mixing while its hot makes the rice break easily, so let it sit for 10 more minutes.
Gently combine everything and Serve hot with Raita, Pickle or Boiled egg and Pappadam on the side and Enjoy!
Notes :
Chicken may be substituted with mutton/lamb/goat or beef or pork as you wish, but make sure you pressure cook meat before, then add rice and water as needed. Keep in mind, pressure cooking time depends on the type of meat and pressure cooker you use.Good quality meat should cook in 1 to 2 whistles. If using matured meat like lamb allow 4 to 6 whistles while cooking the meat.
Original recipe doesn't call for any marination, but i personally prefer marinating the poultry /meat,this way the meat get tenderize and blends with spices and gives you soft, juicy and flavorful meat.
Always sprinkle corainder and mint leaves as final layer over the rice, which makes the biryani taste more flavorful.