2014 is Here! Lets welcome 2014 with sweet recipe Kalakand -Milk Fudge Recipe.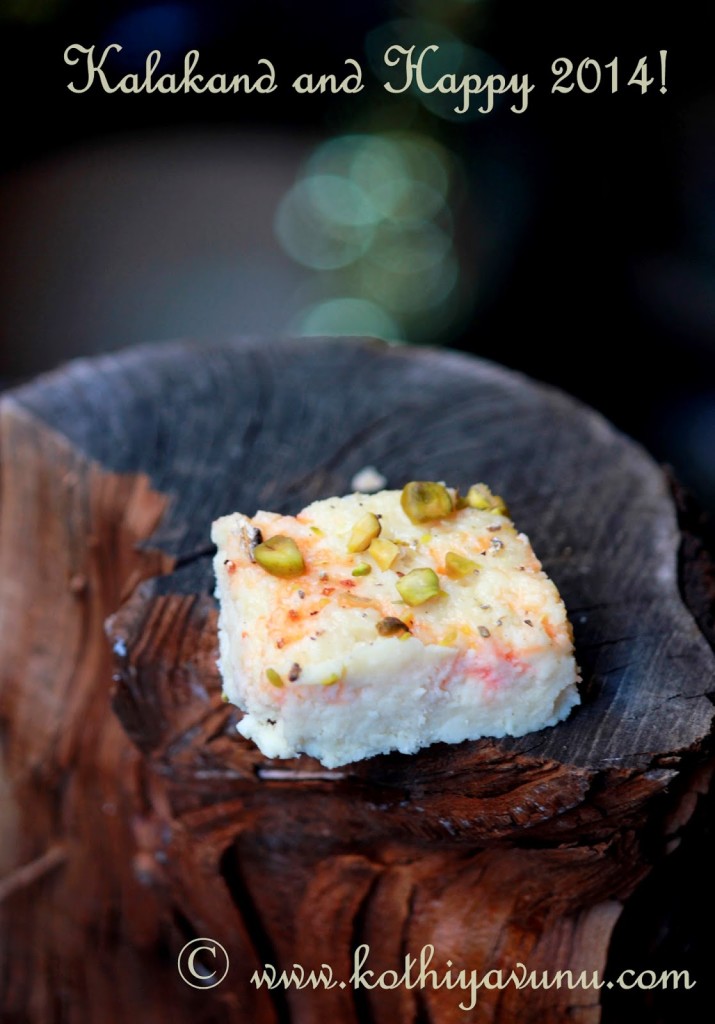 Do you have any new year's resolutions? I am so happy to say I don't plan on having any.:) Best of luck making New Year resolutions and at keeping them. I wish you and your loved ones a very Happy and Blessed 2014! May this new year brings you abundance of joy, great health and prosperity.
How time flies so freaking fast…Can you believe it's been 4 Years I started this space? ahhhh I feel like it was just started yesterday. I think it's the time to thank each and everyone who has encouraged me and been a part of my journey over the years. Anyway, I will not keep you with anymore rambling, lets move on to Kalakand -Milk Fudge recipe.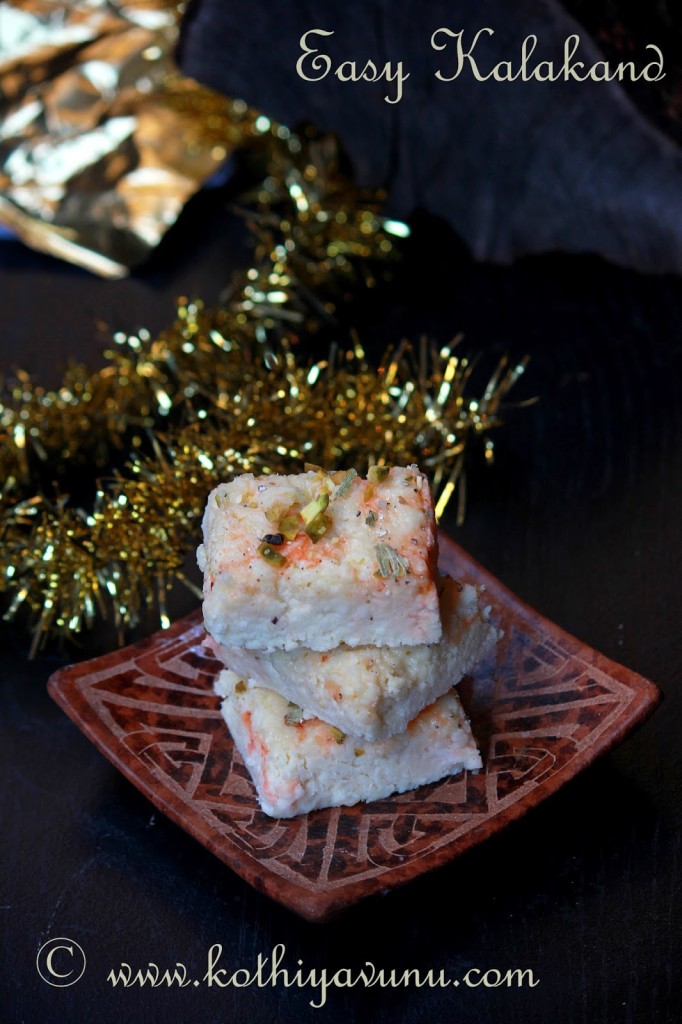 Kalakand is a popular Indian milk fudge-burfi made with sweetened milk, cottage cheese and topped with nuts. I have already shared traditional way of making it which is very time-consuming, if interested in trying traditional method read on here to know how I did.
Today let me share an easy and instant way of making Kalakand -Milk Fudge. I adapted this recipe from Nestle's Milkmaid recipe booklet. Crumbled Indian cottage cheese/panner and condensed milk cooked together, pistachios, cardamom and saffron is added at the final stage and you get a yummy soft, crumbly texture fudge with every bite.There are different recipes of making Kalakand and here is how it's made in my kitchen.
Have you tried these Delicious Sweets…?
How to make Easy Kalakand -Milk Fudge Recipe | Indian Milk Fudge-Burfi Recipe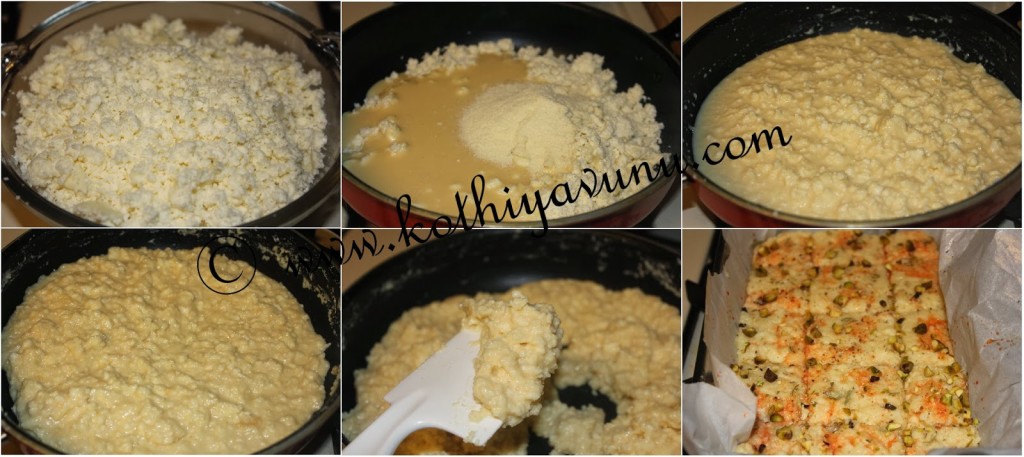 Easy Kalakand - Milk Fudge Recipe - Happy 2014
Kalakand -Milk Fudge is a popular Indian Sweet, made with sweetened milk,cottage cheese and topped with nuts.Try this simple,easy sweet and enjoy.
Serves:
15-20 pieces (depending upon the size you cut)
Ingredients :
Paneer : 1 packet (500 gms) (see notes)
Sweetened Condensed Milk : 1 tin (400gms)
Milk powder : 2 heaped tbsp
Cardamom /Elaichi : 4 pods, (powdered)
Safforn/Kesar : a few strands (or)Silver leaf/Silvar vark (optional)
Nuts-Pistachio or Almonds : few chopped for garnish
Ghee : 1 tbsp for greasing
How to Make :
Optional- Soak saffron in 1 tbsp hot water for 10 mins.
Mash paneer coarsely and mix in milk powder and condensed milk.
In a heavy bottom pan heat the paneer mixture. Cook on medium heat with constant stirring till the mixture becomes thick and starts leaving the sides of the pan.
Remove from the fire and spread the mixture in a greased plate and level it with a greased spatula.(The thickness of kalakand should be around ½ inch)
Apply silvar vark or sprinkle cardamom powder and saffron soaked in water. Top with pistachio or almond slivers. Cool completely or set in the refrigerator for ½ hour, Let it set for minimum 25- 30 mins.Cut into squares.Serve and Enjoy
Notes
I recommend it's best to make paneer/cottage cheese at home using fresh milk. However, if you prefer easy version, store bought paneer works equally good. If you are using store bought frozen paneer then soak it in warm water for 10 to 15 mins to soften it.
If you see whey leaving from the edges while spreading the Kalakand. Don't worry Most of it gets absorbed as the Kalakand cools.
Can also add some rose water instead of cardamom powder.
If kalakand is too soft; put the plate in microwave oven for 2-3 minutes on medium but make sure it don't become dry.
You can store it in the refrigerator for 4-5 days in an airtight container.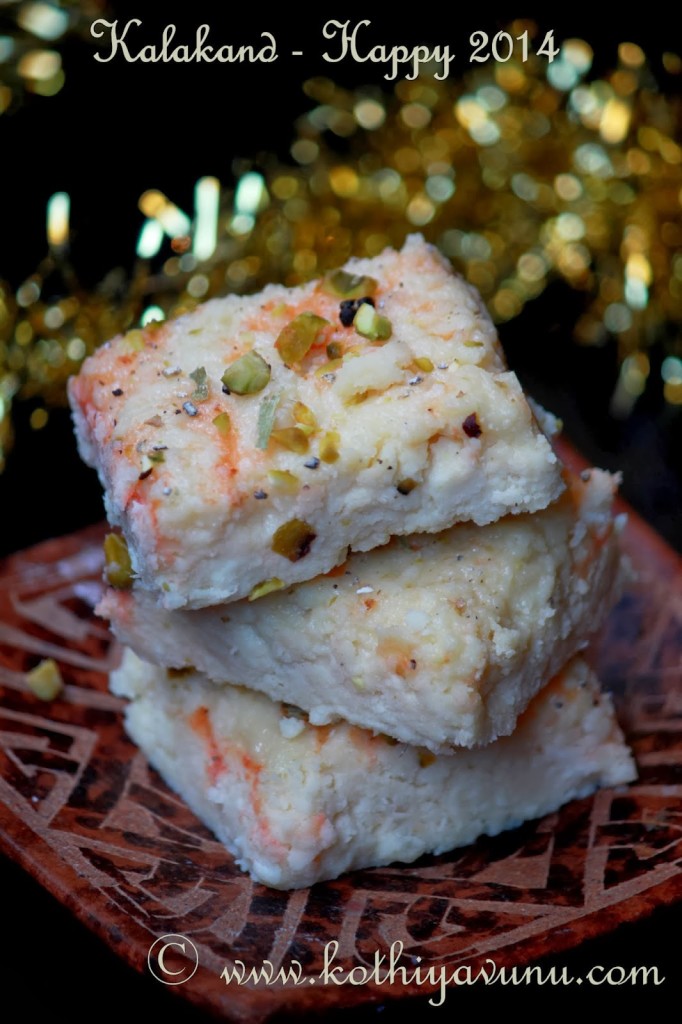 Try this simple, easy
Kalakand -Milk Fudge Sweet
and have wonderful year that follows. Enjoy!
Happy New Year!
Sangeetha
Like this Recipe? Sign up, and get more new recipes delivered directly to your inbox for free.