Hello guys, How is your day? I hope you all had a fantastic weekend. I had a very good weekend. Have ever tried making chicken nuggets in home?
Today, I bring you a super easy, loved by both adults and kiddos…Chicken Nuggets -Chicken Bites! Who doesn't love them?  These are seriously so addicting and fantastic…and a bit spicy. I made this for my daughter class party potluck and it was a HUGE hit!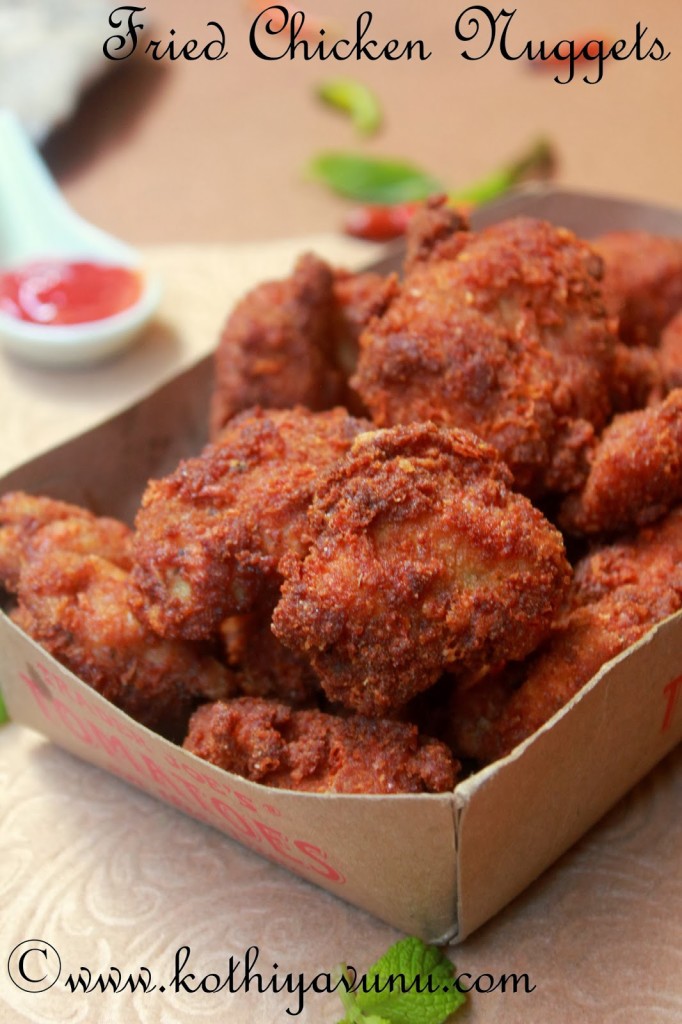 Oh yeah, this is deep-fried nuggets or fried chicken tenders, since a lot of them are not big fans of deep-fried snacks  me included. You can choose cooking frying method or popping it in the oven – either way, it's YUM. I have tried making in both ways, I prefer baking though, it makes more healthier.
Yes, you guessed it right, I have posted earlier the baked chicken nuggets version, which little different from this fried chicken nugget recipe, but it's equally tasty, crispy, plus healthy. You can easily try both chicken nuggets recipes and decide which one you like better.
Excellent for entertaining or simply as an everyday treat… Serve it with your favorite dipping sauce and Enjoy!
Other Chicken Appetizers You Might Also Like :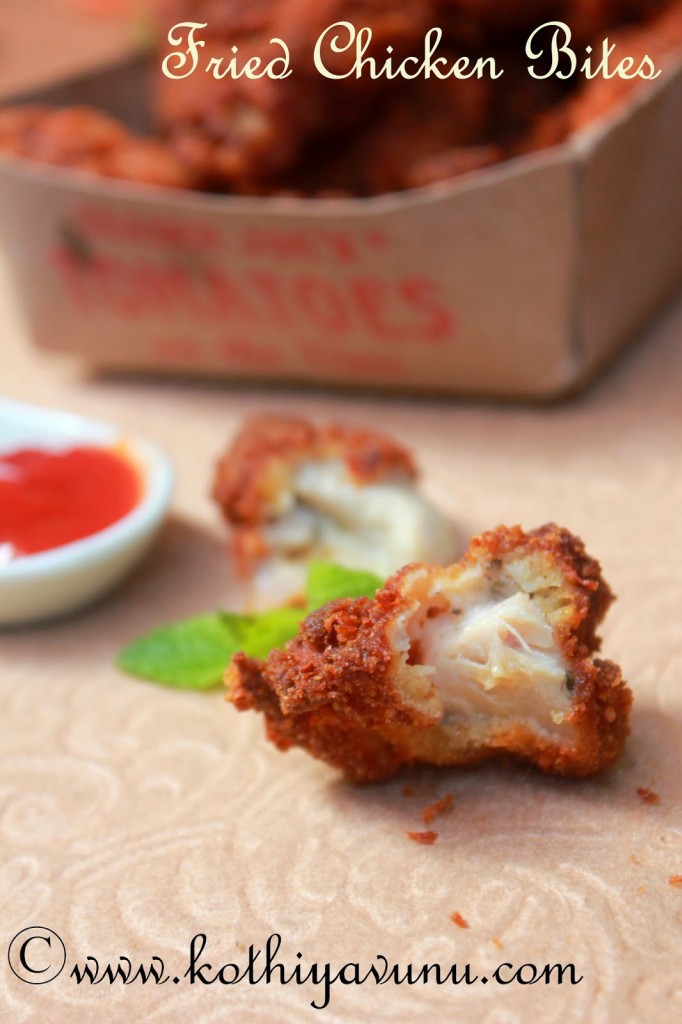 How to make Fried Chicken Nuggets Recipe | Homemade Chicken Nuggets Recipe  | Spicy Fried Chicken Bites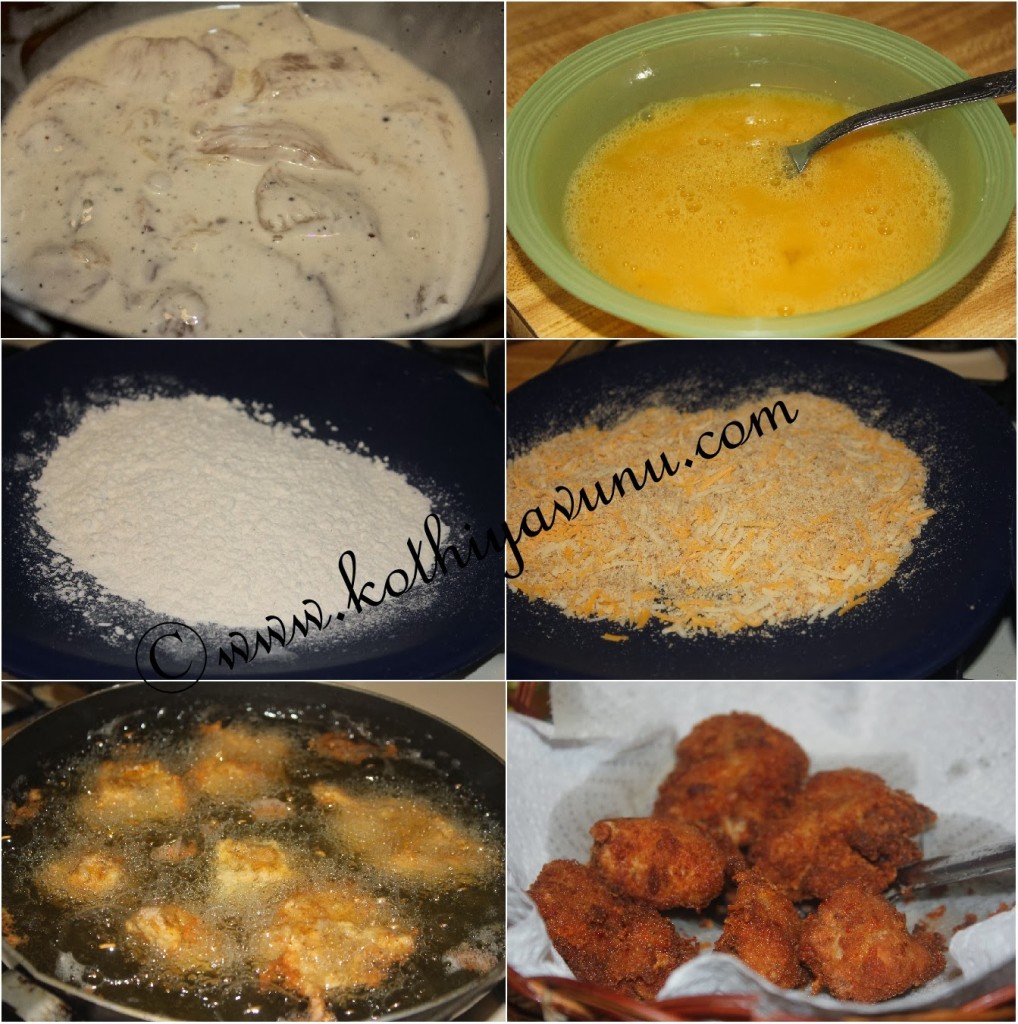 Fried Chicken Nuggets -Homemade Chicken Bites
Super easy, loved by both adults and kiddos...Homemade Chicken Nuggets -Chicken Bites! Who doesn't love them? These are seriously so addicting and fantastic.
Cuisine:
International, American,
Ingredients :
Boneless Chicken Breast : 1.1lb /1/2 kg (cut into medium bite sizes)
Buttermilk : 1 cup
Egg : 2
Bread Crumbs (seasoned/ plain ) : 1 cup ( I used panko bread crumbs)
All-purpose flour/Maida : ½ cup
Parmesan cheese, grated : 2 tbsp
Freshly cracked Black Pepper : ¼ + ¼ tsp
Kashmiri Red Chilli Powder or Cayenne Pepper : ½ tsp or to your spice level
Salt to taste
Vegetable Oil for Frying
How to Make :
Add buttermilk, ¼ tsp black pepper powder and salt to taste to chicken bites, cover and marinate and leave it in refrigerator for 30 mins to 1 hrs or overnight.(Note : Make sure you don't marinate more than 12 hrs.If you are marinating overnight then remove the chicken from the refrigerator at least 30 minutes before cooking.)
In a bowl, adx egg along with black pepper, ¼ tsp cayenne pepper, salt to taste and whisk until ingredients are well combined. Set aside.
Add flour to medium in a plate. Set aside.
Add panko bread crumbs, little black pepper, remaining cayenne pepper, parmesan cheese and salt to another plate. Set aside.
Remove chicken nugget, one at a time from the marinate and roll in flour, then beaten egg mixture and finish coating in panko crumbles.
Heat oil, in a large heavy skillet or pan over medium heat. Add a few coated chicken nuggets at a time, not to over crowd skillet/pan, and fry nuggets for 2-3 minutes on each side or until golden brown. Drain on paper towels. Serve and Enjoy!
Notes
Store leftovers in refrigerator in airtight container. Keeps for 2 days.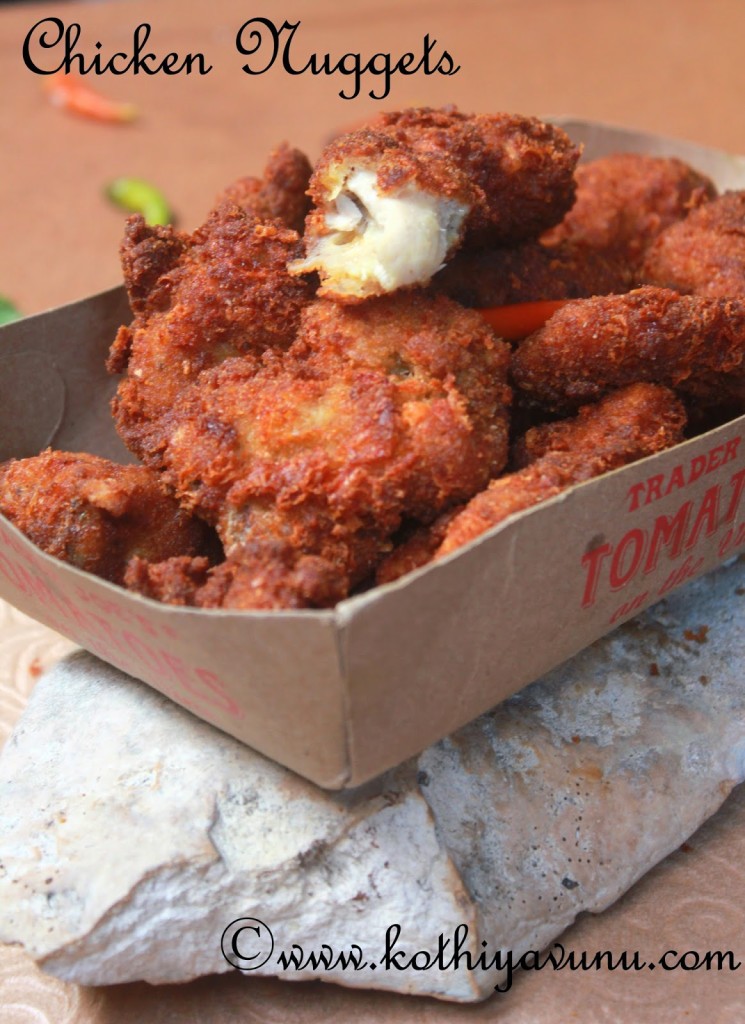 Do try this super easy Homemade Chicken Nuggets and let me know what you think. Enjoy!
Happy Cooking!
Sangeetha
Like this Recipe? Sign up, and get more recipes delivered directly to your inbox.