Looking for kids cooking recipes? If yes, then here is comes one quick, healthy and deliciously sinful – Almond No-Bake Cookies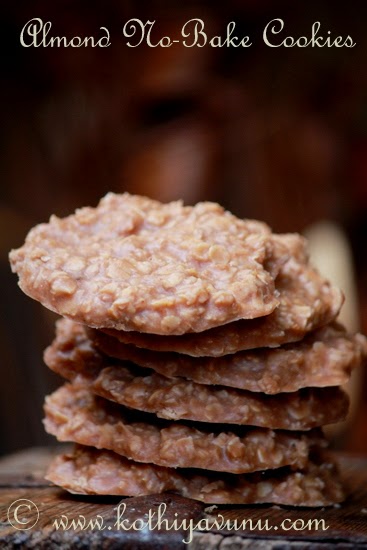 Guess what? You would be glad to know that this recipe is prepared exclusively by my cuties. I play no role in making it. Well, I have two daughters ages 10 and 6. I'm so blessed and feeling happy that my kids share the same joy of cooking as I do. I guess my site helps peak their interest in cooking. I remember my childhood cooking with my amma(mom)…Well, I did more watching than cooking.:) It's the just opposite here in my kitchen. I try to  involve them in as much as possible, though they mess up a bit, those are the memories I want to pass onto my kids. Hopefully they will pass on those traditions to their kids.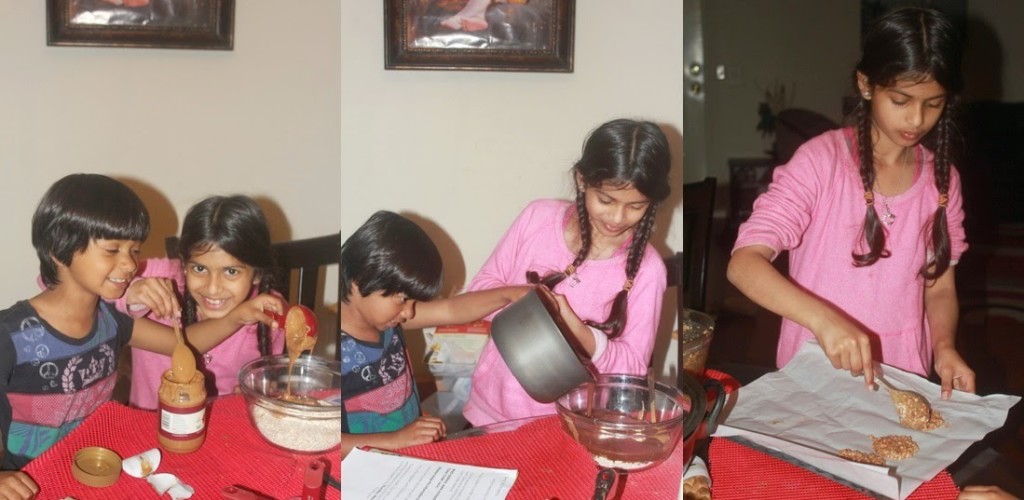 My cuties really like helping with the cooking, setting the table, setting dishes in dish washer. Yes, I'm proud and I feel great and on top of it I have the most amazing kids…Touch-wood!  They like to watch cooking shows with me, and hence they cook with me.They saw no-bake cookie recipe from HeyKayli Cooking video and came to me for asking permission to make this without my help.:) I suggested to make minor changes to make it healthier and in no time both went to kitchen trying their luck 🙂 It came out very well and tasted delicious. They shared with their friends, all loved and appreciated them. So I thought I will share with you too.:)
These delicious cookies were super easy to make,completely vegan, no sugar, no-bake and extra nutrition to your family with the goodness of almond butter, almond milk, oatmeal and they definitely have that Wow factor that appeals to kids.
Other Cookies You Might Also Like :
Oatmeal Peanut Butter Chocolate Chip Cookies
Almond CookiesPeanut Butter Kisses /Peanut Butter Blossoms
How to make Almond No-Bake Cookies  – Healthy No-Bake Cookies -Vegan Recipe :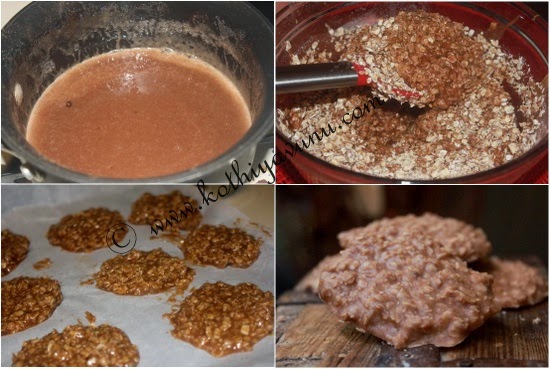 Almond No-Bake Cookies - Vegan Recipe
Ingredients :
Quick Cooking Oats : 3 cups
Almond Butter : ½ cup
Agave Nectar : 1 cup
Cocoa Powder : ¼ cup
Unsweetened Almond Milk : ½ cup
Coconut Oil : ½ cup
Vanilla Extract : 1 tsp
Salted Toasted Almonds : ¾ cup, chopped
How to Make :
In a large saucepan; mix together agave and cocoa powder. Heat over medium heat until combined.
Stir in almond milk and coconut oil; bring to a boil for a minute stirring constantly. Remove from heat.
Stir in almond butter, vanilla extract and oats until well combined. Fold in chopped almonds.
Place cookies by the spoonful onto parchment or wax paper and let the cookies set up for about 20 minutes in the refrigerator before serving.Serve with cold milk or cup of coffee and Enjoy!
Notes
These No-Bake Cookies are very adaptable. You can use your imagination and put your own spin on it.
You can substitute honey instead of the agave and butter instead of coconut oil, if you don't need to make vegan cookies, also you can swap peanut butter,nutella, cacao butter for the almond butter or add flaked coconut,chopped dates,chopped peanuts or any nuts as you like to the recipe for crunch or add some milk chocolate chips.
You can also use gluten-free oats if you need the cookies to be gluten-free. You can also replace the almond milk with whole milk or soy milk.
You can also pour this mixture into a square pan that has been greased with butter and let it cool, then cut into squares.
Store the cookies in air-tight container in refrigerator for up to one week.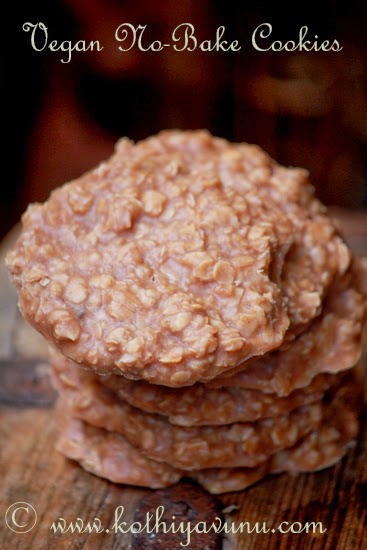 Hope you'll try preparing this no-bake cookies with your kids and have fun…Enjoy!
Happy Baking!
Sangeetha
Like this Recipe? Sign up, and get more recipes delivered directly to your inbox