What's you favorite fish recipe? Fry, Curry, Roast or Pickle? My family loves fish fry. We especially adore Mathi-Chaala Varuthathu -Sardines Fry.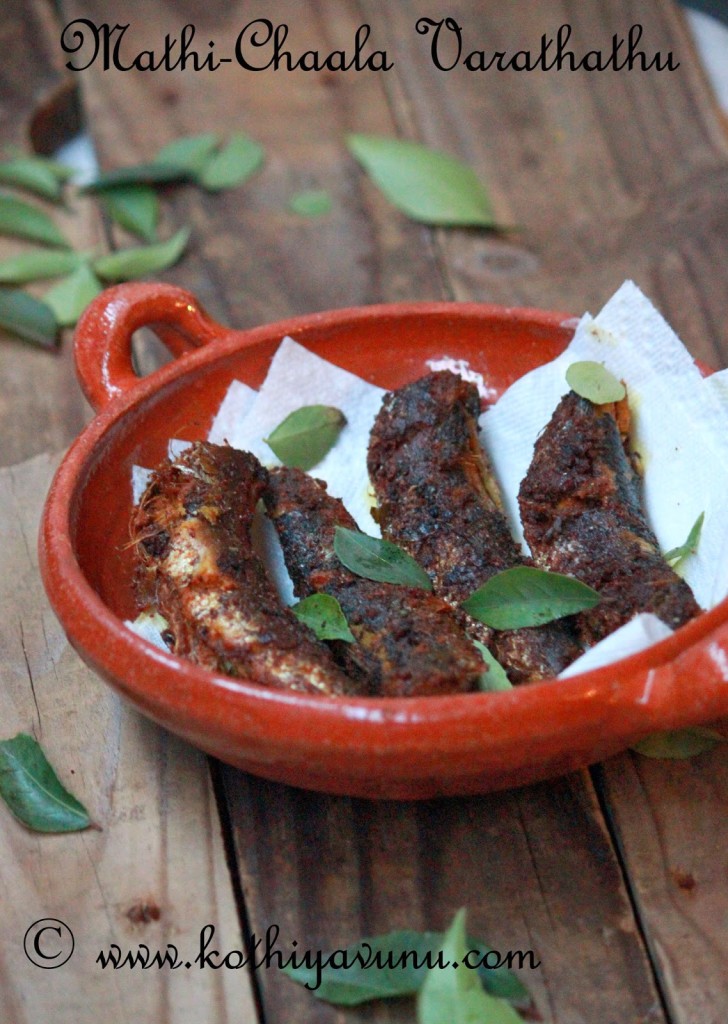 Much to our regret, it's simply hard to find fresh mathi/sardines here in place where we live mostly we get frozen sardines or canned sardines, but long back our friends bought this fresh sardines/mathi when they came to visit us, from then this recipe lying in my draft with pictures placed, each time I decided to leave it for later. Don't ask why? 🙂 Not that this recipe isn't good. Oh it's too good, very healthy and delicious….however here it is…
Sardines – Mathi/Chaala as we call in malayalam, is a popular and favorite fish of Malayali. It is the fish that I have devoured often right from my childhood. This sardines fish is so abundant in Kerala and every morning fishmongers would bring loads of them in baskets and would sell them door to door.We all know these small, silver-colored fish are cheap, yet tasty and packed with loads of goodness.They are also a great source of vitamin D, omega-3 fatty acids, protein, calcium and phosphorus and support cardiovascular health and reduce the blood sugar level, which are very important for all age groups.This Mathi-Chaala Varuthathu – Fried Sardines-Kerala style,
easy to prepare and tastes great with rice.So, incorporate in your diet and stay healthy..Enjoy!
Other Fish & Sardines Recipes You Might Also Like :
Mathi-Chala Achar/Pickled Sardines
Nadan Mathi-Chaala Curry/Kerala Sardines Curry
Meen Varuthathu -Kerala Fish Fry
Netholi-Chooda-Podimeen-Varuthathu/Kerala Style Fried Anchovies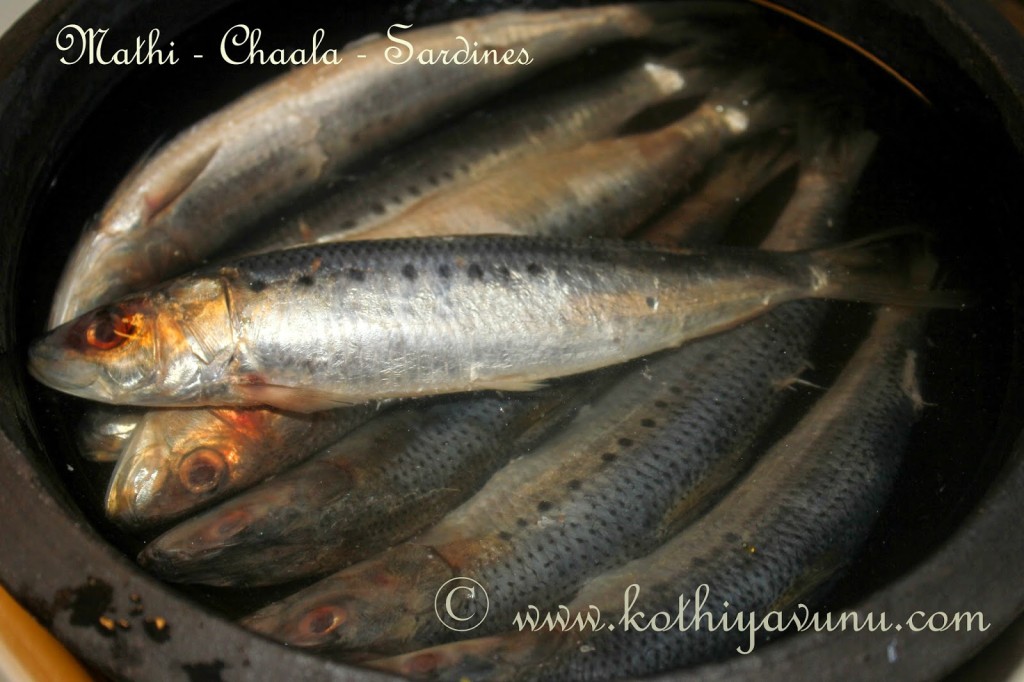 How to clean Sardines-Mathi-Chaala:
1. If its whole fishes, first remove the scales using a knife. Just slide the knife across the fish in opposite directions to remove the scales.
2. Cut the head off. After that make an incision, one inch long near the stomach using a sharp knife. Pull off the inside thread and a sac like stuff using your fingers, it will come off easily. Rinse well in water
3. Then rub it with some crystal salt/kalluppu and lime juice.Leave for 5-8 minutes.Wash it nicely with running water, by changing the water 2-3 times and then make 3-4 gashes on each side of the fish.Allow it to drain.(Note : Sardine always leaves a bad odour when cleaning.)
How to make Mathi-Chaala Varuthathu- Mathi Fry  | Kerala Fried Sardines :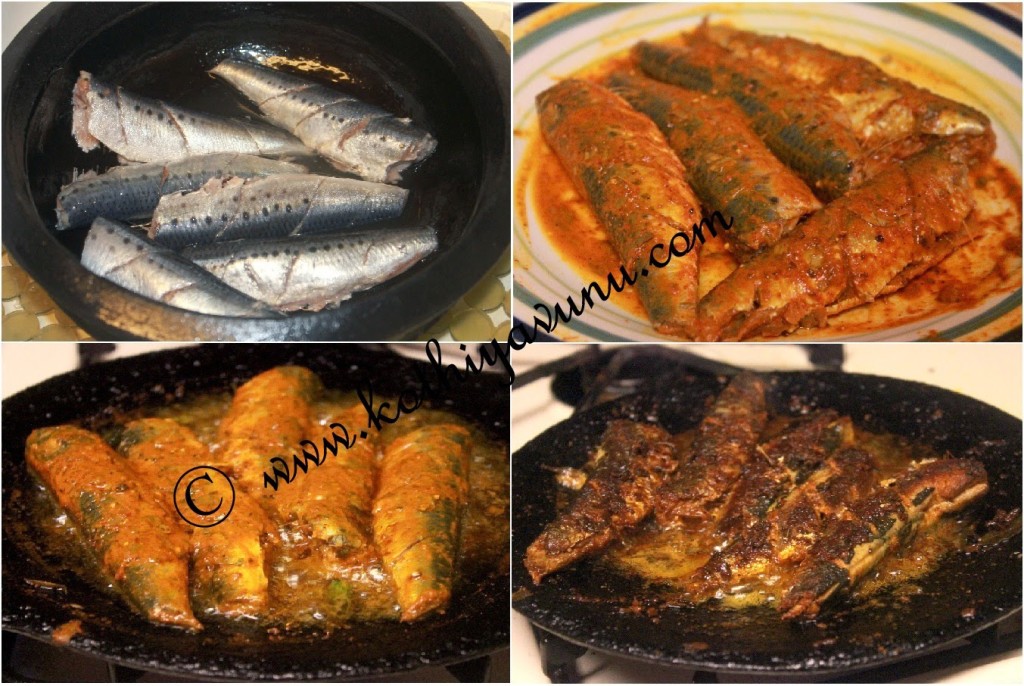 Mathi-Chaala Varuthathu-Mathi Fry-Sardines Fry
Ingredients :
Sardines / Mathi / Chaala : 5-6 nos (medium sized sardines) /500 grms
Ginger-Garlic Paste : ½ tsp ( Optional )
Turmeric Powder : ¾ tsp
Red chilly Powder : ½ tsp
Freshly grounded Black Pepper Powder :1 tbsp
Lemon Juice : 1 tsp
Coconut Oil/Vegetable oil as required (coconut oil preferred)
Curry Leaves : few
Salt to taste
How to Make :
Clean and pat dry the cleaned fish using a kitchen tissue.
Make a fine paste of all ingredients using either oil or bit of water. Apply the masala paste on the fish and do make sure to rub the paste inside the fish's stomach and gashes.Keep the marinated fish pieces for 20 mins to 1 hour in refrigerator.(Note : The marination time purely depends on the time availability)
Pour required coconut oil (it will enhance the authentic taste) and when its hot tilt the tawa/pan in such a way that oil gets spread evenly in the tawa/pan.
Add little curry leaves; shallow fry the fish on medium-low heat ; close it with a lid for a minute to avoid any spluttering out due to the moisture content on the fish and the marinade.
Flip the fish pieces carefully after 6-8 mins.Pour little bit of oil over all the fish pieces and reduce the flame to low and fry for another 5 minutes.
Once crisp,remove from heat; transfer it to a paper towel.. Serve hot with rice and Enjoy!
Notes
Make sure you keep the heat at medium low, so that everything gets fried evenly. 
If you wish you can add any other cooking oil, using coconut oil gives authentic taste and flavor. 
Adding curry leaves before frying will give a nice aroma and fish will not stick to the frying pan. 
Try to use freshly ground black pepper; to make freshly ground pepper, fry the peppercorns in a hot pan for couple of minutes and grind it to a fine powder in mixier or in coffee grinder.Store this powder in an airtight container for later use.
Hope you will try this Mathi fish fry -Kerala style  Sardines fry and like it too. Don't forget to share you feedback. Enjoy!
Happy Cooking,
Sangeetha
Like this Recipe? Sign up, and get more recipes delivered directly to your inbox.