Hate Bitter Gourd? Taste Pavakka Paal – Bitter gourd in Coconut Milk Curry, you never say NO to bitter gourd again!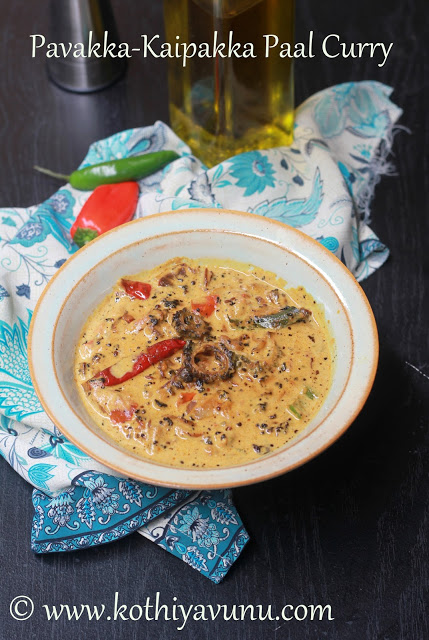 I'm always excited to find new unique ways to prepare Bitter gourd-Kaipakka-Pavakka since it's my hubby's favourite. And I must say, this is definitely a wonderful recipe, coz first and most importantly, it tastes delicious no bitterness.
The coconut milk combined with spices gives it a really interesting flavor that is very different from regular bittergourd curry. As you all know this veggie bitter gourd is a natural cure for diabetics and good for treating intestinal worms plus it's has fewer calories and it is rich in fiber, minerals and vitamins.
Ever since I started making this pavakka paal curry, I have tried Lissie chechi recipe from Salt and Spice. I have tried this so many times and every time it turned out so well. I've been meaning to make this post for long time and when I wanted to share this recipe with a friend, I decided I should finally just blog it for you all!
Other Bitter Gourd Recipe You Might Like :
Baked Pavakka-Kaipakka Kondattam
Pavakka-Kaippakka Theeyal/Bitter Gourd in Roasted Coconut Tangy Curry
Pavakka-Kaipakka Chammanthi/Bitter Gourd Chutney
Pavakka-Kaipakka Mezhukkupuratti/Bitter gourd Stir Fry
How to Make Pavakka Paal Curry | Nadan Kaipakka Curry | Bitter gourd in Coconut Milk
Pavakka Paal -Kaipakka Paal Curry|Bitter gourd in Coconut Milk
Hate Bitter Gourd? Taste this Pavakka paal -Bitter gourd in coconut milk curry, you never say NO to bitter gourd.
Ingredients :
Bitter Gourd /Bitter Melon /Pavakka /Kaypakka : 2
Yogurt : 1 tbsp
Salt to taste
Cooking Oil : 2 tbsp
Onion : 1 medium (sliced)
Tomato : 1 medium (chopped)
Green Chillies : 2-3 slit
Turmeric Powder : ¼ tsp
Coriander Powder : 1 tsp
Red Chilly Powder : ¾ tsp
Semi Thick Coconut milk - 2nd extract /Randampaal : 1 cup
Thick Coconut milk - 1st extract /Onnampaal : ½ cup
Mustard Seeds : ½ tsp
Cumin Seeds :1/4 tsp
Dry Red Chillies : 2
Curry leaves :1 sprig
How to Make :
Wash and slice the bitter gourd into round pieces and de-seed them.
Apply yogurt and salt; keep aside for 15- 20 minutes. Heat oil in a pan and fry the marinated
bitter gourd pieces till golden brown.
In the same oil, splutter mustard seeds and cumin seeds. Add dry red chillies and curry leaves.
Now add onions, statue till it turns to translucent and light brown in color. Reduce the fire to low and add all spice powders; sauté for a minute.
Add tomatoes, green chillies and sauté till oil separates.
Add semi thick coconut milk and fried bitter gourd pieces. Mix well, taste and adjust the salt. Close with lid and cook it for 3-5mins. Now add thick coconut milk/onnampal and switch off the flame before it boils.
Serve this delicious Bitter gourd coconut milk curry/Pavakka paal curry with rice and Enjoy!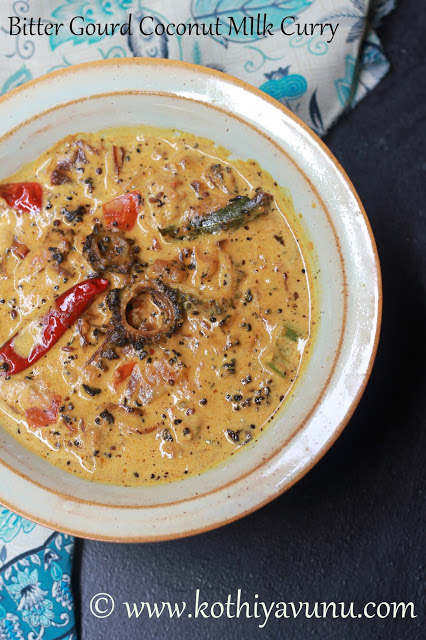 Do give a try this Pavakka -Kaipakka Paal Curry – Bitter Gourd in Coconut Milk ..it's so delicious that you forget its bitter too! Enjoy!
Bon appetite,
Sangeetha
Like this Recipe? Sign up, and get more recipes delivered directly to your inbox.