Fruit Custard – Fruit Salad with Custard…Do I need to say more?
Last weekend our friends visited us and I made some good breakfast and lunch so I was not thinking of making anything too complicated for dessert that's why I whipped up a very quick, simple yet tasty fruit salad with custard. I wasn't sure about posting this while I was preparing but then I thought it might be helpful for the people who are not familiar with this recipe and for all kitchen newbies. And do you know? what makes this dessert special ?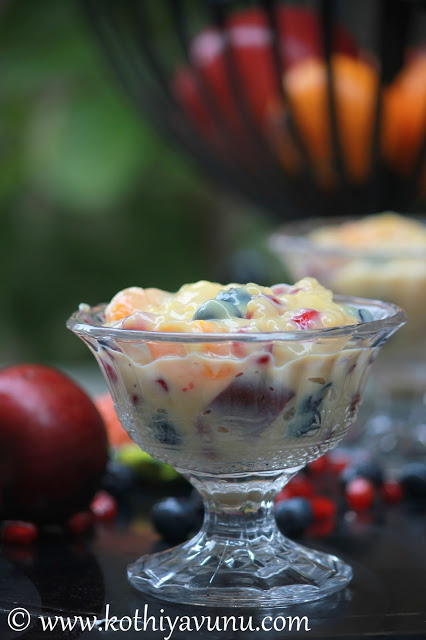 Of course needless to say colorful fruits, and top of it with Rose essence or extract. Have your ever tried adding rose essence to fruit custard? Trust me  it gives nice unique flavor. You can make the custard either by adding eggs or without eggs. I'm sharing eggless version. You can use any combination of fresh fruits but make sure you don't use fruits which oozes out lot of water. I love to add fruits like apple mango, papaya,banana and this time I added blueberries too. If fresh mangoes are available don't forget to add it enhance the taste.
To make it rich you can add whipped cream to it and it gives smooth texture to custard.To jazz it up more, serve with your favorite ice cream on top. Fresh Fruit Salad with Creamy Custard makes a way to a perfect party dessert and it is always liked by kids and adults alike. So let us have glance on the recipe.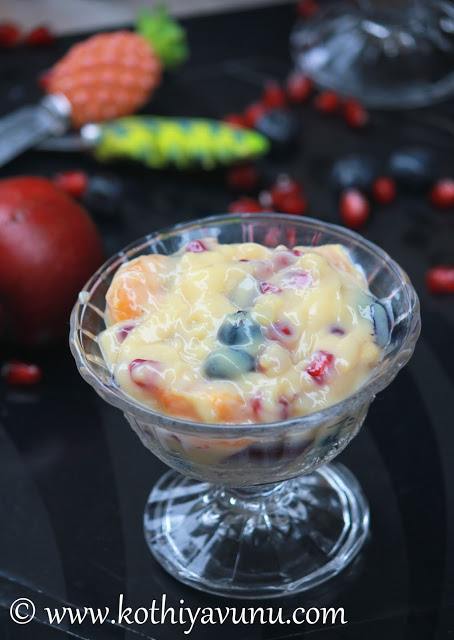 Other Easy Desserts You Might Also Like :
How to make Fruit Custard – Custard Fruit Salad: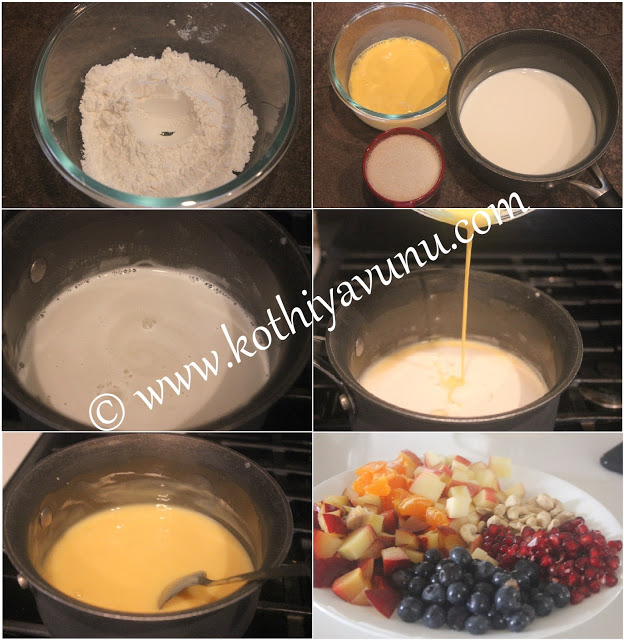 Fruit Custard - Custard Fruit Salad Recipe
Quick, simple yet delicious fruit custard
Cuisine:
Indian, International
Ingredients :
Whole Milk : 2¼ cups
Custard Powder or Plain Corn Powder : 21/2 tsp
Sugar : ½ cup or to taste
Heavy Whipping Cream : ½ cup (Optional - I didn't use it)
Rose essence or extract : 2-3 drops
Mix of your favorite fruits : 2 cups (chopped) ( I used apple, banana, blueberry, orange and pomegranate)
Almonds or Cashews : 2-3 tsp (chopped)
Raisins or Dates : 2-3 tsp (chopped)
How to Make :
In a small bowl, take the ¼ cup milk, add the custard powder or the cornstarch and mix to form a smooth paste with no lumps. Set aside.
Pour 2 cups milk into a saucepan, add the sugar and keep on medium heat until it becomes hot (Note : Make sure you stir often to prevent burning on the bottom)
Now turn the heat to low and slowly add the prepared custard paste to it stirring continuously for couple of mins or until the milk mixture turns thick. Remove from fire; add couple drops of rose essence (Note : You can use vanilla essence too) set it aside. Let the custard cool completely.
This step is purely Optional - If you're using whipped cream then in a medium size bowl; add the whipping cream to it and whip the cream using a hand mixer for about 4-5 minutes until it turns nice peak and fluffy then add the whipped cream into custard and mix gently.
In a large bowl, add all the chopped fruits; then add the custard mixture to this and mix well to coat the fruits (or) you can refrigerate the custard until ready to serve. When ready to serve pour the custard over chopped fruits.
Sprinkle chopped dates or raisins and almonds or cashews just before serving and Enjoy!
Notes
I used vanilla flavored custard you can use any flavored as you like
Adding whipping cream is purely optional. By adding you get nice smooth creamy custard. I didn't use in this recipe.
Adding rose essence gives unique flavor or you can use vanilla essence too.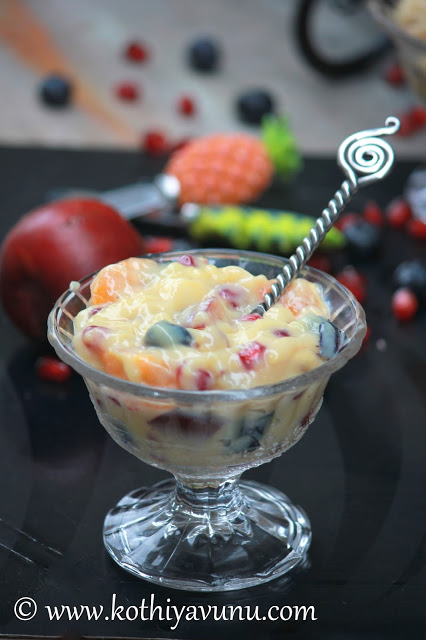 Hope you all will enjoy this classic custard fruit salad dessert as much as we did!
Until next time, Bon appetite,
Sangeetha
Like this Recipe? Sign up, and get more recipes delivered directly to your inbox.