Did you watch Superbowl yesterday? We did, we had small fun party with our friends. Whom did you bet for? I did for Denver Broncos and they won…Yay! As you all know chicken wings are always a fan favorite at a Super Bowl party. We had a lot of food but this Kerala Style Spicy Chicken Wings was huge hit  and everyone enjoyed it and wanted the recipe. So here it is 🙂
Though there are lots of  variations exists today I made a Kerala Style Chicken Wings, which is very easy to make yet delicious with only few ingredients required for the marinade and can served with sauce or plain.Buffalo Chicken Wings  or Chicken Wings  whatever you call these, whether cooked on the stove or baked or grilled, these are  true crowd pleaser, and is sure to be a hit at your table. I recommend putting it on your wish list and try this recipe.Trust me folks, this Spicy Chicken wings rocks.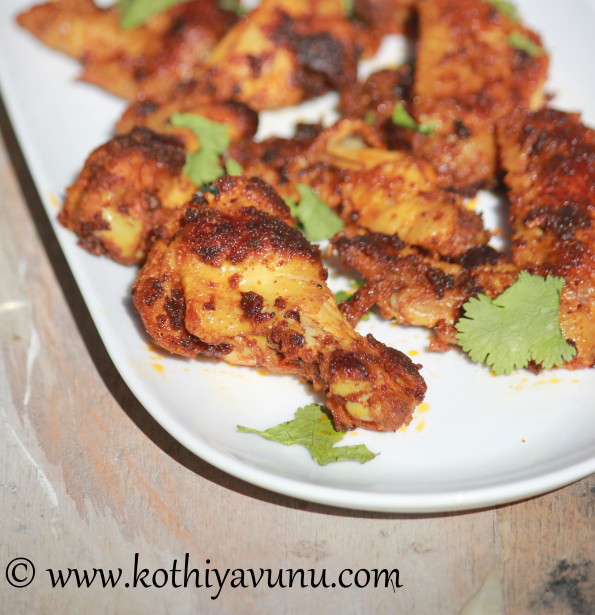 Other Chicken Appetizer's You Might Also Like :
How to make Spicy Chicken Wings Recipe – Buffalo Wings Recipe -Kerala Style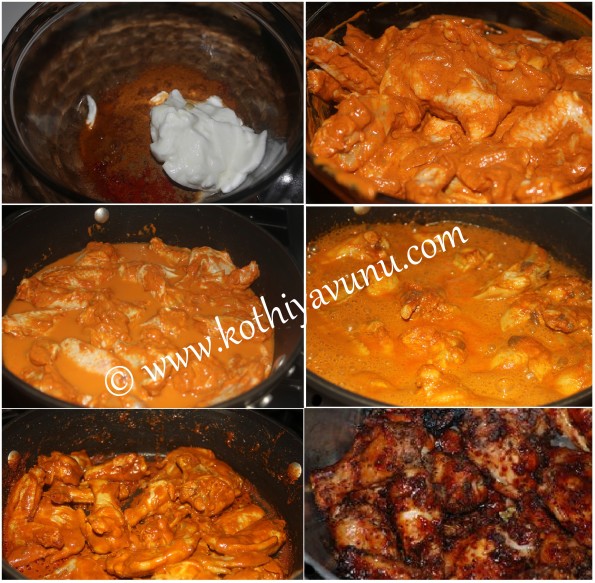 Spicy Chicken Wings - Buffalo Wings -Kerala Style
Spicy Kerala Style Chicken Wings is a true crowd pleaser, and is sure to be a hit at your table.
Ingredients :
Chicken Wings/Buffalo Chicken Wings :16 pieces
Turmeric powder : 1 tsp
Chicken Masala Powder : 4 tsp
Red Chilly powder : 2 tsp (You can use Kashmiri chilly powder)
Coriander powder : 2 tsp
Pepper powder: ¼ tsp
Yogurt : 2 tbsp
Lemon Juice : 1 tsp
Salt - To taste
Olive oil: 4 tsp
How to Make :
Cut the wings into 2 parts with skin, wings and drumstick..Wash thoroughly,drain and keep aside.You don't prefer the wing tip you can cut them off.
Marinate the pieces with ingredients mentioned above except oil.
Cover the dish with a plastic wrap and keep it in the refrigerator.Let marinate for an hour or 90 seconds.
Transfer the marinated chickwn wings to a wide pan and add little water say about ¼ cup.(Note : Lot of water and fat will ooze from the chicken so add the water accordingly)
Cover with lid and cook at medium-high heat until the wings are almost done, stirring occasionally it takes about 20 - 25 minutes.
Open the lid and allow the remaining water to evaporate completely.
Now add oil and stir-fry on low flame for 8-10 continuously until it gets a little crisp fried and all the masala coats well in chicken wings.
Serve immediately and enjoy! If you prefer to dip with sauce then go for sweet chili sauce – which just makes things even more happy.
Notes
If you don't prefer the wing tip you can cut them off.
Add or reduce red chillies and pepper powder according to your taste. Optional – To bring down the heat, if you want can substitute red chilli powder with kashmiri chilly powder.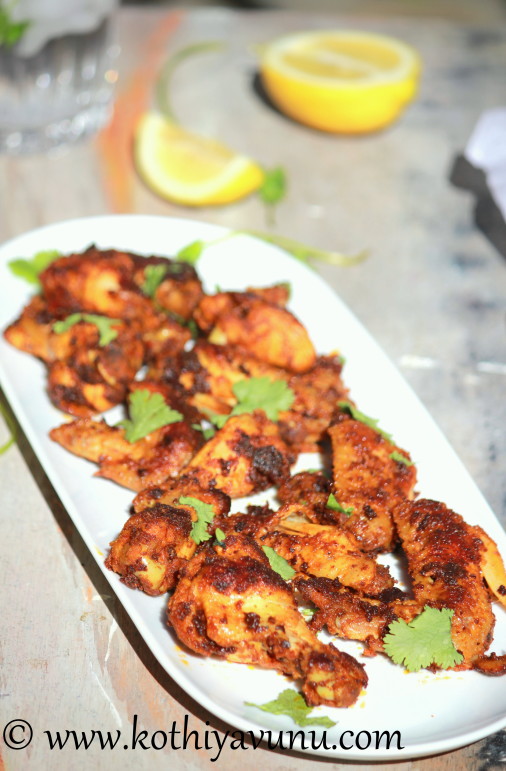 Hope you will try this Kerala 
Spicy
Chicken Wings
 and enjoy it! Don't forget to share the feedback.
Cheers!
Sangeetha
Like this Recipe? Sign up, and get more recipes delivered directly to your inbox.