Have you ever tried Tomato Chicken  Curry? Before getting into today's recipe…Did you notice? I know you all did…Finally My sweet baby got a new look after 6 long years. How is it? Did you like it? Hold on…Still more features to come, I'm working on it. I guess in couple of weeks you can see the final look.
As I have already updated in FB and other social media. We migrated this space from blogger to self hosted wordpress, so you might experienced few errors like links not working or format issues for another couple of weeks. Please bare with us and sorry for any inconvenience caused. Do please let me know if you are noticing any issues, that way I can fix it immediately. I've always resisted to move, coz I'm worried about the technical aspects but there are times you just have to make the move because it is the right thing to do. After doing little research I decided to go with Bluehost and Genesis Framework both are good choices and I highly recommend it, they made the process easy.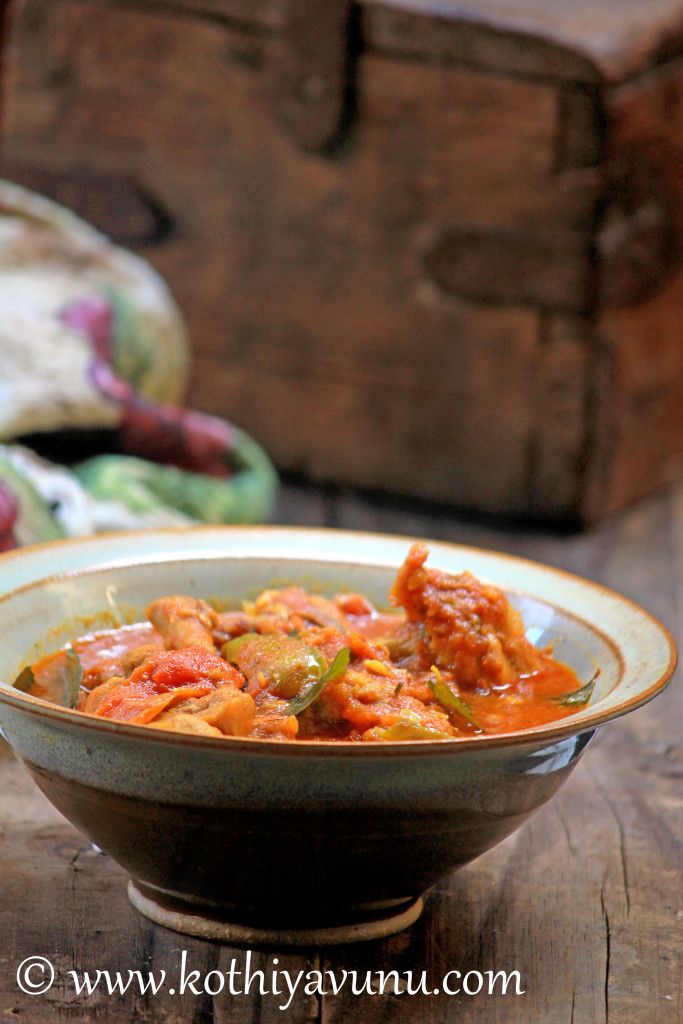 Personally what I felt is moving your Blogger blog to WordPress is a stressful process at least in my case the transfer was a lot of work. I had over 500 blog post, six years of content and the links.  Of-course  I did mess with it when moving and still learning and working to fix it. You might wonder why don't I hire a person, Actually I did…none other than my sweet husband. He did help me but blame his hectic work schedule he couldn't  dedicate his time completely. But you know what?  I have learned lot of new things behind the scene…which is very exciting for me. For sure I promise I will post my experience with the migration so will be helpful for someone in future too.
Well, coming to our main topic…All my amma's(mom) recipes are the very popular reader's choice in this space and even  favorite among my family and friends to name few of them are Nadan Chicken Curry, Nadan Koonthal Roast, Nadan Mutta Roast, list goes… She is queen when it comes to Nadan dishes ( Kerala Country Style recipes) here comes yet another delicious recipe from my amma(mom) cooking repository – Tomato Chicken Curry.
I strongly believe that good food evokes memories, especially when you miss home and your parents the most! Yes, I miss my mom very badly, it's been 4  long year I saw her. You know what I do when I miss her? I try to recreate her favorite things, cooking her favourite dish. This tomato chicken curry is one of her favorite chicken curry. Its been so long since I made this in my kitchen. I have tried another version by Lakshmi Nair and is also turned out very well. I will share that next time when I make it.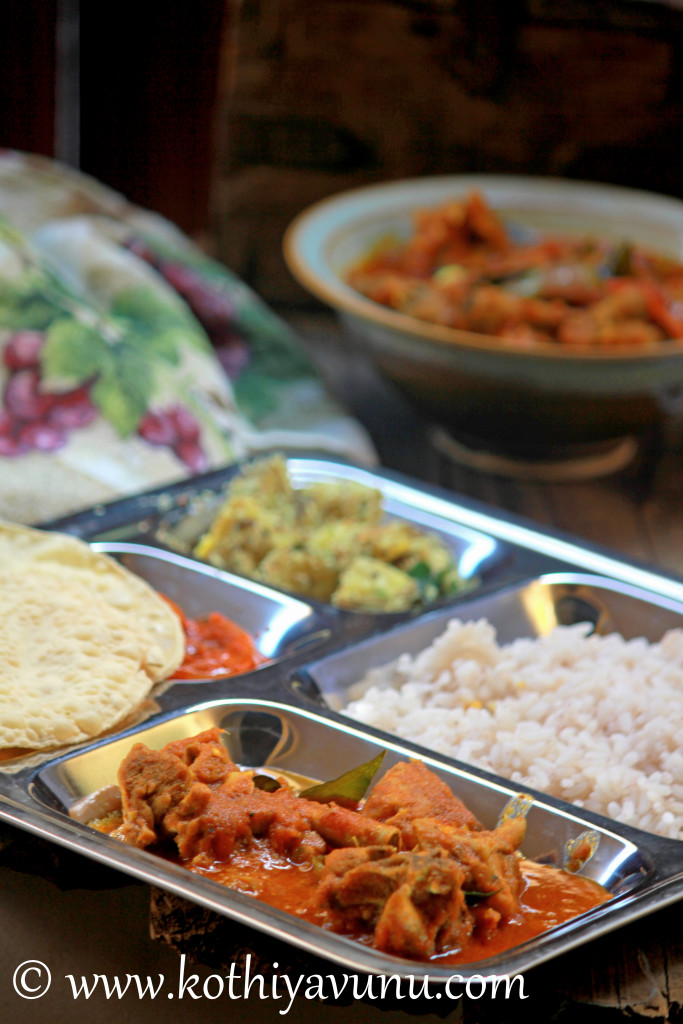 Today let's get into talking about how simple my mom's version is. She always makes this curry in Manchatti-Earthen Pot-Clay Pot in aduppu(old-fashioned stove burnt with wood). The cooking in aduppu with kalchatti-manchatti imparts a unique flavor to dish. Cooking in the aduppu was out of the question here. I tried to imitate it in the best possible way by cooking in Kalchatti-Manchatti. If you have manchatti I recommend you to try in that. Trust me it's gives a unique flavor and beauty of this recipe is it doesn't call for onion and very easy to make. It pairs well with Kerala Pathiri, Appam, Roti or Rice. Enjoy!
Have You Tried these Chicken Curries?
How to make Tomato Chicken Curry – Kerala Chicken Tomato Curry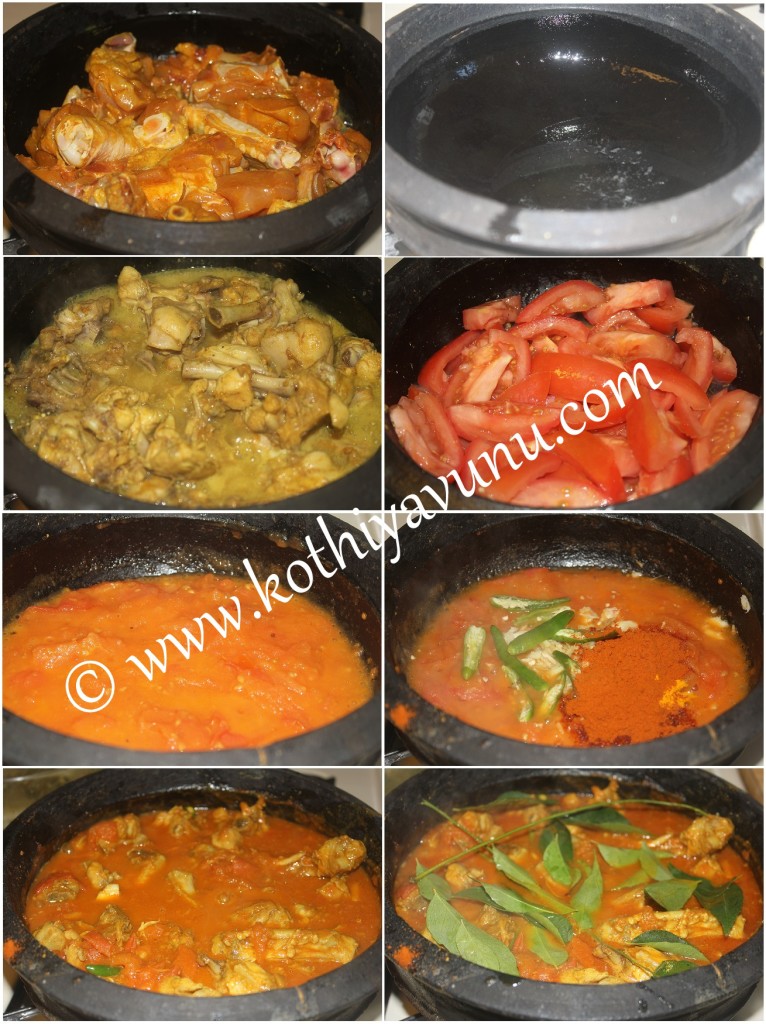 Tomato Chicken Curry - Kerala Chicken Tomato
Truly Lipsmacking Chicken Curry.
Ingredients :
For Marination :
Chicken : 2.2 lb /1 kg
Turmeric Powder : ¼ tsp
Kashmiri Chilli Powder : 3 tbsp
Ginger Garlic Paste : 1 tsp
Salt to Taste
For Masala :
Tomatoes : 5 (slit lengthwise)
Kashmiri Chill Powder : 1 tsp
Green chillies : 4-5
Crushed Ginger : 1 tsp
Crushed Garlic : 1 tsp
Coconut Oil/Cooking Oil : 3 tbsp
Curry Leaves : 2 sprig
How to Make :
Clean the chicken and marinate the chicken pieces with ingredients listed under 'For Marination' and keep in the refrigerator for 30 mins to 1 hr.
Heat a pan (preferably in 'Kalchatti' an earthen pot) and pour coconut oil (Note : It will enhance the authentic taste.) when its hot tilt the pan/earthen pot in such a way that oil gets spread evenly in the pan/earthen pot.
Add the marinated chicken and shallow fry till it becomes golden brown and the chicken is half cooked.
At this stage, remove the cooked chicken pieces with a slotted spoon; transfer reserve the stock.
To the same pan, add little coconut oil and add sliced tomato and adjust the salt.
Saute and cook till tomoto become soft and oil starts appearing on the top.
Add crushed ginger, garlic and green chillies and pour the reserved stock of chicken or add water if not enough stock into the pan and mix well. Cook it for 3-5 mins.
Add kashmiri red chilli powder and add the cooked chicken; mix it well.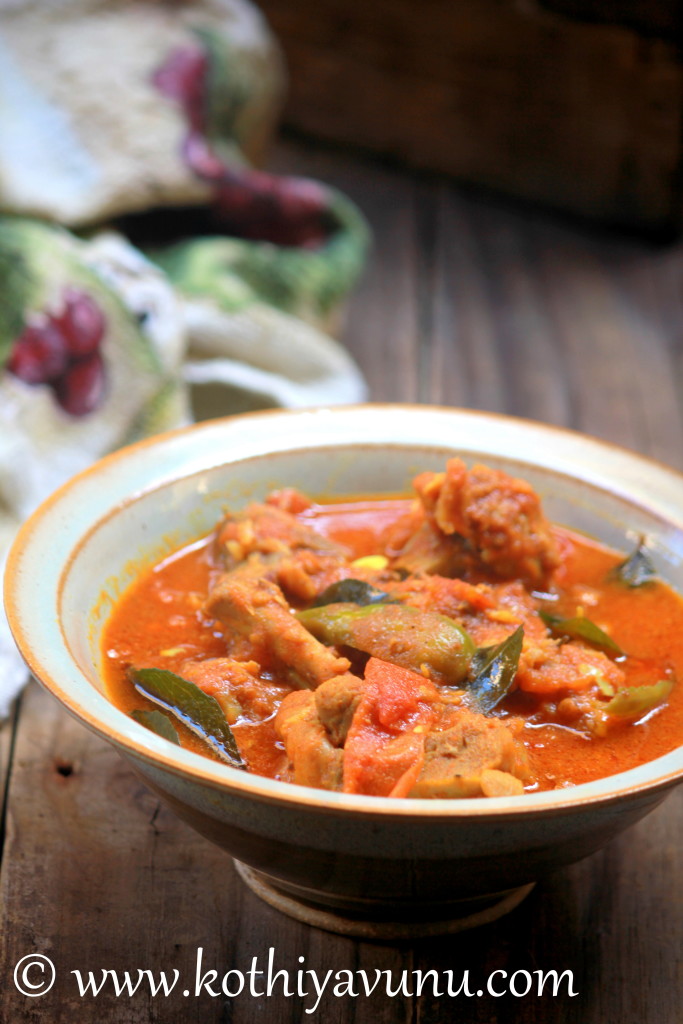 Try this easy yet delicious Tomato Chicken Curry with Kerala Pathiri and let me know how it turned out buddies
Love to hear your valuable feedback. Enjoy!
Have a good day All! Happy cooking!
Sangeetha
Like this Recipe? Sign up, and get more recipes delivered directly to your inbox.