Hello Everyone, How are you all? With Vishu just around the corner the urge to make Vishu Sadya Recipes was overwhelming for me. So for next few days I will be posting Vishu Special Menu. To kick-start, here comes Vishu Thoran-Kani Thoran -Mixed Vegetable Stir Fry. It's a very tasty, simple yet healthy recipe for you to try this as part of Vishu Sadya or any other day you wish.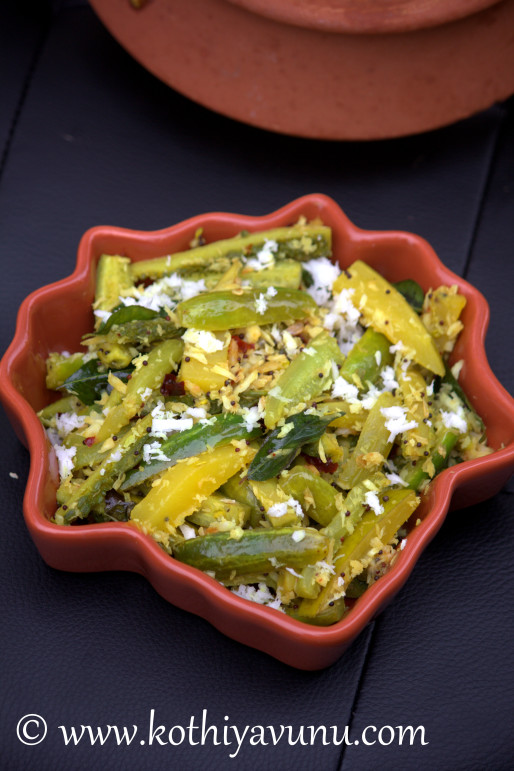 During my routine call to my mom, we were discussing about vishu and sadya menu, and it reminded me to post  few traditional vishu recipes. I have indeed posted Vishu Kanji and Vishu Katta, I have few more and will post one by one…so stay tuned. As the title says Vishu Thoran or Kani Thoran, made with the vegetable kept for Vishu Kani. For those who are not familiar with what Vishu Kani is,  I have shared the stories here.  This  kani thoran recipe calls for Chakkakuru-Jackfruit seeds. I haven't used it because I couldn't get a jackfruit, If you can get, please use them for more traditional delicious taste.  If you haven't tried yet trust me it totally worth trying and is very tasty. So without further ado, let's see how it's made…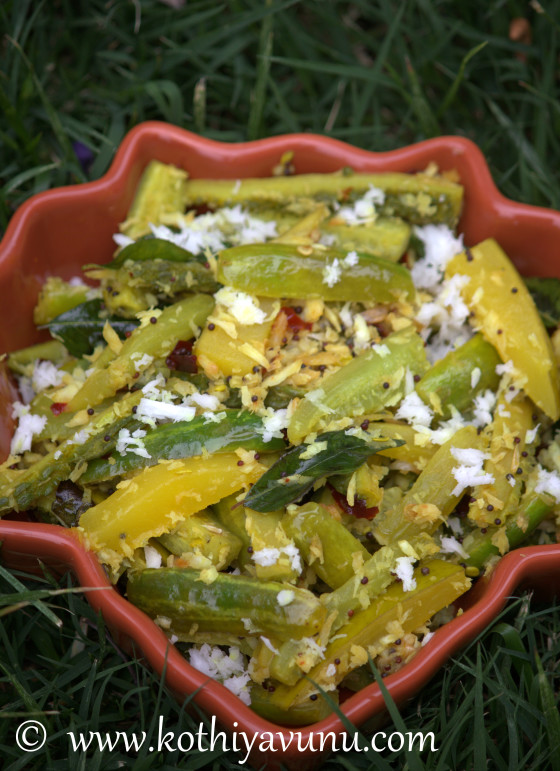 How to make Vishu Thoran-Kani Thoran – Vishu Sadya Recipe :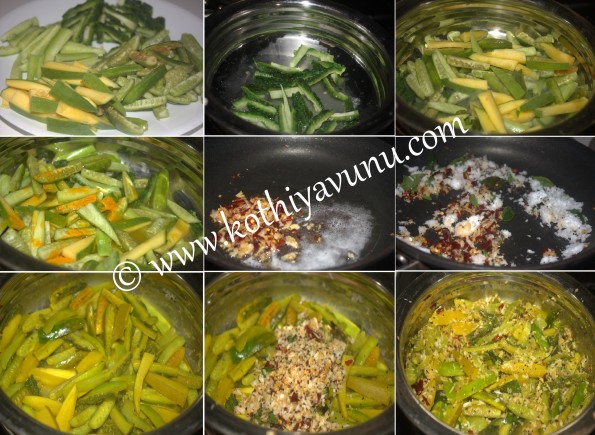 Other Vishu Sadya Special Recipe You Might Also Like…
Vishu Thoran-Kani Thoran - Vishu Sadya Special
Vishu Thoran-Kani Thoran -Mixed Vegetable Stir Fry is a very simple, tasty yet healthy recipe for you to try as part of
Vishu Sadya
or any other day you wish.
Ingredients :
Snake Gourd/Padavalanga : ¼ cup
Bitter Gourd/Pavakka : ¼ cup
Ivy Gourd/Kovakka : ¼ cup
Raw Mango/Pacha Manga : ¼ cup
Jackfruit seeds/Chakkakuru : ¼ cup
Turmeric Powder : ¼ tsp
Salt to taste

For Tempering :
Dried Red Chillies : 4-6
Garlic : 3-4 cloves
Garted Coconut : ½ cup
Mustard Seeds : ¼ tsp
Coconut Oil : 2 tsp
Curry Leaves : 1 sprig
How to Make :
Peel and cut vegetables lengthwise into 11/2″ pieces long
Since bittergourd/pavakka and jackfruit seeds needs little more cook time than other vegetables, Cook them first using very little water; when it's halfdone add other vegetables, turmeric powder salt to taste and cook on medium-low heat until all vegetables are cooked yet hold their shape.Take care not to cook them to a mush, I would suggest checking every 2 to 3 mins.
Meanwhile crush dried red chillies and garlic cloves in motar pestle or mixer.
Heat 2 tsp coconut oil in frying pan, add mustard seeds when its starts to splutter, add crushed dry red chillies-garlic, ¼ cup of grated cocount (leaving the other half for final sprinking) and curry leaves; fry till they turn light golden brown. (Note :Be sure not to burn it)
Pour this tempering to the cooked vegetables and mix gently so that vegetables are not mushed. Add remaning fresh grated coconut and little curry leaves over the kani thoran-mixed vegetable stir fry. Serve as part of Vishu Sadya or any day as you wish and Enjoy!
Notes
If more than one vegetable is used, add the longer-cooking ones first and the quicker-cooking ones last.
It's important to cook the vegetables in a low flame so as to retain the moisture level and so that it doesn't start burning from the bottom.
It is the coconut oil which gives thoran the aroma and taste, hence do not substitute.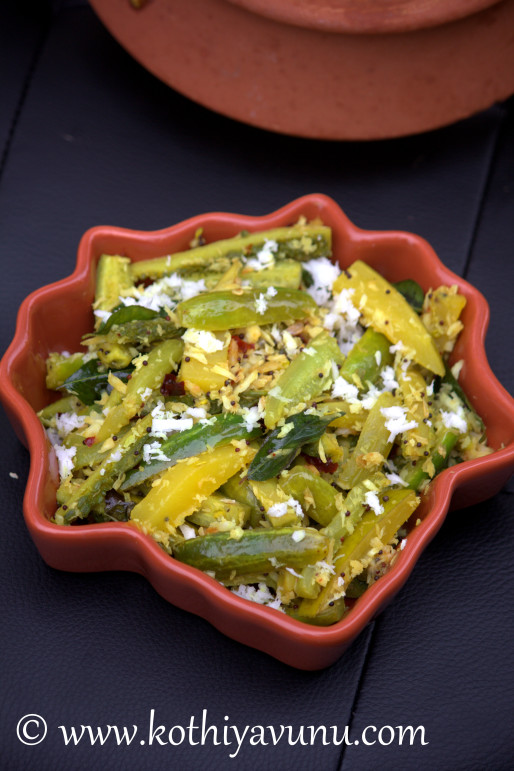 Don't forget to share your opinions after trying this Vishu Thoran-Kani Thoran /Mixed Vegetable Stir Fry recipe.
Happy Cooking!
Sangeetha
Like this Recipe? Sign up, and get more recipes delivered directly to your inbox.