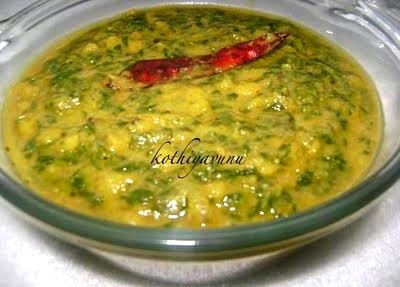 Cheera Parippuittathu Recipe – Dal Palak Recipe
Ingredients:
Spinach /Palak /Cheera : 1 bunch (chopped)
Toor Daal /Tuvara Parippu : 1 cup
Onion : 1 medium (finely chopped)
Shallots /Small Red Onions : 5-8 (finely sliced)
Green Chillies : 2 (sliced)
Garlic : 4-5 pods (finely chopped)
Grated Coconut : 1/2 cup
Red chilli powder : 1 tsp
Turmeric powder : 1/2 tsp
Dry red Chilly : 2 nos
Cumin seeds : 1/2 tsp
Mustard seeds : 1/2 tsp
Curry leaves : a sprig
Oil : 2 tbsp
Salt to taste
How to make Dal Palak – Cheera Parippuittathu :
1. Pressure cook the dal with salt, turmeric powder and water, when its done; remove from the fire and settle down thepressure and keep it aside.
2. Grind coconut,green chillies,jeera,red chilli powder and shallots with little water.
3. Heat oil in a pan; add chopped onions, chopped garlic and red chillies and saute until the onions turns to translucent.
4. Add spinach/palak and pinch of salt and saute for a few minutes till the palak is cooked.
5. Add the cooked dal to this and bring it a boil.
6. Add the coconut paste to the dal and cook it till the curry is thick.
7. Heat oil in pan and season the curry with mustard seeds. Serve with steamed rice and enjoy!
Check here for more Vegetarian Gravies & Curries.
Good Day All!
Sangeetha