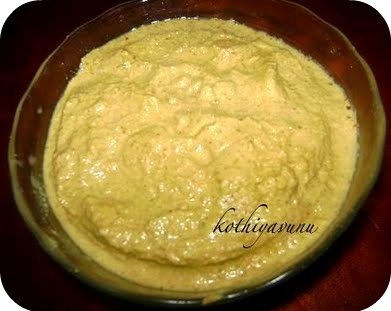 Recipe for Peanut Chutney /Groundnut Chutney

Ingredients:

Peanut /Groundnut : 1 cup
Grated Coconut : 1/4 cup
Garlic : 2 clove (optional)
Onion : 1 small (diced)
Tamarind pulp : 2 tsp
Dry red chilli : 3nos
Curry leaves : few
Oil : 2 tbsp
Salt to taste
Method of Preparation :
1. Roast the peanuts in a pan for about 5 minutes in low flame (should be roasted well)
2. Remove from the fire and allow them to cool & remove the skin from the peanuts.
3. Add oil in a pan,saute the diced onion,garlic and red chillies,curry leaves for few minutes.
4. Grind peanuts,coconut,tamarind pulp,salt,red chilli and garlic together with a little of water and grind to a smooth paste.
5. Chutney is ready! Serve with Idili or Dosa.
Notes:
If u want can do the tempering with the mustard,urad daal,curry leaves and pour it to the chutney.
Check here for more Chutney recipes
Good Day All!
Sangeetha