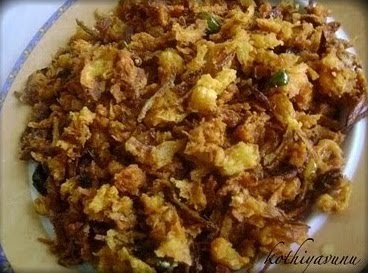 Recipe for Kappa Pakoda / Crispy Tapioca /Cassava /Yuca Fritters


Ingredients :
Tapioca /Kappa : 1.1 lb/1/2 kg (Grated)
Onion : 1 (big,thinly sliced)
Green Chillies: 4-5nos (chopped)
Rice flour : 1/2 cup
Turmeric Powder : 1/4 tsp
Red Chilly Powder : 1 tsp
Curry leaves : 2 sprigs (chopped)
Salt to taste
Oil for frying
Method of Preparation :
1. Peel and grate the tapioca into a dish with water.
2. Strain and squeeze out the water completely from the tapioca.
3. Add all the ingredients except the oil and combine all together.
4. Heat the oil in the frying pan and take the mixture in hand and sprinkle them onto the hot oil like pakodas.
5. Fry till crisp and golden colour and remove from oil, drain excess oil
6. Crispy pakodas are ready to eat.
7. Serve with a steaming cup of tea!!
(Recipe Source :Ummi Abdulla)
Check here for more Tapioca recipes.
Now comes Award
Some of my blogger friends have shared some awards with me..
Renuka Bedre, Priya, Lady Chef, Aparna, Sarah, Devi Meyyappan
has awarded me some awards.I am happy to receive this award from u guys.Thank u all my friends for all the appreciations and encouragements.
From Renuka Bedre, Priya

Form Sarah,Devi Meyyappan

Once Again I thank everybody for all the appreciations and encouragements.I really appreciate it…:)
I would love to share these awards to all my blogger friends because I love reading every one's blog.I request all my lovely friends to feel free to accept it and post it in your blog. Happy blogging!
Cheers!
Sangeetha