Peache and Ginger, A Best Combo! The flavor of ginger with the sweetness of ripe peaches make this unique jam. It's quite simple and utterly delicious. The best part is how easy it was and no pectin was required. Slather the jam on a slice of toast, or a scone for a breakfast and Enjoy!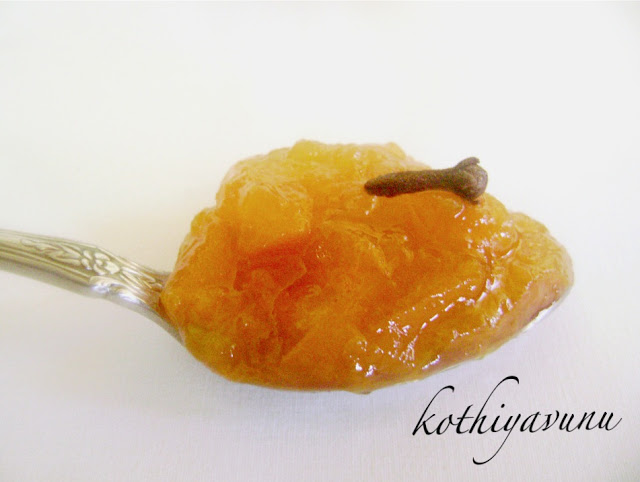 Recipe for Gingery Peach Jam


Makes 11/2 cups


Ingredients :
Fresh Peaches : 11/2 lb /4-6 medium peaches
Sugar : 1 cups or to taste
Fresh Ginger : 1 tbsp (finely chopped) (you could also use finely minced crystallized ginger in place of fresh ginger)
Lemon Juice : 2 tsp
Salt : a pinch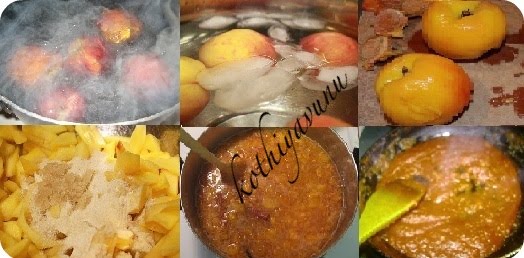 Method of Preparation :
1. Place the peaches in boiling water for a couple of minutes or until the skins loosen.
2. Take them out and place them in ice water.
3. Slip off the skins, halve the fruit and remove the pit and chop them very finely. (Note : If u don't prefer chunks in the jam then blend and puree it)
4. In a heavy bottom pan, add chopped peaches or puree, chopped ginger, sugar, salt and cook on medium heat; bring to a boil, stirring continuously for 15-20 minutes until bubbles slow and foam subsides.
5. Now reduce the flame to low and cook until thick proper jam consistency. (Note : Mixture will thicken in approximately 30-45 minutes, as mixture thicken, you must stir more frequently to ensure that it does not stick to the bottom of the pot)
6. Now add the lemon juice and mix well; cook for about 3-5 minutes and allow it to thicken.
7. Turn off the fire and allow to cool and store in sterilized jars in refrigerator.
8. Yummy Gingery Peach jam is ready, Serve with Bread Toast, Bagel, or a Scone.


Notes :
To test whether the jam is ready, Place a few drops of jam on plate and put it on the freezer for a few minutes. Take out and draw a line through mixture with your finger, the mixture stays separated and appears wrinkly, it is set. If it still appears runny, boil mixture for another couple of minutes and try freezer test again.
This peach jam can be refrigerated for up to a month.
Better to use peaches that are not quite ripe for jams and jellies,they actually have more natural pectin.
Check here for more Jam recipes.
Cheers!
Sangeetha