Sinfully easy and totally addictive! Fish Molee -Meen Moliee-Molly is a famous fish curry from Kerala (South India). The word molee literally means stew.
Fish Molee -Molly is a preparation where fish is stewed in coconut milk and very low spiced flavor in masala is prepared, so that flavor of the fish dominates the taste of the curry. This fish-meen molly marks the foreign influence especially of the Portugues on the cuisine of Kerala.
The fish used for this curry can range anything from Kingfish to Pomfrets to any fish that is fleshy.  It is a mild, delicate dish best served with Appam / Idiyappam /Rice, etc. If you like Fish curry, you're going to love this Curry..here u go!

Other Stew Recipes You Might Like :
How to make Fish Molee – Meen Moliee -Moli Recipe | Kerala Style Fish Stew with Coconut Milk
Fish Molee - Meen Moliee Recipe -Kerala Style Fish Stew
Sinfully easy and totally addictive! The fish is stewed in coconut milk with mild spiced flavor.
Ingredients :
For Marination :
King fish /Pomferts or any firm fleshed fish : 1 lbs or 2 medium sized
Turmeric Powder : 1 tsp
Lemon juice : 1 tsp
Salt to taste
For Gravy :
Onion : 1 large (thinly, sliced)
Tomato : 1 medium (sliced)
Ginger : 1 inch piece (crushed)
Garlic : 2 cloves (crushed)
Black Pepper Powder : 1 tsp
Thick Coconut milk -1st extract /Onnampaal : ½ cup
Semi Thick Coconut milk - 2nd extract /Randampaal : ½ cups
Thin Coconut Milk - 3rd extract /Moonampaal : 1 cup
Mustard Seeds : ½ tsp
Curry leaves : 2 sprig
Green chillies : 2-3 nos, slit
Lemon juice /Vinegar : 1 tbsp
Coconut Oil : 2 tbsp
Salt to taste
How to Make :
Wash and clean the fish and pat dry it.
Marinade the fish with marinade ingredients listed above and set aside for 15-20 minutes.
Heat oil in a pan and slightly fry marinated fish pieces on a medium heat and keep it aside.
Heat a pan (preferably in 'Kalchatti' an earthen pot) and pour required coconut oil. (Note : It will enhance the authentic taste)
Splutter the mustard seeds; add the ginger, garlic and saute for a minute.
Add the sliced onion, curry leaves, green chillies and saute till it becomes soft and translucent.
Add the tomatoes and saut'e for a minute. (Note : Do not mash the tomatoes).
Add the pepper powder and simmer the heat.
Add thin coconut milk/moonampaal and salt and mix well.
Add the fried fish pieces carefully, cover and cook the fish. As the fish is half done while frying you just need to cook for another couple of minutes.
Now pour the 2nd extract - semi thick coconut milk / randampaal and hold onto the sides of the pan and swirl it until the fish is well totally immersed in the gravy. Let it cook slowly for sometime till the fish completly absorbs it.
Remove the pot from the fire, pour the 1st extract- thick coconut milk/onnampaal; place it on low fire again for a minute and gently shake so that it gets mixed . (Note : Don't stir after the fish is cooked, as the fish might break.
Remove the pot from the fire and add some lime juice or vinegar. Top with some coconut oil in the end. Enjoy and Serve!
Notes
It is the best use the fresh fish to make fish mollee.
Using coconut oil enhance the authentic taste and flavor.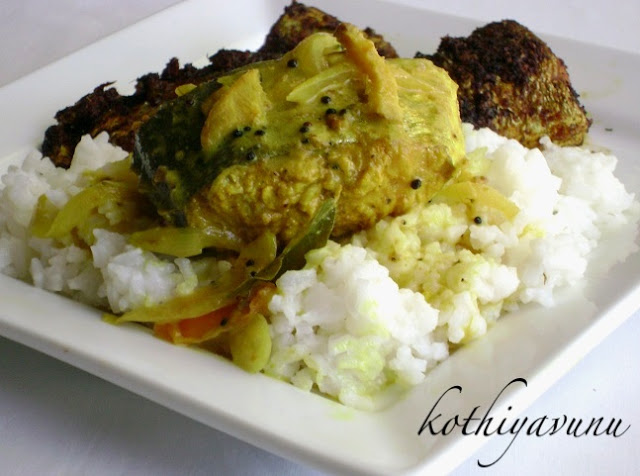 Hope you will try and enjoy this classic Fish Moliee -Kerala Fish Moli-Stew with Kerala Appam as much as we do.! Don't forget to share your feedback if you try.
Happy Cooking!
Sangeetha
Like this Recipe? Sign up, and get more recipes delivered directly to your inbox.