Drumstick has always been my favourite vegetables since my childhood and no wonder how it is prepared, all at home including my kids, appreciate this vegetable very much.
Back home in Kerala this curry is referred as Mulakushyam or Moloshyam. It has different variations depending on the region, in some parts grounded coconut paste is not used, so you may skip or if you're like me, enjoy the curry with coconut then feel free to add 🙂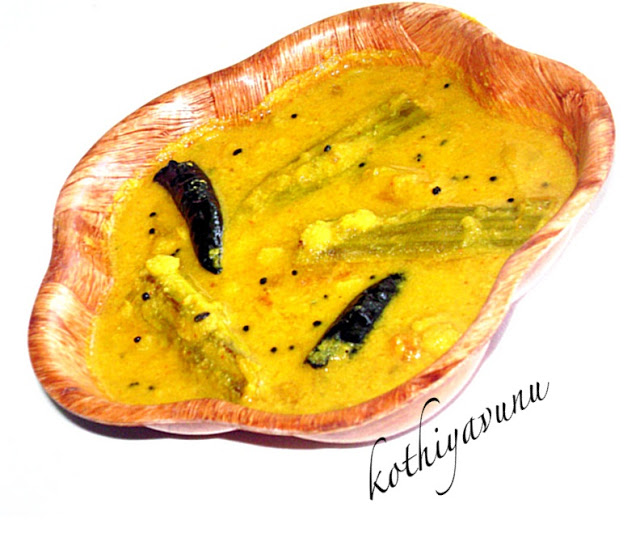 The combination of coconut and Toor Dal with power packed Drumstick is simple quick-to-make curry, with no spices at all and which may also be constituted as a main course to make a humble and so pleasing to the palate. Nutritionally, drumstick pods and leaves are of great value as sources of calcium, phosphorus and vitamin C. Just few pieces of drumstick not only enhances the flavour but gives the much needed vitamins to the body. Serve it with plain steaming
rice
with drop of
Ghee
on the top to enjoy this curry straight from "God's Own Country"
Recipe for Muringakka Mulakushyam /Drumstick Lentil Curry


Preparation Time : 15 minutes

Cooking Time : 20 minutes

Serves : 4-6
Ingredients :


Drumstick /Muringakka : 2 nos (cut into lengthwise)
Tomato : 1 no (cubed)
Toor Dal : 1/4 cup
Turmeric powder : 1/2 tsp
Red Chilli Powder : 1/4 tsp
Optional – For Grinding :
Grated Coconut : 1/2 cup
Cumin Seeds : 1/2 tsp
Salt to taste
For Seasoning:
Mustard seeds : 1/2 tsp
Dry Red Chillies : 2 nos (broken into 2)
Curry leaves : 1sprig
Coconut oil : 2 tsp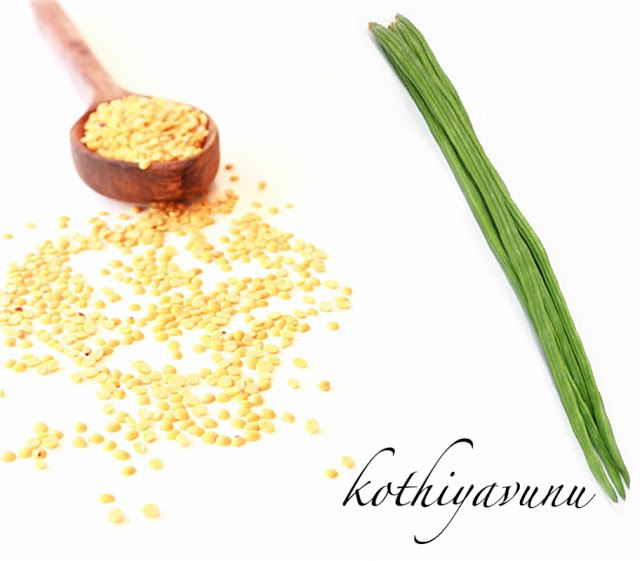 Method of Preparation :
1. Pressure cook toor daal,when its done; remove from the fire and settle down the pressure and keep it aside.
2. Grind grated coconut, cumin seeds with little water to a smooth paste and set it aside
3. In a pan, add the drumstick pieces, tomatoes, turmeric, red chilly powders, salt with enough water and bring to boil and cook till its done.
4. Add the cooked toor daal into it and bring to a boil.
5. Optional – Add the grounded coconut paste to the drumstick,dal mixture; mix well and allow to boil, adjust the salt and remove from the fire. (Note : If you wish, you can skip this step and proceed.)
6. Heat the coconut oil in a pan, add the mustard seeds,when its starts to pop add dry red chillies, curry leaves and saute for a minute.
7. Pour the seasoning to the curry and mix well.
8. Yummy Muringakka Mulakushyam /Drumstick curry is ready. Serve with hot rice and pour drop of ghee on top & enjoy!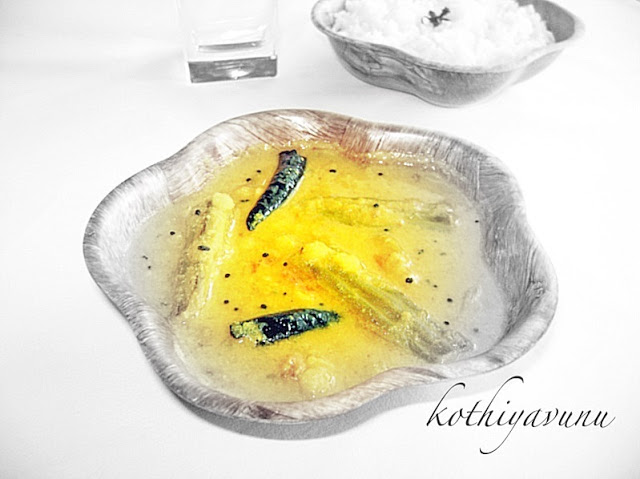 Notes :
Other vegetables you can use for this curry : Raw Green Plantains/Vazhakka, Yam/Chena, Cucumber/Vellarikka, Snake Gourd/Podalanga, Ash Gourd/Winter Melon/Kumbalanga,
Drum Sticks/Muringakkaya, Raw Jackfruit/Idi Chakka.
Click here for more Veg-Gravies & Curries
Cheers!
Sangeetha