Yes I know what you all thinking..this recipe looks familiar and posted it here before isn't? Yes I have posted it here on my early days, when I started my blog..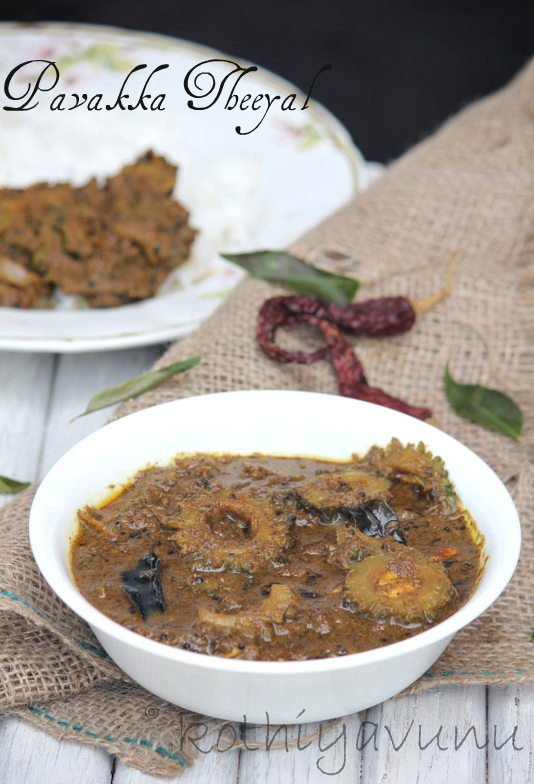 Today I decided to take down the old post and create a whole new one for this recipe for a couple of reasons. I make this often and have changed the way I prepare it a bit, also the old picture was simply terrible as many of my old photos are, so I thought it deserved a more appealing shot.
This is truly a favorite curry in my family…why do we love this dish so much? Because it's delicious, healthy and easy…did I mention it's delicious? I meant it..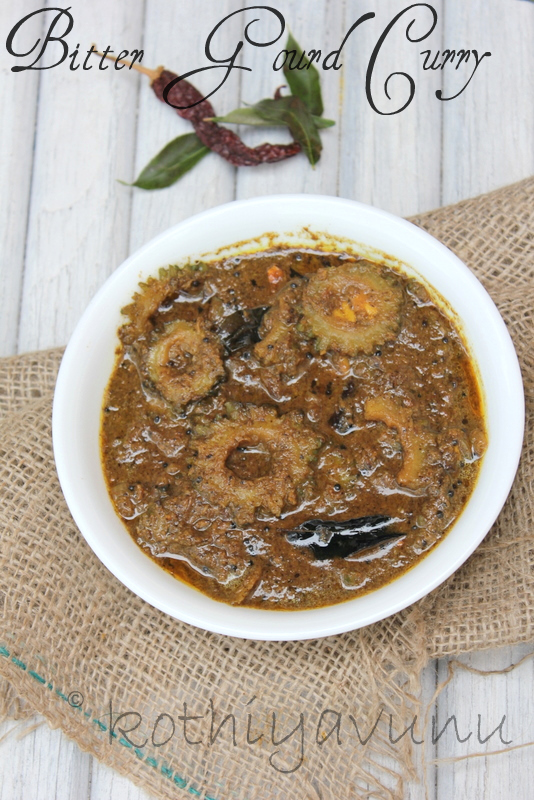 Theeyal needs no introduction to a keralite..but for those who are not familiar with this, let me briefly explain..Theeyal is a typical kerala dish; which means deep fried dish with a combo of assorted veggies in a roasted coconut tangy gravy. The most popular being one with
S
hallots /Small Red Onion /Ulli Theeyal
. Here we have Bitter Gourd/Pavakka /Kaipakka theeyal..
I see lots face turning off, because of the bitterness of bitter gourd..but trust me guys..sourness of tamarind; bitterness of bitter gourd with roasted coconut makes this curry taste yum! Those of you who have not tasted it.. give a shot and you will be hooked !
Serve with piping hot rice, curd,
pickle
and
pappadam
on the side. My mouth is watering just thinking of the combo..and am sure you must be watering too 😉
Ok let move the recipe now..here's the authentic way to make Nadan Pavakka Theeyal !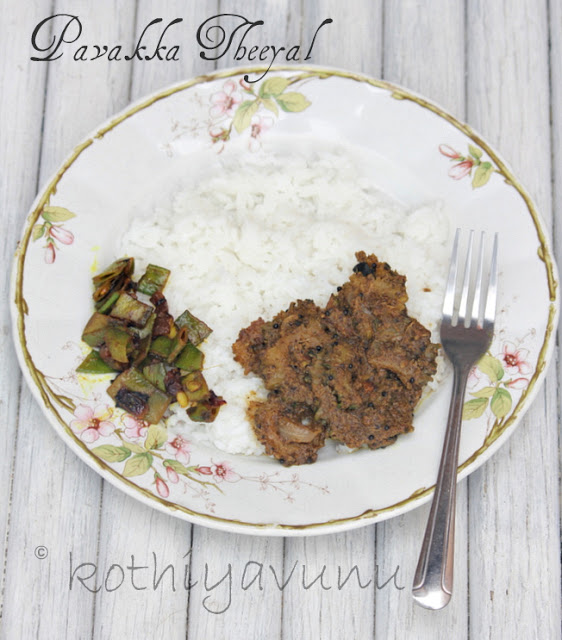 Nadan Pavakka – Kaippakka Theeyal Recipe | Bitter Gourd in Roasted Coconut Gravy
Preparation Time : 20 mins
CookingTime : 15 mins
Serves : 4

Ingredients :
Bitter gourd/Pavakka /Kaypakka : 2 nos (cleaned and thinly sliced)
Shallots/Pearl Onion/Red Small Onion /Ulli : 1/2 cup
Grated Coconut : 1 cup
Tamarind Juice (extracted) : a goose berry sized ball (soaked in the water)
Turmeric Powder : 1/4 tsp
Red chilly Powder : 1 tsp or to your spice level
Coriander Powder : 1 tsp
Fenugreek Powder : 1/4 tsp
Asafetida : a pinch
Black Pepper Corn : 1/2 tsp
Dried Red Chilly : 2 nos
Mustard Seeds : 1/2 tsp
Curry Leaves : 1 sprig
Coconut Oil : 3 tbsp
Salt to taste

How to make Pavakka -Kaippakka Theeyal :
1. Soak the sliced bitter gourd/pavakka in salt water for 15 minutes; drain the water and keep it aside. (Note : This reduce the bitterness of the bitter gourd.)
2. Heat coconut oil and add half of small red onion /kunjuulli, sliced bitter gourd/pavakka /kaippakka, turmeric powder, and saute on a low flame, till the shallots and bitter gourd pieces are cooked well in oil.
3. Add the tamarind juice and 1 cup of water and cook its done.
4. Take another frying pan and add 1 tsp of coconut oil, add remaining shallots, grated coconut, coriander powder, red chilly powder, whole black pepper corns and fry till turns to brown in color.
5. Remove from the fire and grind to a fine paste using a little water.
6. Add the grounded coconut paste, fenugreek powder; stir well and allow to boil for a few min on low flame till the gravy thickens. Now add pinch of asafetida and mix well.
7. Heat oil in small frying pan/kadai, splutter mustard seeds, add red chillies and curry leaves.
8. Pour the seasoning into the curry; mix well and cover the dish. Keep it aside for 10-20 minutes.
9. Serve with piping hot rice, curd, pickle and pappadam on the side and Enjoy !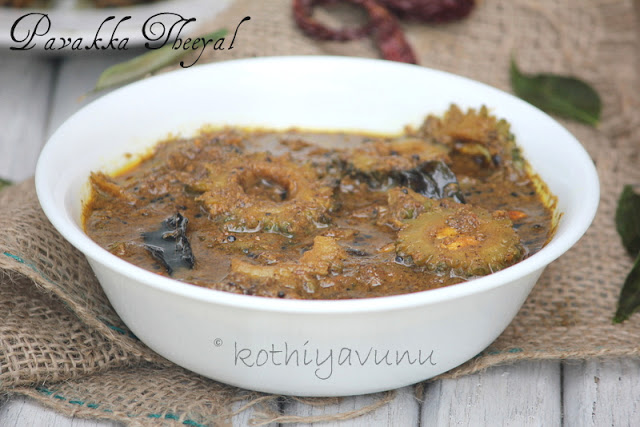 Related Posts:
Ulli Theeyal /Pearl Onions Cooked in Roasted Gravy
Mathanga Pulinkari /Pumpkin in Coconut & Tamarind Sauce
Ennai Kathirikkai Kuzhambu /Stuffed Eggplant in Tamarind Sauce
Vendakka Puli /Okra /Ladies Finger Tamarind Curry
Click here for more Veg Gravies and Curries
Have a wonderful day!
Sangeetha