Imagine biting the deep fried battered
shrimp/prawns
covered with sweet and sour sauces and glazed with honey – YUM!
The first time I ever made these, they were devoured in no time. I've been looking for a reason to make them again ever since, and they fit perfectly on our usual get-together with friends.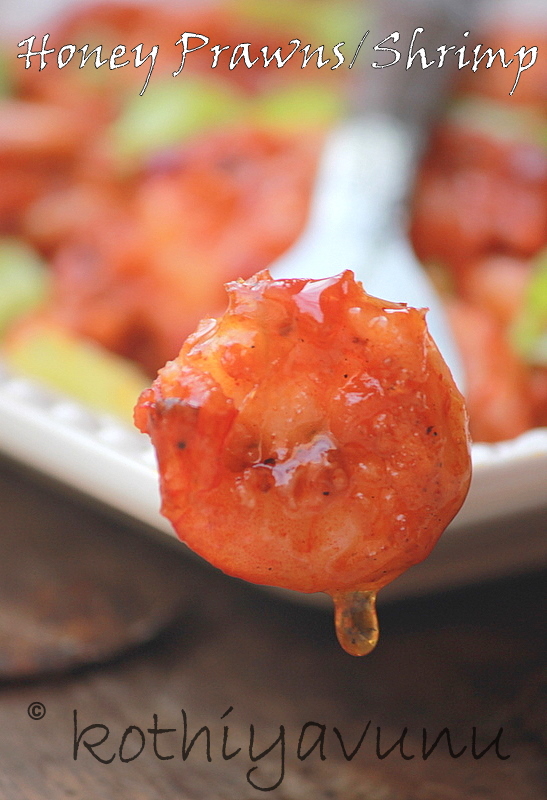 Chicken lollipop
,
Naan
,
Butter Chicken
normally
are most-requested recipes from our friends bratz and they love it. 🙂 Since I was short on time and energy, I didn't have quite as much fun planning as I normally would, but I think the end result was still very nice and everyone had a great time. I made these honey prawns for appetizers and they loved it.
This makes an excellent appetizer or side to serve guests, but is also easy enough to cook as an everyday treat, kids would love it for sure. I just followed my Gobi Manchurian recipe with few minor changes 🙂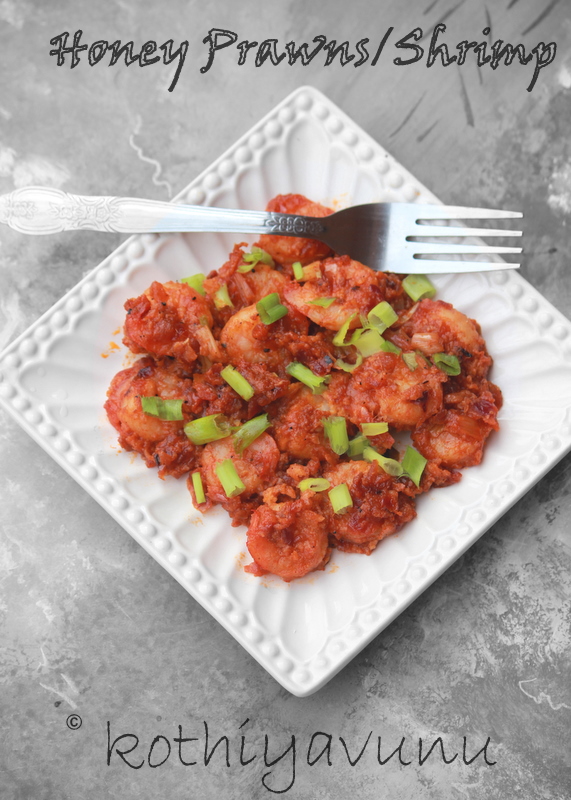 After our party, my lil one kept on asking for it and I couldn't find enough time and I was out of honey 🙁
Guess what ? Last evening my friend 'Ji' had a telepathy and bought a bottle of pure honey from the farm back home 🙂 Couldn't wait ! my venture was a repeat and here it is. Make culinary waves by serving these at your next party. …Enjoy !
Honey Prawns-Shrimp Recipe /Honey Glazed Prawns/Shrimp Recipe
Preparation Time : 20 minutes
Cooking Time : 20 minutes
Serves : 4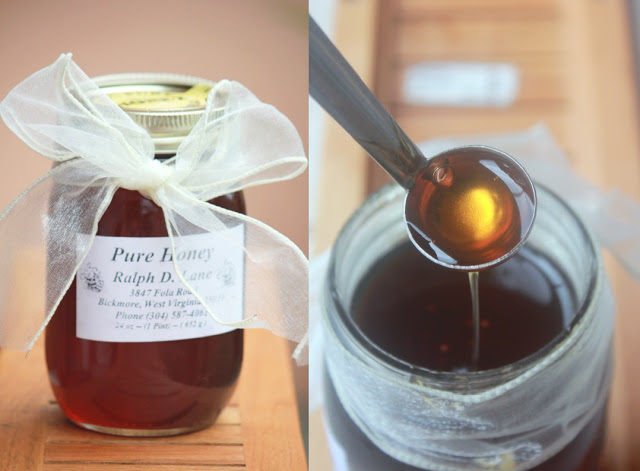 Ingredients :
To Marinate:
Shrimp /Prawns : 1 1b /1/2 kg (fresh or frozen)
All-Purpose Flour /Maida : 3 tbsp
Corn Starch : 3 tbsp
Black Pepper : couple of pinches
Egg yolk : 1
Salt to taste
Water as needed
For the Sauce:
Onion : 1 (medium, finely chopped)
Garlic : 3 large cloves, (finely, chopped)
Ginger : 1/2″ pieces (minced)
Honey : 2 1/2 tbsp (add or reduce according to your taste)
Sweet and Sour Tomato Ketchup : 11/2 tbsp
Red Chili Sauce or Red Chilly Paste : 2-3 tsp or to your spice level (To make dried red chilli paste immense 7 to 8 dry chillies in water for 5 mins before made into paste)
Soy Sauce : 1 tsp
White Vinegar or Lemon Juice : 1 tsp
Corn Starch : 2 tsp (mixed in little cold water)
Spring Onions : 2 stalks, (cut diagonally and keep half of portion for garnishing)
Cooking Oil : enough to deep fry
Salt to taste
How to make Honey Prawns-Shrimp Recipe Sweet and Sour Shrimp-Prawns Recipe:
1. If using fresh shrimp, deshell, devine and wash well or if your using frozen then just thaw it and wash well. 2. Marinate the cleaned shrimp/prawns with above listed ingredients 'To Marinate' for about 20 minutes.
3. Deep fry the shrimp /prawns for couple of minutes, remove and drain the excess oil on a paper towel. Finish frying all of the prawns and set it aside.
4. In the same pan, heat couple of tbsp of oil, add chopped onions, half of the chopped spring onion, garlic, ginger and cook until they are translucent. (Note : They doen't have to become brown.)
5. Add ketchup, red chill sauce, soy sauce, vinegar or lime juice; mix well and cook until oil starts to separate from mixture.
6. Mix corn starch with little water and add it to the sauce and cook for a minute until sauce starts to thicken.
7. Add the fried prawns /shrimp with the sauce and mix well.
8. Now add the honey and combine well in a such way that sauce coats well with prawns completely.
9. Garnish with spring onion and Serve hot & enjoy as starter or even as side dish to fried rice. Enjoy!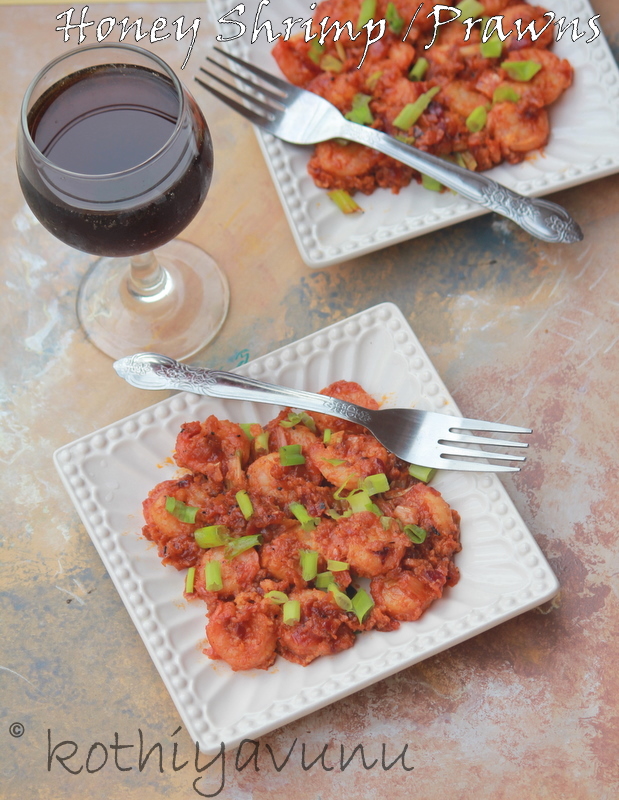 Related Posts :