Today on Menu Inji Thayir – Ginger in Yogurt – Kerala Sadya Recipe.
Hope you all had a fantastic easter. We had a blast with all our friends. Thanks Tamara for inviting us for dinner…now Vishu is around the corner, I'm so excited and started my preparations. So, what are your plans for Vishu? How amazing is these festivals bring us those childhood sweet memories!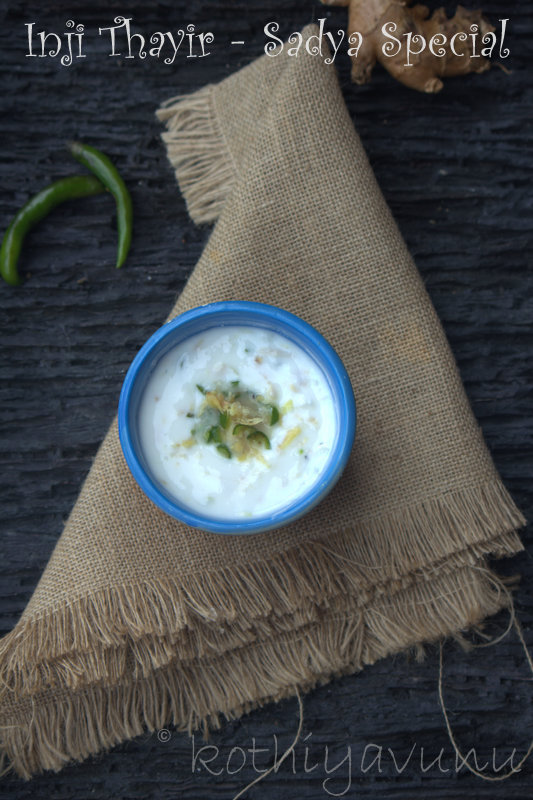 One thing I have noticed about my past sadya recipes is that I haven't recorded few important recipes for Kerala sadya/feast recipes till date. So today I'm here with Inji thayir, which a quick fix side dish, though we won't serve this Inji Thayir for traditional Kerala Sadya recipe.This is especially prepared for pirannal sadya/feast and for sraddham. Today it's my lil cuites birthday so I prepared this and thought I will share with you all.
Ginger plays a major role in Kerala sadya menu, like Inji puli, Inji curry, Inji thayir, Inji Pachadi, etc. Ginger is a very useful root and can add flavor to any number of dishes and mainly it has lot's of medical significant and good to help aid digestion. so try to incorporate it into your daily cooking.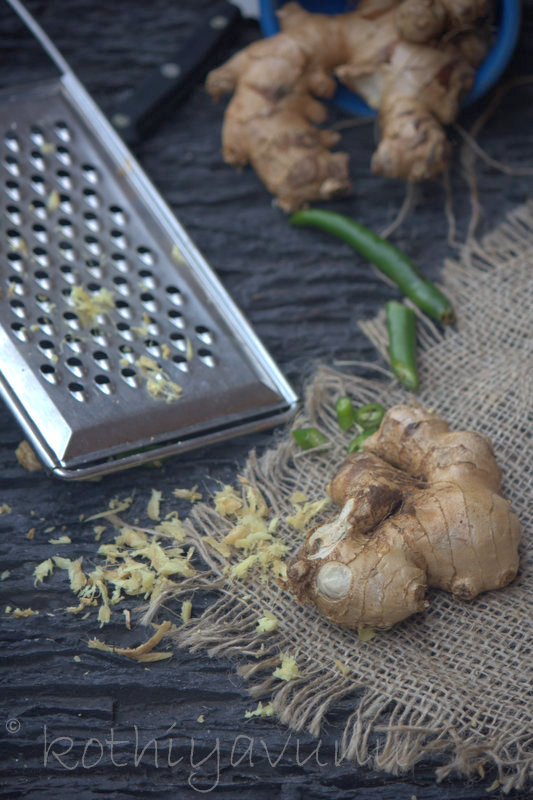 This is such a simple recipe to prepare as the ingredients are readily available in most kitchens.So here I am, Easy-peasy and yummy too – so try it for this and enjoy!
More Ginger Recipes You Might Also Like :
How to Make Inji Thayir Recipe -Inji Thair -Ginger Khicadi Ginger Pachadi Recipes :
Inji Thayir -Ginger in Yogurt-Kerala Sadya Menu
Ginger plays major role in Kerala sadya menu,like Inji puli,Inji curry,Inji thayir. Inji Thayir is yogurt spiced with ginger and green chillies.
Ingredients :
Ginger /Inji : 2 tbsp (grated)
Green chillies : 2 (finely chopped)
Plain Yogurt /Curd : ¾ cup
Curry leaves : 2 (finely, chopped)
Salt to taste
How to Make :
In a bow, mix all the ingredients well. Serve and Enjoy!
Notes
You can also add 3-4 chopped shallots/red small onion to it. Usually it is not added, when your prepare it for sraddham sadya.
If you feel that the ginger your using is very strong aroma, then crush and squeeze the juice and then add it to yogurt.
Hope you will try this Inji Thayir and like them too.Don't forget to share your thought if you try. Would love to hear from you.
Happy Cooking !
Sangeetha
Like this Recipe? Sign up, and get more recipes delivered directly to your inbox.