I'm always happy to find differnt ways to prepare fish curry, since fish is definitely our preferred source of animal protein.There are a few Kerala fish curry in this blog, this one has most of the basic ingredients as the others, but the end result is quite different. And I must say, this is definitely a fantastic variation.
I have made this so many times – I love it for many reasons. First and most importantly, it tastes amazing. Second, the fish is fried and then cooked with combination of spices along with coconut milk, gives a special flavor to curry.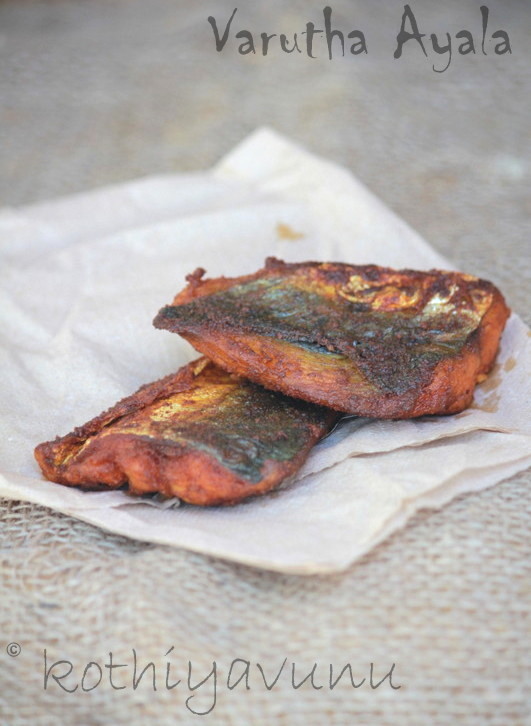 Back home, traditionally fish curries are prepared in earthen pot /manchatti, so if you have a earthen pot go ahead and make this in it. It adds a distinct taste to the curry and keeps the fish moist even with very little gravy. I have used Ayala/Mackerel fish in our version, but you can use fish like Ayakkoora/King fish or Avoli/Pomfret or any fresh fish that you love.
Trust me folks you will never go wrong with this recipe. so try this Kerala fish curry and serve with piping hot plain boiled rice or with Mashed Tapioca /Kappa Puzhukku or with Appam You are going to love this unique flavorful curry… Enjoy!
Varutha Ayala Curry Recipe – Fried Mackerel Curry Recipe – Fried Ayala Curry Recipe
Preparation Time : 30 minute
Cooking Time : 20 minutes
Serves : 4
Ingredients:
To Fry Fish:
Mackerel /Ayala : 2 (cleaned & cut to pieces)
Red Chili Powder : 1 1/2 tsp
Turmeric powder : 1/4 tsp
Salt to taste
Coconut oil or Cooking oil to fry
To Grind:
Shallots /Red Small Onions : 4
Garlic: 4 cloves (crushed)
Turmeric Powder : 1/4 tsp
Red Chilli Powder : 1 tsp
Coriander Powder : 1 tbsp
Black Pepper Powder : 3/4 tsp
For Curry:
Shallots /Red Small Onions : 1/2 cup (finely sliced)
Mustard Seeds : 1/2 tsp
Ginger : 1 " piece (crushed)
Green chillies : 4 (slit lengthwise) or to your tolerance level
Coconut Milk : 2 cup
Curry leaves : 2 sprig
Vinegar : 1 tsp
Salt to taste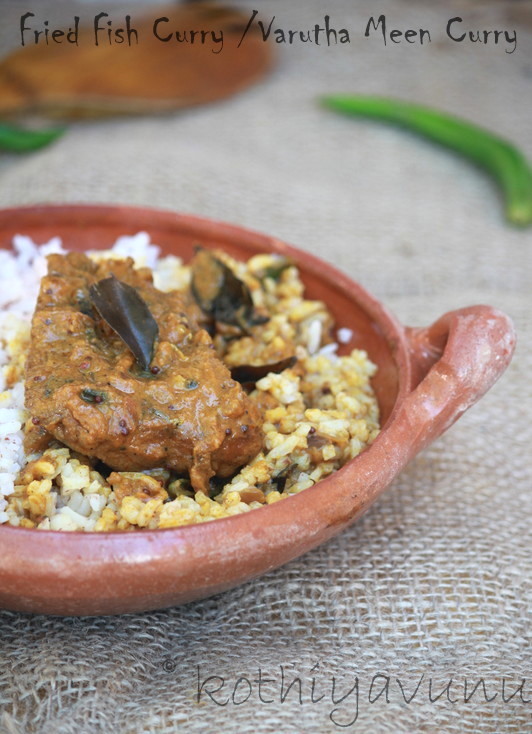 How to make Varutha Ayala Curry – Fried Mackerel-Ayala Curry Recipe :
1. Make a fine paste of all ingredients, except oil listed above ' To fry fish' using either oil or little of water.
2. Apply the masala paste and marinate the fish pieces and keep it aside for 1/2 hr.
3. Meanwhile grind the above listed ingredients "To Grind" to paste and set it aside.
3. Heat a pan (preferably in 'manchatti' an earthen pot) and pour required coconut oil (Note : It will enhance the authentic taste)
4. Add the few curry leaves and fish pieces, 2 or 3 at a time and quick fry the fish pieces on both sides for few seconds. remove and transfer the fried fish to a plate. (Note : No need to fry completely.) Fry all the pieces in the same way.
5. In same frying pan to left over oil, add mustard seeds, when it starts to pop, add curry leaves, ginger, green chillies, and shallots/ small red onions; saute until it is translucent and light brown in color. (Note : This gives an extra flavor to the curry.)
6. Now add the grounded spice masala; mix well and reduce the flame to medium.
7. Add salt and coconut milk and increase the flame, bring to boil and then simmer and cook for 5 minutes.
8. Add vinegar, fried fish pieces and swril the pan /meen chatti and cook for 5 more minutes. Adjust the salt.
9. Adjust the gravy according to your consistency and sprinkle coconut oil and little the curry leaves on the top.
10. Turn off the stove and keep the curry covered for 10-20 minutes, let the flavor set.
11. Serve with piping hot plain boiled rice or with
Mashed Tapioca /Kappa Puzhukku
or with
Appam
and Enjoy!
Recipe Adapted : Lakshmi Nair
Related Posts :
Kerala Fish Curry
Meen Manga Curry /Fish Mango Curry
Varutharacha Meen Muringakka Pacha Manga Curry /Fish with Raw Mango & Drumstick in Roasted Coconut
Fish Molee /Meen Molee /Kerala Style Fish Stew with Coconut Milk
Nadan Mathi Chaala Curry /Kerala Sardiness Curry
Meen Thengapal Curry /Fish Coconut Milk Curry
Meen Mulakittathu /Spicy Red Fish Curry
Click here for more Fish Recipes.
Happy Cooking!
Sangeetha