Cooking can be so much fun when you have an good friends & family to share with. I made these treats for a 'S' office friends.
Mixture is one of the most favorite crispy snack of India, which has different variations in different states. It has different names like Chivda, Kerala mixture, Madras Mixture, Bombay mix, Gujarathi mix, Punjabi mix, or even just as Mixture. There is no fixed recipe and different ingredients can be assembled and flavored based on individual taste. So feel free to add or change the ingredients based on the availability and individual taste. Today's i'm sharing recipe for Kerala Spicy Mixture. This savory, spicy snack is a delight and truly quite addictive…Back home in Kerala spicy mixture is a much loved by all age groups, and is to be found at all special occasions like wedding tea parties, & festivals.
If you are looking to munch a heavenly spicy snack, then this tasty home made version is the answer, which easily beats the store bought mixtures. I have seen my mom doing it but never tried one myself until yesterday. To my surprise, my first attempt was a success. It is little time consuming to make, but its worth all the effort…So make these now…Dazzling I tell you. A tray of these all crispy and crunchy, will be snatched up by a most appreciative audience. I hope you all will enjoy making this snack as much as we did…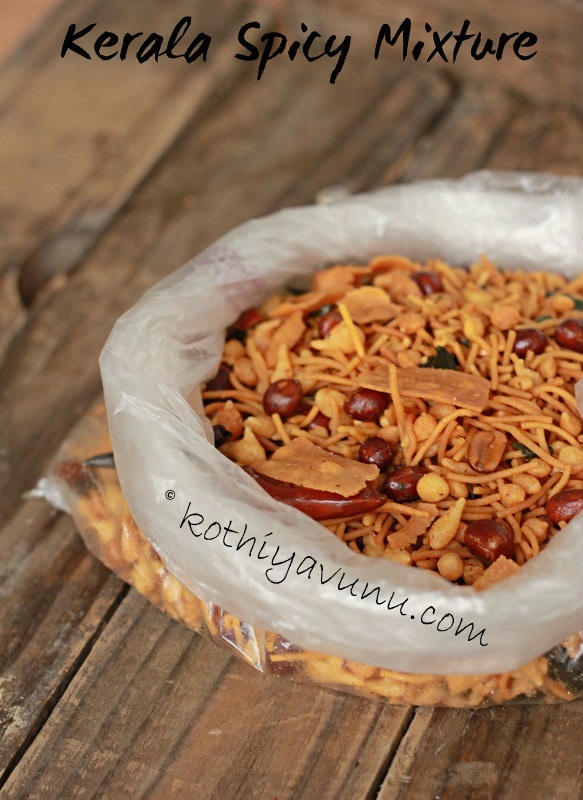 Kerala Spicy Mixture Recipe – South Indian Mixture Recipe
Preparation Time : 20 minutes
Cooking Time : 30 minutes
Serves : 20-25 (approx 3-4 cups)
Ingredients :
Roasted Rice Flour : 1 cup
Gram flour/Besan /Kadalamavu : 2 cup
Turmeric Powder : a pinch
Red Chilly Powder : 1 tsp + 11/2 tsp
Melted Butter : 11/2 tbsp
Asafetida /Kayam /Hing : 1/2 tsp
Peanuts with skin /Groundnut : 1/2 cup
Split Channa Dal/ Kadalaparippu : 1/2 cup
Dry Red Chilly :3-4 nos
Curry Leaves : 4 sprigs
Oil for frying
Salt to taste
Water : 11/2 cup (as needed)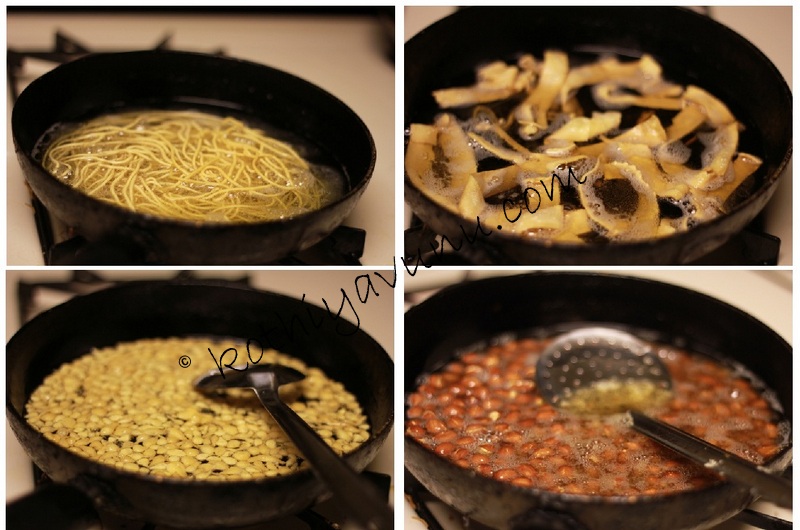 How to make Kerala Mixture -South Indian Mixture :
1. In a mixing bowl, sift and add the rice flour, gram flour/besan, turmeric powder, 1 tsp red chilly powder 1/4 tsp asafetida and salt. Mix well and drizzle melted butter.
2. Combine well and knead this into smooth dough by adding water little by little. (Note : Do not make the dough too watery. The consistency that is little bit looser than chappati dough and it may stick to your hands at first, as you progress with kneading you will get smooth dough. ) Set aside.
3. Meanwhile heat oil in a deep frying pan. When hot, check by dropping one tiny piece of dough, if it rises immediately without changing color then the oil is ready to start frying.
4. Fill the string hooper/seva/idiyappam mould with the dough after putting the small hole /noodle disc in it.
5. Press the the dough to hot oil in circular motion, Fry for about 30 seconds on each side or it gets a golden color over medium-high heat (
Note :
This frying is pretty quick, so care should be taken not to brown the sev.) Drain the excess oil onto a colander or paper towel and let cool completely. Repeat for about 4-6 times.
6. Now change the press design to the ribbon and fill the string hooper/seva/idiyappam mould with the dough after putting the narrow slit /pakkavada/ribbon pakoda disc in it.
7. Press the the dough into the pan. Fry until, it gets a golden color (
Note :
It take little more time than sev, so they need to be cooked on low heat for couple of minutes on each side.) Repeat as needed; drain the excess oil onto a colander or paper towel and let cool completely.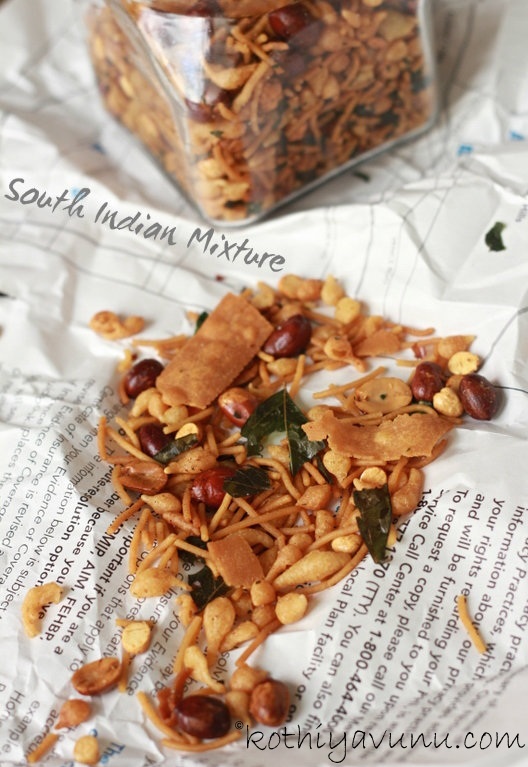 8. Now lets fry boondi; slightly thin the dough with little water to make it pourable consistency (Note : The batter should flow through the holes of the spatula on a medium speed. If it flows too fast, then the batter is too thin and if it won't fall, then the batter is too thick.)
9. In the same oil, hold a perforated spoon about 1 to 1 1/2 inches above the oil over the center of the frying pan with one hand. With your other hand pour some of the batter onto the perforated spoon to cover all of the holes without spilling over the edge of the perforated spoon. If you hold the perforated spoon higher than 11/2 inches above the oil boondi will not be round.The batter will start dropping through the holes into the oil. If the batter doesn't drop right away through the holes, pour the batter on the skimmer back into the batter bowl, mix a little more water to the batter and start again. Drop enough boondi into the oil so they just cover the surface of the oil in frying pan in a single layer and fry them until the sound of sizzling stops and boondis are light gold in color.
10. Remove the boondi out of the oil with a slotted spoon (Note : this allows excess oil to drip back into the frying pan) and drain the excess oil onto a colander or paper towel and let cool completely.
11. Fry the chana dal until it fetches a light golden color. Drain excess oil onto a paper towel.
12. Now fry the peanuts till golden brown color. (Note : Make sure not to over fry the peanuts and chana dal as they cook very fast.
13. Finally fry the red chilly and just before switch off the heat, slowly slide in some curry leaves into the hot oil, Caution : it will splutter so close the pan immediately with a lid till all the splutters end. Drain them too.
14. Now mix everything in a large bowl, place the string hoppers/sev crush it with your hand to make the sev smaller.(
Note :
You can decide the length of the Sev), ribbon pakodas, fried peanuts, chana dal, red chilly and curry leaves.
15. Add the remaining 11/2 tsp red chilly powder, salt and reamining 1/4 tsp of asafetida. Mix well and when it is completely cooled, store it in an airtight container.This will stay good for 3-4 weeks if stored properly. Enjoy!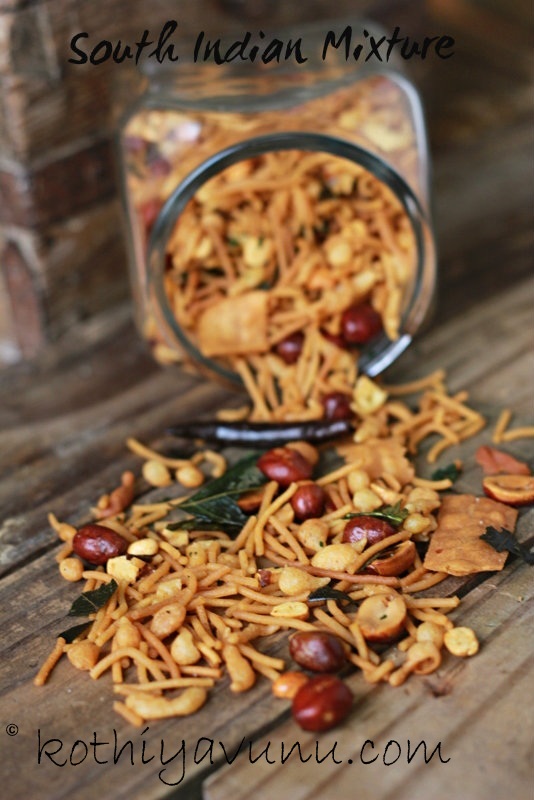 Related Posts :
Ribbon Pakoda /Ola Pakkavada /Kerala Pakkavada
Pappada Vada /Pappad Fritters /Crispy Lentil Flatbread Fritters
Karasev