All you fish curry lovers out there, this special fish curry /meen curry is for you!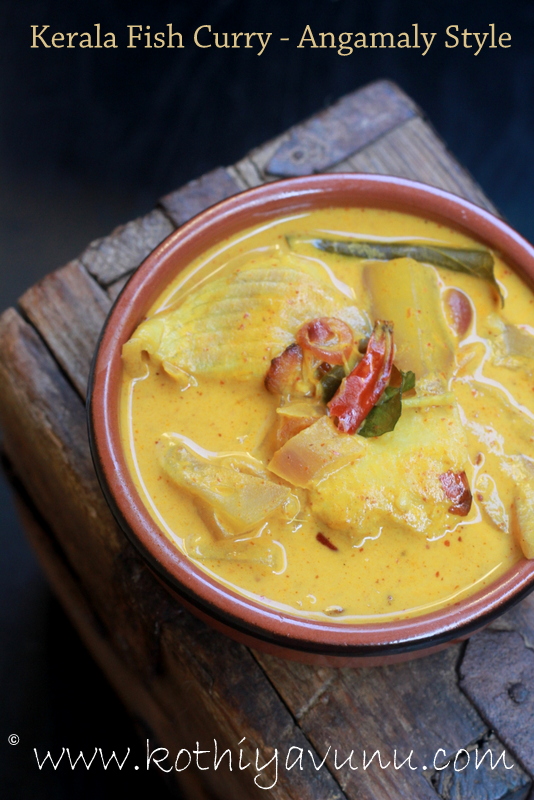 An amazingly different meen/ fish curry straight from the Angamaly, Kerala. We have a variety of 'Fish curry' served in Kerala, South India known by different names depending which part of region you are from. They are all the same but as it goes with little variation by an addition or subtraction of a spice and you have a different dish and that's about how cooking goes around the world.
The other day, I was on a call with our friend M and as always our talks led to the new dishes that we tried recently. She was very excited to tell me that she tried a new fish curry recipe seeing a cookery show called "Taste of Kerala", which came out really well. She recommended to try that recipe. So I did and extremely happy about it and my family enjoyed it. It uses a blend of spices, coconut milk and raw mangoes which gives the curry a very unique flavor and aroma. Yes you guessed it right, I have already shared Fish Mango Curry /Meen Manga Curry, but this recipe is something totally different! I guarantee this recipe is keeper! Trust me guys you will surely love it. I hope you will have the same experience like me and be happy with this unique Angamaly style fish curry. Enjoy!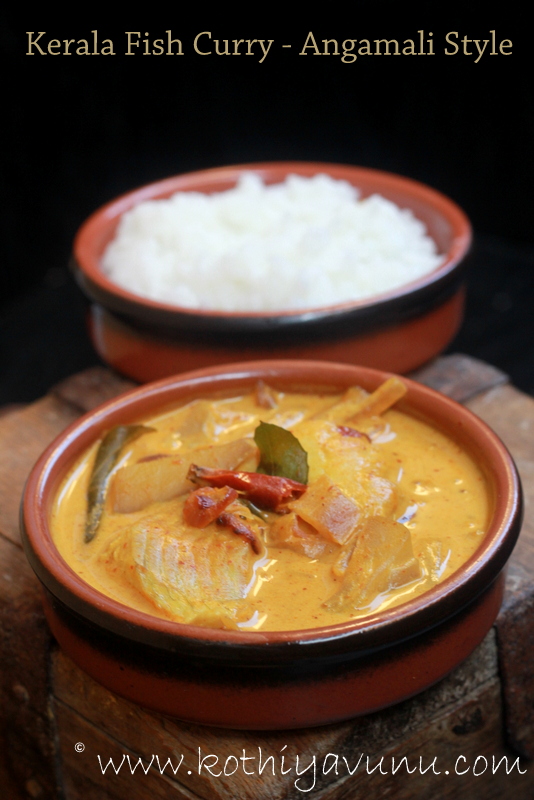 Kerala Style Fish Mango Curry with Coconut Milk Recipe | Meen Manga Thengapal Curry Recipe
Preparation Time : 10 mins
Cooking Time : 20 mins
Serves : 4-6
Ingredients :
King Fish or Any Fleshly Fish : 2.2 lb /1 kg
Raw Mango : 1 (medium sized, peeled, sliced lengthwise- little finger-size)
Onion : 1 (medium, finely sliced)
Small Red Onion /Shallots : 15-20 (finely sliced)
Green Chillies : 4-5 (sliced)
Garlic : 3-4 cloves (crushed)
Ginger : 1/2″ piece, (sliced lengthwise)
Turmeric Powder : 1/2 tsp
Coriander Powder : 3 tbsp
Red Chilli Powder : 11/2 tbsp
Salt to taste
Vinegar : 3 tbsp
Coconut Oil : 1 1/2 tbsp
Curry Leaves : 2 sprig
Semi Thick Coconut milk – 2nd extract /Randampaal : 1 cup
Thick Coconut milk -1st extract /Onnampaal : 1/2 cup
For Tempering :
Fenugreek Seeds : 1/4 tsp
Red Small Onion /Shallots : 6-8 (finely chopped)
Dried Red Chillies : 4
Red Chilli Powder : 1 tsp
Fenugreek seeds powder : a pinch
Curry Leaves : 1 sprig
How to make Angamaly Style Fish /Meen Curry /Fish Mango Coconut Milk Curry /Meen Manga Thengapal Curry :
1. In a pan (preferably in 'Kalchatti' an earthen pot), add the sliced onion, small onion, crushed garlic, chopped green chillies, sliced ginger, turmeric powder, coriander powder, red chilli powder and salt to taste; and start mixing it with your hand.Mix it thoroughly.
2. Add curry leaves, vinegar, coconut oil into it and mix it well with hands.
3. Now add semi thick coconut milk /2nd extract /randampaal and half of the thick coconut milk/1st extract /onnampaal to it so that the mixture just covers the ingredients. (Note : Add water if needed)
4. Switch on flame and bring this to a boil. Once boiling add sliced raw mango pieces and cook until mango pieces are tender and cooked through.
5. Now reduce the flame to medium- slow, add the fish pieces; check and adjust the salt; swirl the pan in such a way that all the fish pieces totally immersed in the gravy. Close and cook it for 10 mins(approx) or till the fish completely absorbs it. Open the lid and check whether the mango is cooked. If mango is cooked, then the fish is also done.
6. Remove the pot from the fire, pour the remaining half of the thick coconut milk /1st extract/onnampaal; place it on low fire again for a minute and gently shake so that it gets mixed .(Note : Don't stir after the fish is cooked, as the fish might break.
7. In a frying pan, heat coconut oil, splutter fenugreek seeds, sliced small onions/ shallot, dried red chillies, curry leaves and pinch of fenugreek seed powder and red chilli powder, saute till it turns to light brown and add to the curry…Serve with piping hot plain boiled rice or with
Appam
,
Puttu
and Enjoy!
Notes :
Keep this curry for at least 1-2 hours before serving, so that the gravy absorbs all flavors.
The taste of the curry depends on the mango, and the quality of the coconut milk. I prefer using fresh squeezed coconut milk.
I have used King Fish in this recipe, you can use any fleshed fish for this recipe.
Related Posts :
Varutha Ayala Curry /Fried Mackerel Curry/Ayala Curry
Kerala Fish Curry
Meen Vevichathu /Kottayam Style Fish Curry/Spicy Fish Curry
Varutharacha Meen Muringakka Pacha Manga Curry /Fish with Raw Mango & Drumstick in Roasted Coconut
Fish Molee /Meen Molee /Kerala Style Fish Stew with Coconut Milk
Nadan Mathi Chaala Curry /Kerala Sardiness Curry
Meen Thengapal Curry /Fish Coconut Milk Curry
Sangeetha