Hello everyone, Hope you all had a good weekend and started your week with full of energy.:)
Have you ever tried Fish Tomato Curry? If not here is recipe for you to try…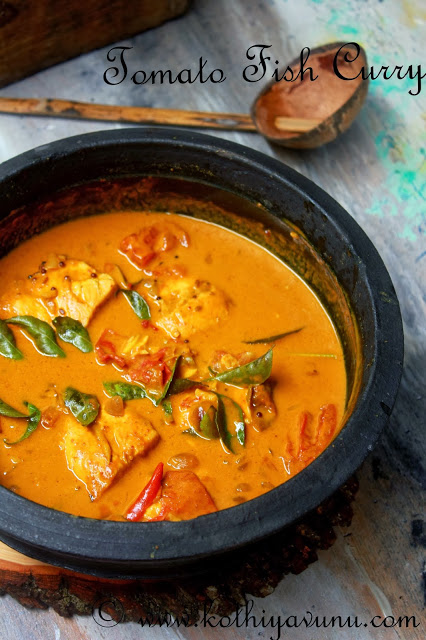 One of the most common recipe which mom makes several times a week is fish curry and we all in our family love it so much. I have already posted different version of
Kerala fish curry
here. But I have missed to post my mom's Tomato fish curry. In this recipe kudampuli or valanpuli/tamarind is not used, instead lots of red tangy tomatoes are replaced. So this is it.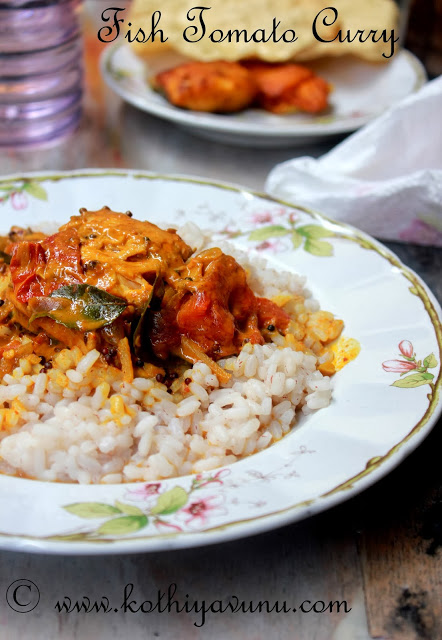 Do try this simplest and popular Kerala style Tomato Fish recipe and let me know how it turned out buddies 🙂 Love to hear your valuable feedback! Enjoy!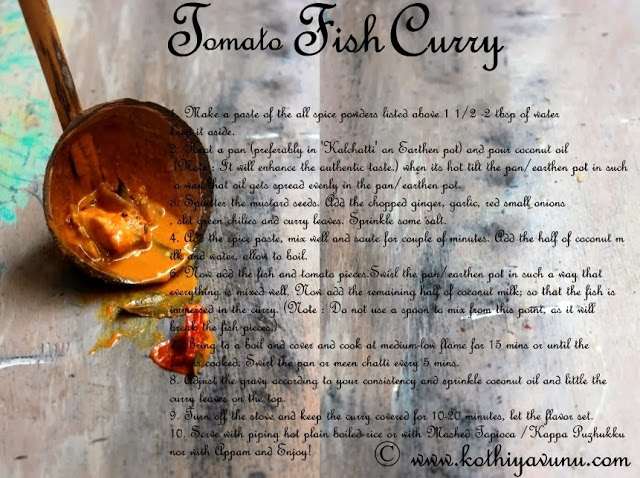 Fish Tomato Curry Recipe – Kerala Fish Curry with Tomato Recipe – Thakkali Meen Curry Recipe
Preparation Time : 10 mins
Cooking Time : 20 mins
Serves : 4-6
Ingredients :
Fish : 6-8 pieces (cleaned and cut into steak or cubed pieces(I used salmon,you can use any freshly fish)
Ripe Tomatoes : 2 small (quartered)
Mustard Seeds : 1 tsp
Shallots/Red Small Onion : 4-6 or Onion : 1 small (chopped)
Garlic :3 cloves (finely chopped)
Ginger : 1 inch piece (finely sliced)
Green chillies : 2-3 (slit)
Curry leaves : handful
Coconut mlik : 1/2 cup
Water : 1 cup
Salt to taste

To Make a Paste :
Turmeric powder: 1/2 tsp
Red Chilli Powder: 1 1/2 tsp or to your spice torelance
Coriander powder: 3 tsp
Fenugreek powder: 1/2 tsp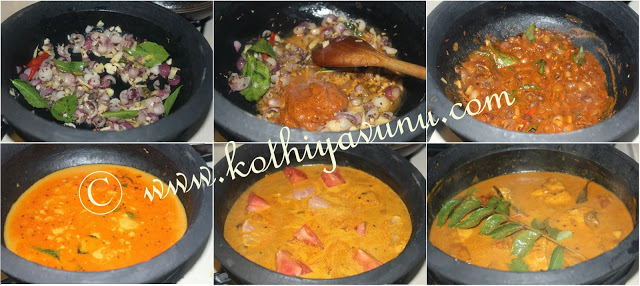 How to make Fish Tomato Curry – Fish and Tomato Curry-Thakkali Meen Curry :
1. Make a paste of the all spice powders listed above 1 1/2 -2 tbsp of water and keep it aside.
2. Heat a pan (preferably in 'Kalchatti' an Earthen pot) and pour coconut oil (Note : It will enhance the authentic taste.) when its hot tilt the pan/earthen pot in such a way that oil gets spread evenly in the pan/earthen pot.
3. Splutter the mustard seeds. Add the chopped ginger, garlic, red small onions, slit green chilies and curry leaves. Sprinkle some salt.
4. Add the spice paste, mix well and saute for couple of minutes. Add the half of coconut milk and water, allow to boil.
5. Now add the fish and tomato pieces.Swirl the pan/earthen pot in such a way that everything is mixed well, Now add the remaining half of coconut milk; so that the fish is immersed in the curry. (Note : Do not use a spoon to mix from this point, as it will break the fish pieces.)
6. Bring to a boil and cover and cook at medium-low flame for 15 mins or until the fish is cooked. Swirl the pan or meen chatti every 5 mins.
7. Adjust the gravy according to your consistency and sprinkle coconut oil and little the curry leaves on the top.
8. Turn off the stove and keep the curry covered for 10-20 minutes, let the flavor set.
9. Serve with piping hot plain boiled rice or with Mashed Tapioca /Kappa Puzhukku or with Appam and Enjoy!
Notes :
The curry tastes best the day after it is prepared ,and even better the following days. The curry can be left out in room temperature and every night slightly reheat it, obviously after the reheating every day, its taste more yummy! It stay for 2 days.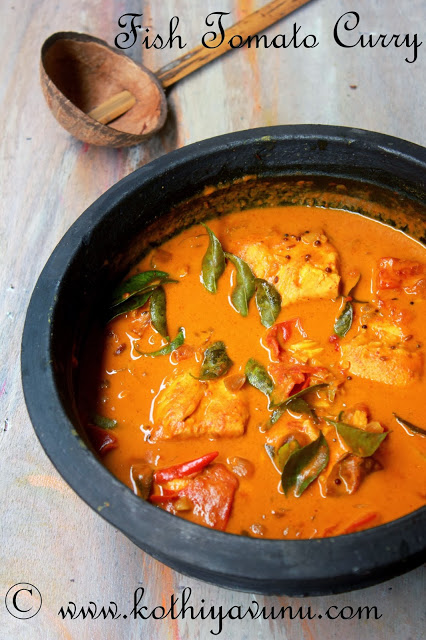 Related Posts :
Meen Thala Curry- Keralas Kallu Shappu Special /Fish Head Curry
Kerala Fish Curry Recipe – Angamaly Style /Angamaly Fish Curry
Ney Meen Curry /Seer Fish Curry
Varutha Ayala Curry /Fried Mackerel Curry/Ayala Curry
Meen Manga Curry /Fish Mango Curry
Meen Vevichathu /Kottayam Style Fish Curry/Spicy Fish Curry
Varutharacha Meen Muringakka Pacha Manga Curry /Fish with Raw Mango & Drumstick in Roasted Coconut
Fish Molee /Meen Molee /Kerala Style Fish Stew with Coconut Milk
Nadan Mathi Chaala Curry /Kerala Sardiness Curry
Kerala Fish Curry
Meen Thengapal Curry /Fish Coconut Milk Curry
Meen Mulakittathu /Spicy Red Fish Curry
Until next time, Bon Appetit,
Sangeetha