I haven't posted any cakes in a very long while…Often I have been asked by many of my readers to consider posting more baked goodies. I take those request whole heartedly and kick starting once again with Caramel Pound Cake.This is such a popular, simple and gorgeous cake, I'm sure, I don't need to tell you much about it! I remember raving about these to my friends when I first tried,and most of them tried the recipe and loved it too.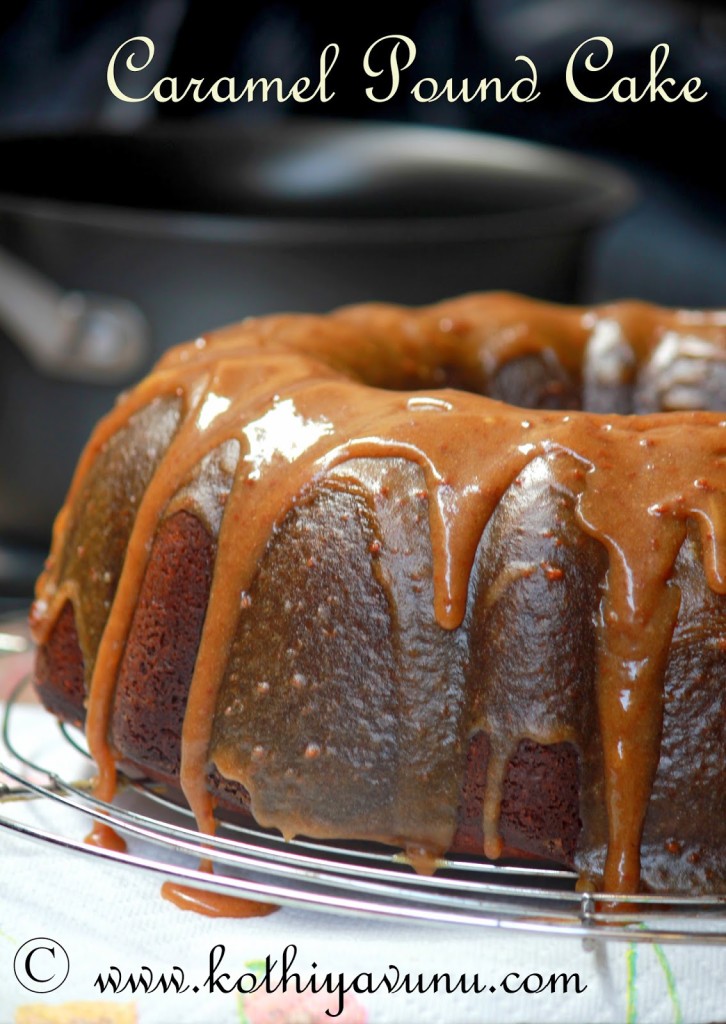 Lately one of my reader Ms.Ansha Alex requested me to suggest caramel flavored cake for her husband birthday, so I recommended a couple of caramel flavored cakes. She choose caramel pound cake, so I'm posting this cake for her and of-course for all of you to try. I adapted this recipe from here and it's so good.
So have your Carmel pound cake and eat it too with your favourite yummy ice cream or with whipped cream. The possibilities are endless! Enjoy!
Here's the recipe Ansha…Hope you get to try this and let me know how you liked it.
Other Cake Recipes You Might Also Like :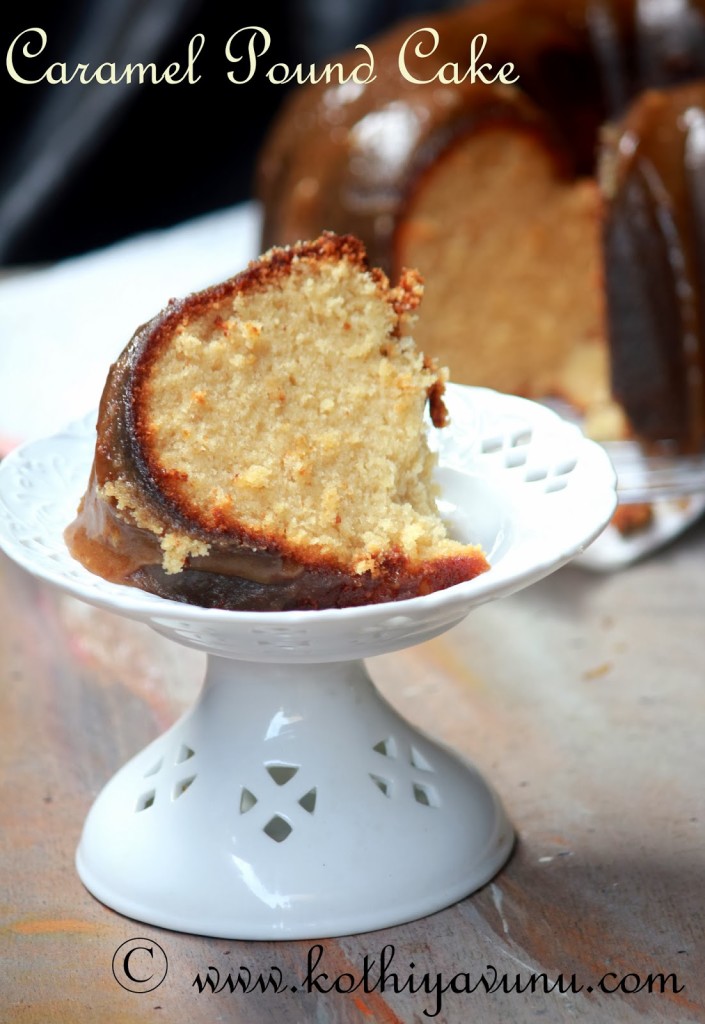 Caramel Pound Cake with Caramel Icing Recipe
Popular, simple and gorgeous Caramel Pound Cake with Caramel Icing.
Ingredients :
For the Caramel Cake:
Butter : 3 sticks /1½ cups (at room temperature + more for pan)
Light Brown Sugar : 2 cups packed
Granulated White Sugar : 1½ cups
Eggs : 6 large, (at room temperature)
All Purpose Flour : 3½ cups + more for pan
Baking Powder : 1 tsp
Salt to Taste : ½ tsp
Whole Milk : 1½ cups (at room temperature)
For the Caramel Icing:
Butter : 1 stick
Dark Brown Sugar : 1 cup packed
Milk or Whipping Cream : ½ cup
Pure Vanilla Extract : ½ tsp
Confectioners' sugar, sifted : 4 cups
How to Make :
To make Caramel Pound Cake :
Center a rack in the oven and preheat the oven to 325 degrees F/160 degree C and grease with butter and dust lightly with flour a 10-inch fluted tube pan, making sure there are no clumps of butter or exposed areas in pan; set aside.
Take a bowl sift the flour, baking powder and salt and set aside.
In the another large bowl; cream 3 sticks of butter with using a hand mixer or stand mixer at medium speed for 2 minute until creamy and soft.
Add the light brown and white sugars and into to creamed butter and mix,stopping to scrape down the bowl now and then with a rubber spatula occasionally, until lightened and smooth, about 5 minutes.
Reduce speed to medium-low and Add in eggs, one at a time,beating for about 15 seconds after each addition and scraping down the bowl with a spatula as you go, until well blended. (Note : Do not overmix).
Reduce speed to low and add the flour mixture and 11/2 cups milk alternately, in 3 batches, beginning and ending with flour; beat until smooth, about 3 minutes total.
Scrape the batter into the prepared pan and bake in the center of the oven until a wooden skewer inserted in the center comes out clean, about 1 hour and 10 minutes. (Note : Do not overbake).
Remove from oven and let cake cool in the pan on a wire rack for at least 30 minutes. Loosen edges with a small knife, then turn onto rack to let cool completely.
To make Caramel Icing:
Melt butter in a large heavy saucepan over medium heat.
Add dark brown sugar and whisk constantly until mixture is bubbling and smooth and butter is completely incorporated, about 3 minutes.
Remove from heat and whisk in remaining ½ cup milk or whipping cream. Let mixture cool. Stir in the vanilla, then gradually add the confectioners' sugar and stir until well blended and smooth.
Transfer cake to a cake plate and ice with frosting. Let stand for at least 2 hours before slicing.
Notes
If your caramel icing gets too thick or cools too quickly making it hard to pour, simply stir in a little milk or whipping cream to thin it out some.
Hope you get the chance to try this yummy
caramel pound cake
and like them too. Do revert to me with your opinions.
Happy Baking!
Sangeetha
Like this Recipe? Sign up, and get more recipes delivered directly to your inbox.