Hello Everyone, Remember me? 🙂 I'm bringing blogging back with super classy recipe Kappa Chemmeen-Tapioca Shrimp Masala Dosa.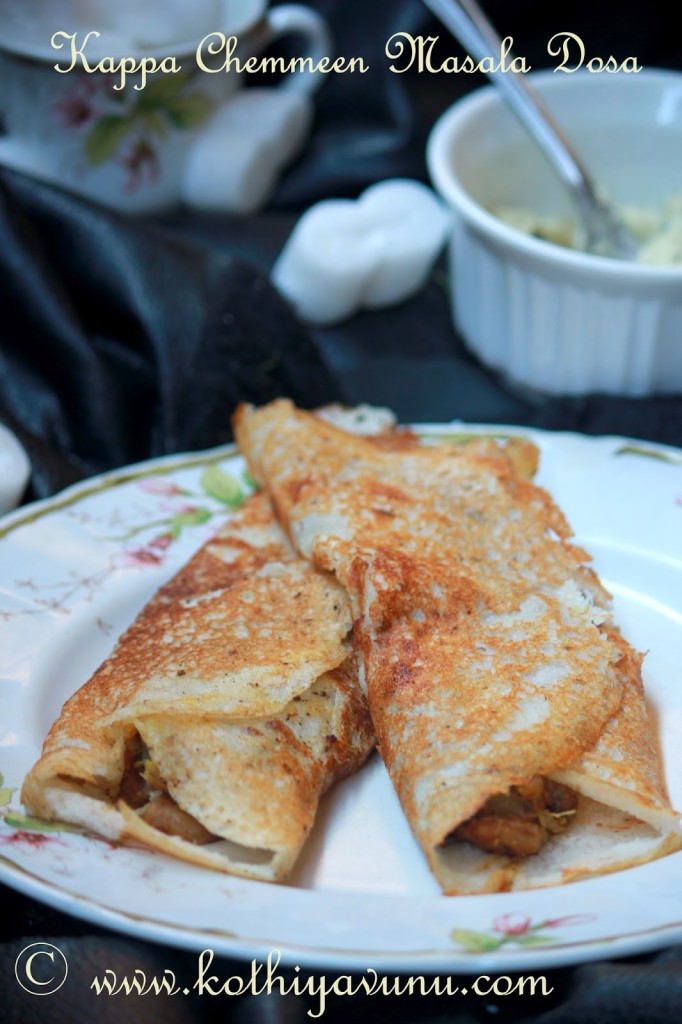 Yeah, I've been missing in action for almost a months. I've been getting messages and emails now and then from some of you…what can I say?
I have been very busy working with another project that I will share with you soon. However, I'm back and I have promised myself that I will be regularly updating with posts and I will catch you up more on what's going on in my kitchen.Thanks to everyone who has continued to check in on me. I really appreciate your time.
Now let's get on with the recipe, shall we? Have you ever tried Kappa Chemmeen-Tapioca Shrimp-Prawns combination. Hands down the most delicious combo. They work extremely well together.
I ate kappa-chemmeen-Tapioca Shrimp masala dosa for the first time from thattukada in Kochi during our last vacation and ever since, I wanted to give it a try. When I saw this preparation in one of malayalam cookery show few days back. I couldn't resist…of course, I made a few changes of my own to give a twist and more to suit my family's palate. It's very tasty, less spicy and full of flavors.
Other Tapioca-Yuca Recipe You Might Also Like :
Tapioca Fish Cutlet – Kappa Meen Cutlet
Kappa Puzhungiyathu -Boiled Tapioca
Kappa Kinnathappam – Steamed Tapioca Cake
Mashed Tapioca – Kappa Puzhukku
Kappayum Meenum – Boiled Tapioca with Fish Curry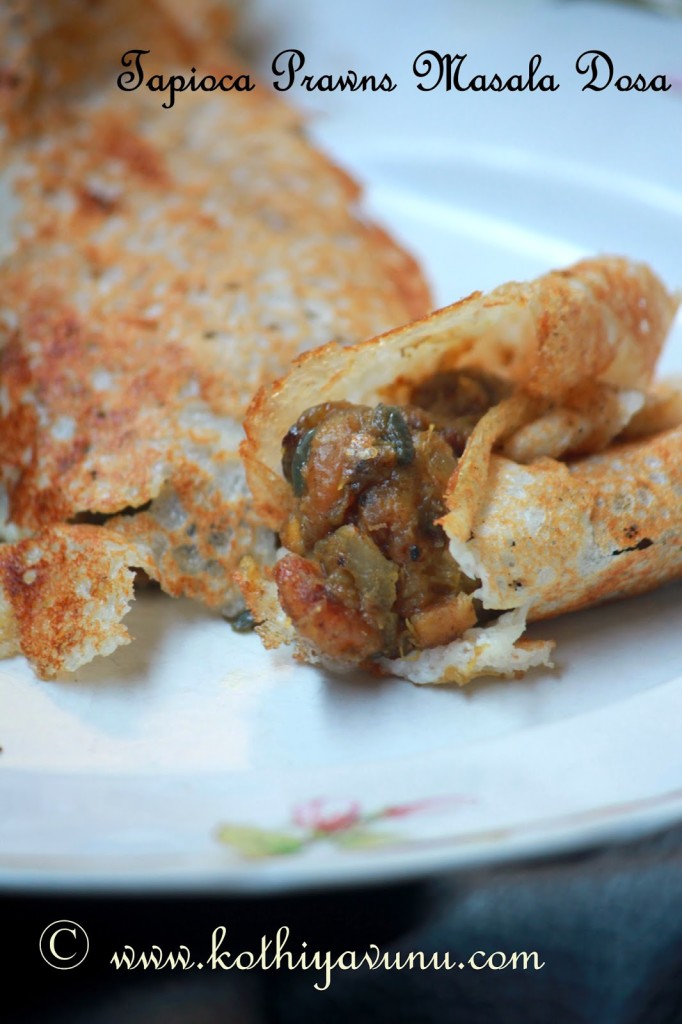 How to make Kappa Chemmeen-Tapioca Shrimp-Prawns Masala Dosa | Kerala Konju Kappa Dosa-South Indian Rice Crepes with Tapioca Shrimp Filling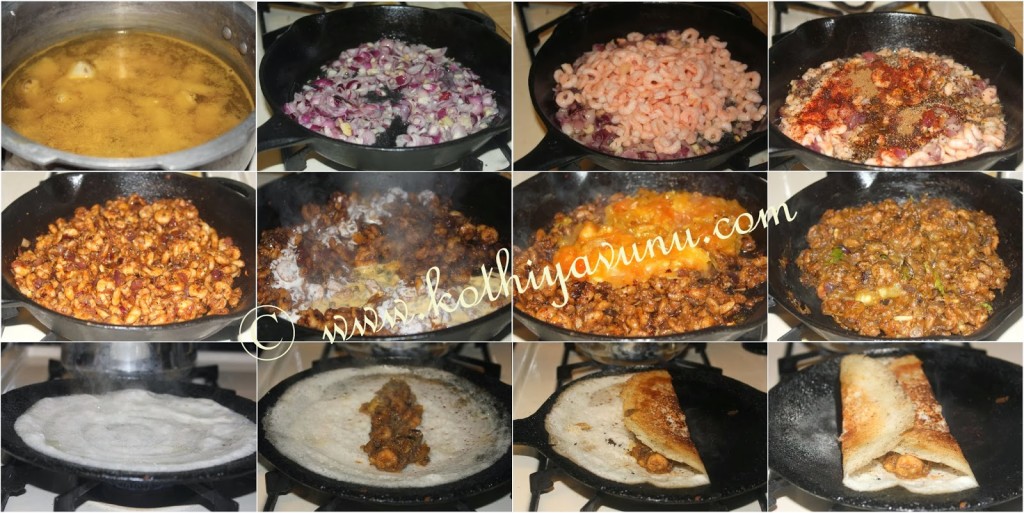 How to make  Fresh Homemade Garam Masala :
1. Dry roast all the ingredients listed above for "To Make Fresh Garam Masala" and grind to fine powder and keep it aside. (Note : You can prepare this in bulk and store, but fresh masala taste too good or use store-bought garam masala.)
How to make Dosa Batter for Kappa Chemmeen-Tapioca Shrimp :
Kappa Chemmeen Masala Dosa-Kerala Tapioca Shrimp Masala Dosa
South Indian Rice Crepes with Tapioca Shrimp Filing.
Ingredients :
For Kappa Chemmeen - Tapioca Prawns Masala :
Kappa/Tapioca : 1 medium size
Chemmeen-Konju/Prawns-Shrimp (preferably smallest salad shrimp) : 1.1 lb/1/2 kg
Red Small Onion : 1 cup (finely chopped)
Ginger : 1 small piece (crushed)
Garlic : 4-5 small pods (crushed)
Turmeric Powder : ¼ tsp
Coriander Powder : couple of pinches
Kashmiri Red Chilli Powder : 11/2 tsp
Homemade Garam Masala : ¼ tsp (To Make Fresh Homemade Garam Masala : Fennel Seeds /Perum Jeerakam : 1 tsp, Cinnamon Stick/karugapatta : 2 inch pieces, Cloves/Grambu : 2, Star anise / Takkolam : 2, Green Cardamom //elakka : 2 pods (or) Use Store Bought Garam Masala : ¼ tsp)
Freshly Grounded Black Pepper Powder : ¾ tsp or to your spice tolerance
Thick Coconut Milk : 1 tbsp
Coconut Oil or Cooking Oil : 2 tbsp
For Dosa Batter :
Rice : 11/2 cup
Black gram : ½ cup
Beaten rice flake /Aval : 1 handful
Fenugreek seeds : ¼ tsp
Salt to taste
Oil/Ghee
How to Make :
Clean the impurities of tapioca/kappa and peel the skin and dice into small pieces.
Pour enough water to the cleaned tapioca, so that all the pieces will be immersed completely,cook uncovered and allow to boil.
When the water boils, remove and drain the water and again add the same amount of water, salt and pinch of turmeric powder and cook for for 10-15 minutes or till it turns to very soft and tender.
Remove from the fire. Drain the excess water and keep it aside.
Heat a pan with coconut oil; add curry leaves crushed ginger, crushed garlic, saute till the aroma rise, now finely chopped shallots/red small onion statue till it turns to translucent and light brown in color.
Add chemmeen/konju/prawns and salt to taste; saute for couple of minutes.
Add coriander powder, kashmiri red chilli powder, homemade garam masala powder, black pepper powder and stir till the aroma comes out. (Note : Take care not to burn the spices, add few drops of water to avoid burning the spices.) Add 1 tsp coconut milk and mix well.
Smash the cooked kappa/tapioca well and add it to the prawn/chemmeen mixtures and combine well. Remove from the fire. Optional - Sprinkle little coconut oil on top and keep covered for 5-10 minutes. let the flavor set.
How to make for Kappa Chemmeen Masala Dosa - Kerala Tapioca Prawns Masala Dosa:
Heat a flat tava/griddle. Pour a ladle full of batter and spread the dosas as thin as possible.
Drizzle some oil or best ghee and when it gets cooked, no need to flip, just spread a ladle full of kappa chemmeen masala prepared in the middle.
Fold the dosa into half, closing the masala filling and serve hot with Chutney. Serve and Enjoy!
Notes
Best to use smallest salad shrimp/prawns, like the konju we get back home. If you are using big shrimp then cut it into small pieces.
Using freshly ground pepper and coconut oil enhance the authentic taste and flavor.
While making dosa, using ghee makes dosa smell heavenly and more yummy,however, does not mean you can go ahead with liberal amount of ghee. Use along with oil, just ½ tsp of ghee and 1 tsp of oil per dosa and always use melted ghee.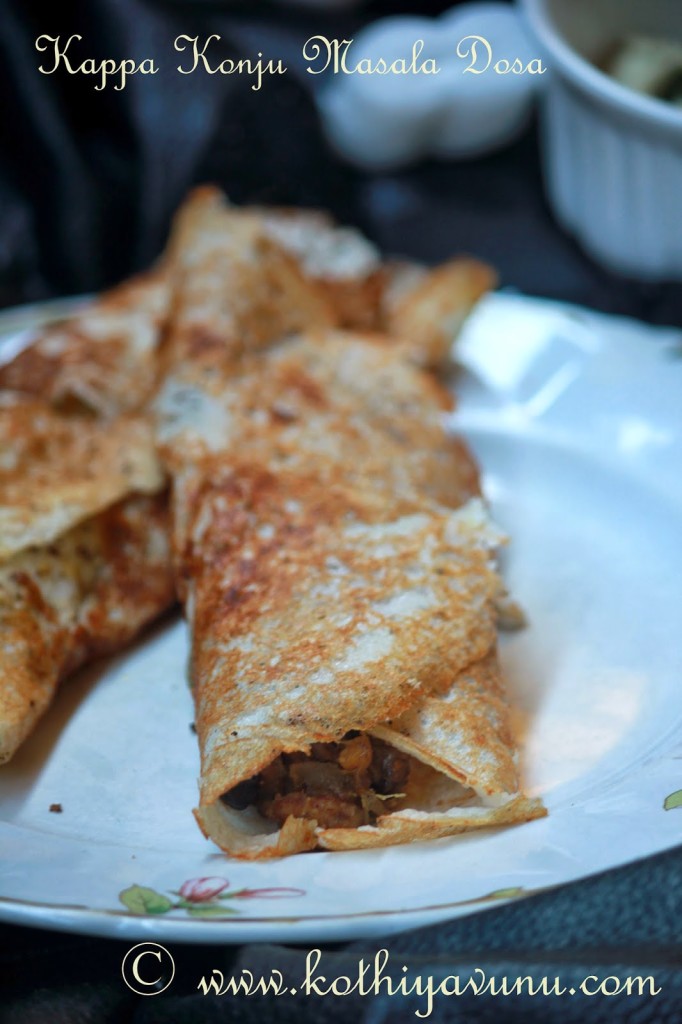 Do give it a try this delicious combo Kappa Chemmeen-Tapioca Shrimp Masala Dosa and you'll see what I'm talking about. Don't forget to share your opinion if you try!
Happy Cooking!
Sangeetha
Like this Recipe? Sign up, and get more recipes delivered directly to your inbox.