Are you a fan of Malabar cuisine? If yes, then here is yet another yummy recipe Irachi-Erachi Pathiri-Pathil Recipe-Meat Stuffed Fried Roti for you to try…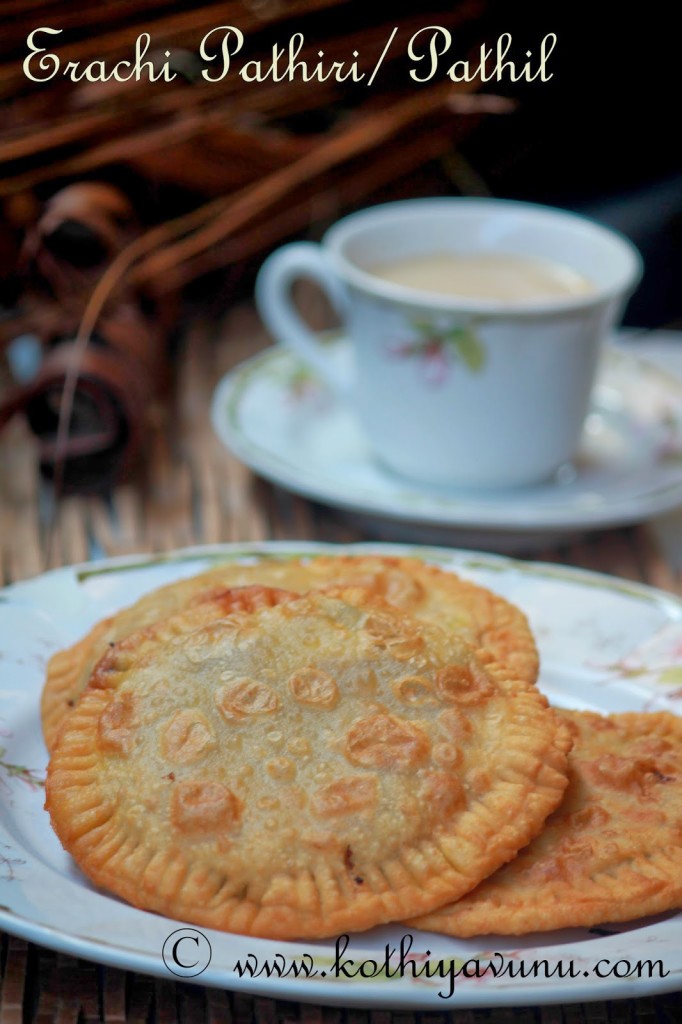 Me and my family never says no to Pathiri and mutton kurma, both are our favorites. Since everyone is tired with same plain rice pathiri. This time I tried out Irachi-Erachi Pathiri and served along with a simple kurma, even though these pathiri doesn't need any side dish,  they vanish once they were set out on the table.:) I saved this fantastic recipe quite a long time from my friend Raziya. She says, back home in North Kerala, each family has their own way of making it and we can make our own changes according to our taste-buds. I followed her recipe as it is. This recipe is a keeper! I have also shared her rice pathiri recipe before, and of course it is one of popular recipe in this space. Thanks girl, for sharing these delectable dish with us. My family enjoyed it and hopefully anyone trying this recipe enjoys it too.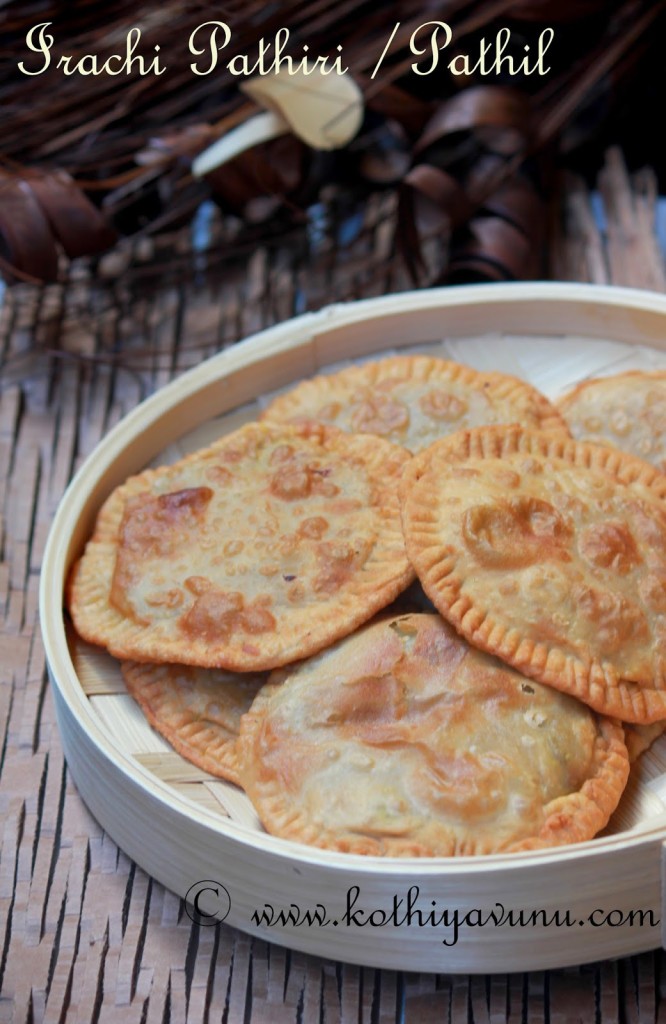 I know Irachi-Erachi Pathiri needs no introduction to Malabaris, but for those who are not familiar with this let me briefly explain. Erachi-Irachi Pathiri,a specialty from the North Malabar in Kerala, of South India. It is a meat stuffed rice bread, that is deep-fried and then dipped in a egg-milk mixture and deep-fried again…Really yummy! It is one of  main dish on the Iftar menu. It's made with beef mostly but you could also make it with mutton or chicken or any meat of your choice… but make sure you  are not using ground meat, meat has to be cooked with the spices and then shredded by hand. And without further ado..lets go through the process of making this yummy Erachi-Irachi Pathiri… Enjoy!
Other Recipes You Might Also Like :
Kerala Pathiri-Ari Pathiri-Soft Rice Bread
Ney Pathiri-Ney Pathal -Deep Fried Rice Roti
Poori /Indian Fried Wheat Bread
How to make Irachi-Erachi Pathiri-Pathil – Meat Stuffed Fried Roti Recipe :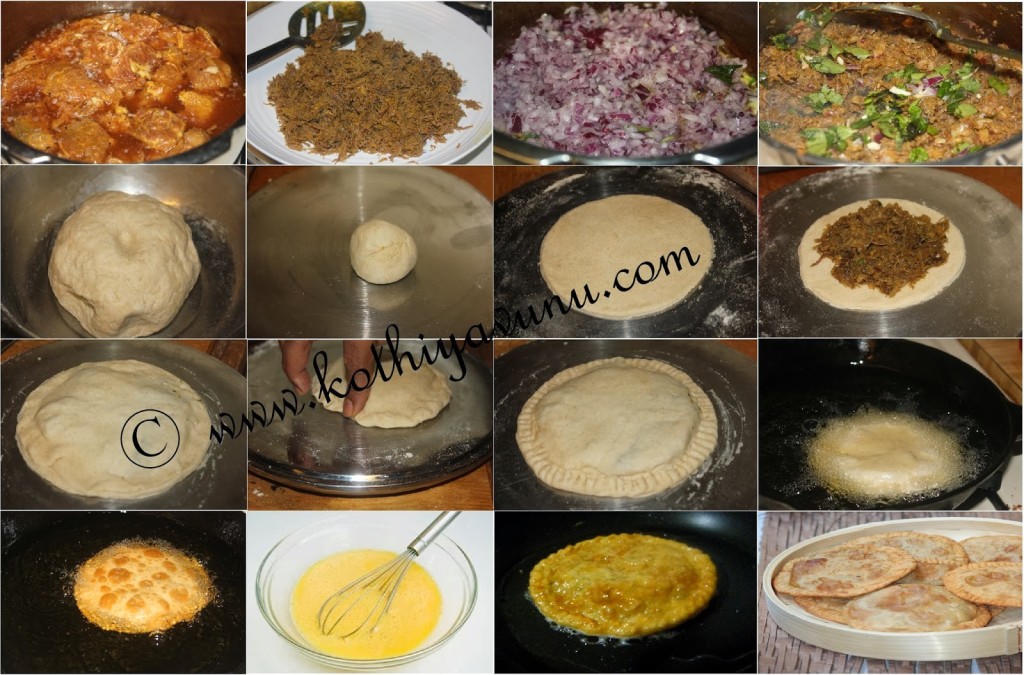 Irachi-Erachii Pathiri-Pathil Recipe-Meat Stuffed Fried Roti
Irachi-Erachi Pathiri-Pathil a specialty from the North Malabar in Kerala of South India.Meat stuffed rice bread, that is deep fried and then dipped in a egg-milk mixture and deep fried.
Ingredients :
For Meat Filling :
Boneless Beef/Mutton/Chicken : ½ lbs /250 kg(approx),(cut into small pieces) I have used Mutton
Onions : 3 medium (finely chopped)
Ginger : ½ inch piece
Garlic : 4 cloves
Green Chilies : 4 + 2 (finely chopped)
Turmeric Powder : ¼ tsp
Fennel Powder : ¼ tsp
Red Chili Powder : 1 tsp or to your spice level
Coriander Powder : 2 tsp
Salt to taste
Curry leaves- A handful
Oil : 2-3 tbsp
For Pathiri/Roti :
All Purpose Flour/Maida : 1½ cup
Wheat flour : ½ cup
Oil : 2 tbsp
Salt to taste
Lukewarm water : as needed
For Egg Coating & Frying :
Egg : 2
Milk : 1 cup
Sugar : 4 tbsp
Cardamom Powder : a pinch
Oil for frying
How to Make :
To Make Meat Filling :
Grind ginger, garlic and 4 green chilies into a paste.
Marinate the meat with turmeric powder, red chilli powder, coriander powder, fennel powder and with grounded ginger-garlic-green chilli paste. Mix everything well.Keep it aside for 10-20 mins.
In a pressure cooker, add the marinated meat and cook uncovered for 5 mins.When the meat starts releasing its water, close the pressure cookers with lid and let it cook on full flame till the first whistle sounds, after the first whistle reduce the heat to the low and cook for another 5-8 mins. (Note : Keep in mind, pressure cooking time depends on the type of meat you use,some meat may need more time so open, check and redo the process if needed.) Remove the pressure cooker from flame and after the pressure settles open the cooker, if there is excess gravy simmer uncovered for another 5 minutes to evaporate it.(OR) If you cooking in a stock pot, add marinate meat and cook covered on medium-low heat for 1 hour or till its done.
Allow cooked meat to cool, when its cool. Shred the meat pieces with your finger. Make sure not to mince it. Meat filling should have a thread like consistency.
Heat oil in a pan, and saute finely chopped onions, 2 green chilies and little salt.Add chopped curry leaves.Continue to saute it for couple of minutes.Now add shredded meat and cook for 5-7 mins on medium high heat till everything is combined well and looks dry. Taste and adjust the salt and spice level. Remove from fire and let it cool.
To Make Egg Coating :
Mix everything listed above "To Egg Coating" and keep aside.
To Make Earchi-Irachi Pathiri :
In a bowl combine plain flour, wheat flour, salt and oil. Add lukewarm water, gradually and make a soft dough similar to that of poori dough. Divide into equal sized small balls.
Roll out each ball into small lemon sized balls. Press it between palms.Dust the rolling board and rolling pin using the same all purpose powder used for making pathiri dough. Roll the flattened balls using chapathi roller until you get thin round roti/pathiri; just like you make the pooris.
Spread the meat filling 11/2 to 2 tbsp on a rolled out pathiri /roti, leaving good ½ inch from both the sides. (Note : Don't over stuff the pathiris, otherwise it will break while frying.)
Place another rolled out pathiri on top of this and press together the edges. Seal the edges by pressing with your fingers or folding a small portion of the edges of the bottom roti towards top and closing it; while folding the edges just shake the pathiri in between. This prevents from sticking to the surface or you can use fork to seal the edges to form a pattern.Repeat the same process till all pathiri is done.
Heat oil for deep frying in a pan. When it is medium hot, add stuffed pathiris one by one and deep fry on each side for about 2-3 minutes it till it turns golden brown. Drain onto paper towels.
Dip each stuffed chapathi into the egg mixture and turn over once. Now shallow fry in a non stick pa; cook for a few mins, make sure you turn it in between, so that the eggs get cooked on both sides.Drain and serve hot with a hot cup of tea/coffee. Enjoy!
Notes
You can use chicken, beef or any meat of your choice to make the filling. Here I have used mutton, I personally like mutton and I feel that's the best for Erachi-Irachi Pathiri and also keep in mind.
Cooking time depends on the type of meat you use, some meat may need more time, so cook accordingly.
Seal the edges properly, otherwise oil will go inside the stuffing and pathiri will become very oily.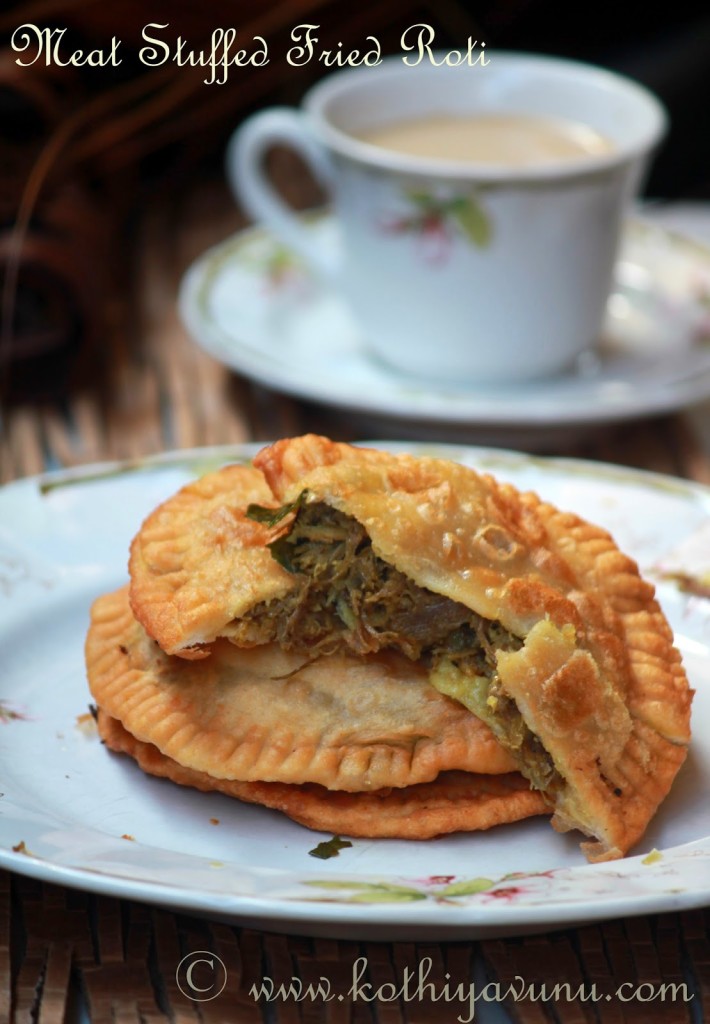 Hope you all will try and enjoy this classic Irachi-Erachi Pathiri-Meat Stuffed Fried Roti! Do share your opinon if get chance to try. Would love to hear it.
Catch you with more yummy treats!
Sangeetha
Like this Recipe? Sign up, and get more recipes delivered directly to your inbox.