Paal Kozhukatta-Paal Pidi -Alli Pidi – Ganesha Chaturthi Special!
Happy Ganesha Chaturthi to all dear readers! May lord Ganesha bless us all always and remove all  our obstacles and make us happy and content. Have a blessed year!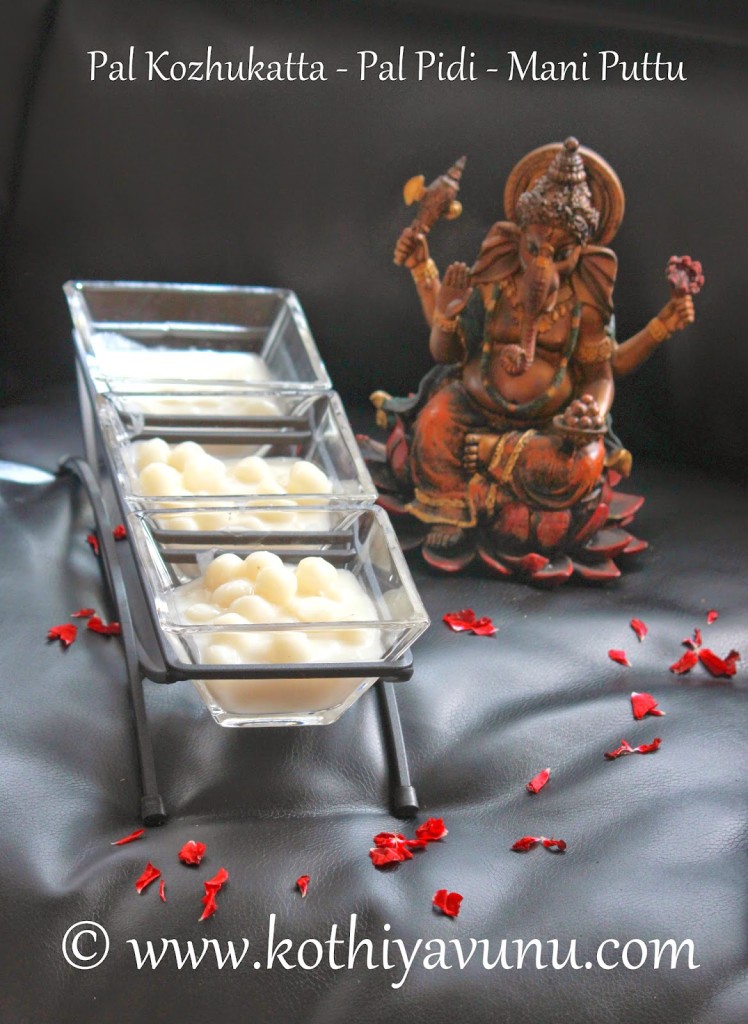 To celebrate ganesh chaturathi, I made paal kozhukatta-paal pidi-alli pidi, … though it's  not traditionally made on this auspicious day, I made it today along with regural Modakam-Kozhukatta, coz my kids love this very much. I was introduced to this sweet paal kozhukatta by our neighbour in Chennai, during my childhood days. From then it's my one of my childhood favorite. My mom got the recipe from our neighbour aunty and she makes this often for our after school snack. Here I'm sharing chettinad style paal kozhukattai recipe.
These tiny soft dumplings are made with rice flour and then stewed in sweetened and flavored coconut milk sauce. It is a popular chettinad sweet recipe and it can be prepared in many ways. Sometime my mom use jaggery instead of sugar and regular milk instead of coconut milk …either way it taste yummy.:) You can shape the dough into balls or cylindrical. The cylindrical shape of dumplings are called Alli Pidi. It hardly takes anytime to make this wonderful recipe!
Other Kozhukatta-Modakam Recipes You Might Like Also :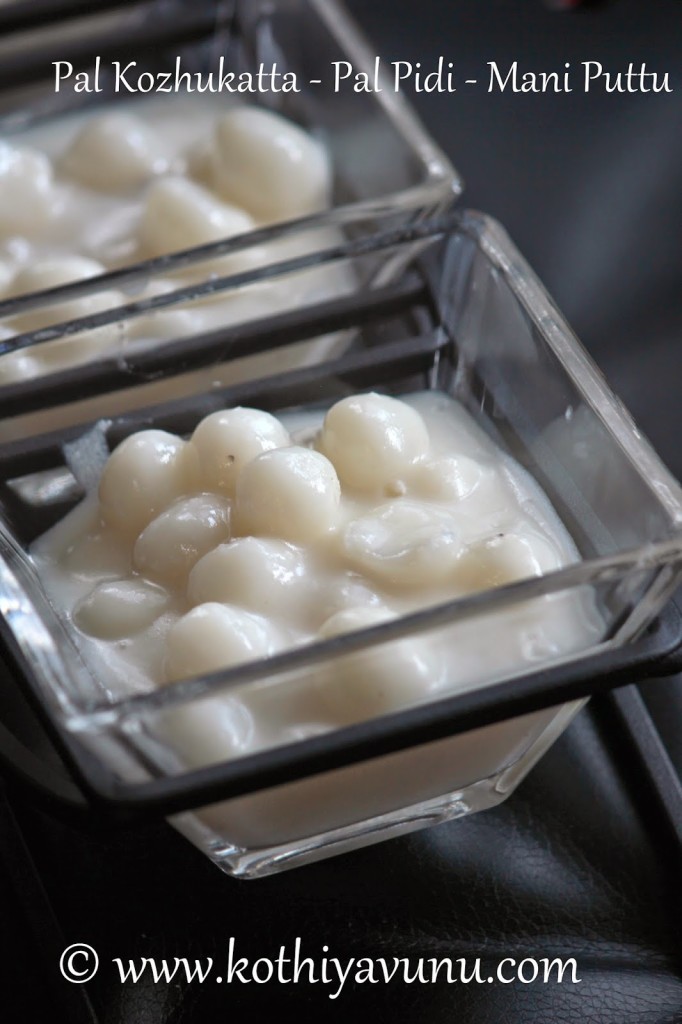 How to maka Paal Kozhukatta-Paal Pidi -Chettinadu Style Paal Kozhukkattai Recipe :
Paal Kozhukatta-Paal Pidi -Alli Pidi Recipe
Paal Kozhukatta-Paal Pidi -Alli Pid are tiny soft dumplings made of rice flour and then stewed in sweetened and flavored coconut milk sauce.
Cuisine:
Indian, Tamilnadu, Kerala
Ingredients :
Roasted Rice Flour : 1 cup (The rice flour should be smooth, without any lumps, you can use Idiyappam or Puttu Flour for this recipe.)
Thin Coconut Milk : ½ cup
Hot Water : 1½ cup
Salt to taste
Semi Thin Coconut Milk : 2 cups [I used Canned Coconut Milk]
Thick Coconut Milk : 1 cup
Sugar : ½ cup or according to your taste
Cardamom : 3-4 pods (crushed)
How to Make :
Combine rice flour, salt hot water and coconut milk in a bowl. Mix with a spoon until combined and it forms into a smooth batter.
Heat a wide non- stick pan; pour prepared rice batter in it and cook on low heat stiring constantly so it thickens and leaves the sides of the pan and form into a dough.
Remove the dough into a bowl and let it cool. When it is cool enough to touch, add little ghee knead everything using your hands to form a smooth dough.
Prepare tiny balls using the dough, dipping your hand in water occasionally to prevent the dough from drying up.
Now heat a wide pan and pour coconut milk and bring to a slow boil.
Once it starts boiling add powdered cardamom and sugar and stir well. Reduce heat and add small kolukatta /balls in the milk slowly. Do not add the kozhukatta on top of one another or they will stick. Instead spread it around in the pan
Let this cook for 8-10 mins on very low heat.Now switch off the heat and add the thick coconut milk.
Mix well and serve it warm or chilled and enjoy!
Notes
You can also lightly steam the dumplings before adding it to coconut milk. This will prevent the dumplings from breaking.
Using freshly squeezed coconut milk, enhance the authentic taste and flavor.
You can also use regular milk instead of coconut milk and jagerry instead of sugar.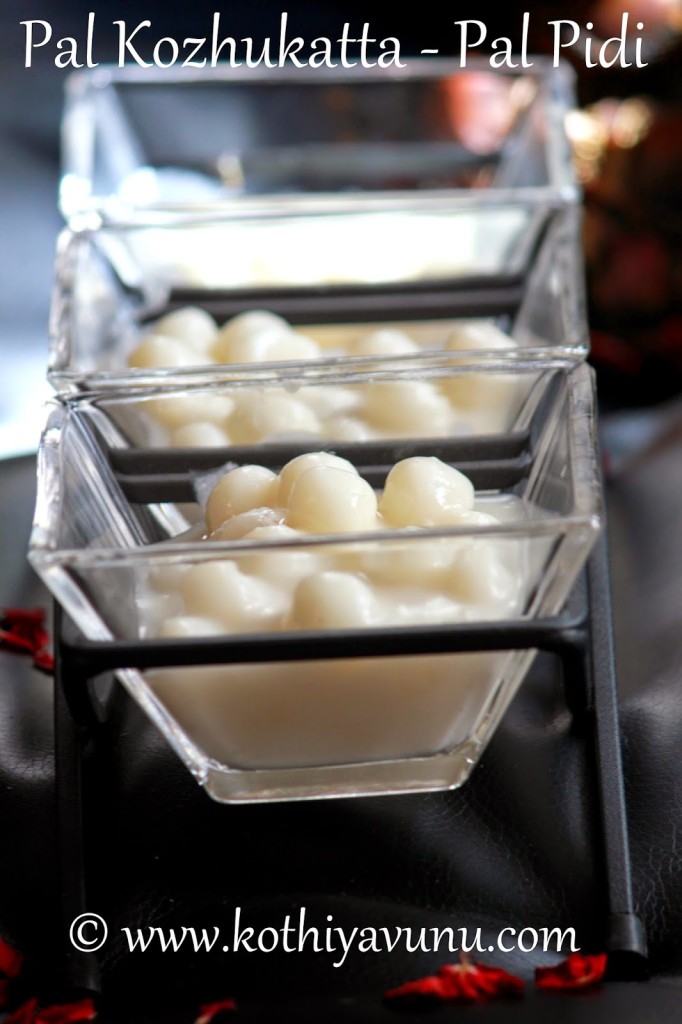 Hope you all will  try and enjoy this yummy
Paal kozhukatta-Paal Pidi – Sweetened tiny rice flour dumplings
as much as we do! Enjoy!
Happy Ganesha Chaturthi,
Sangeetha
Like this Recipe? Sign up, and get more recipes delivered directly to your inbox.