Let talk about Chicken Ghee Roast!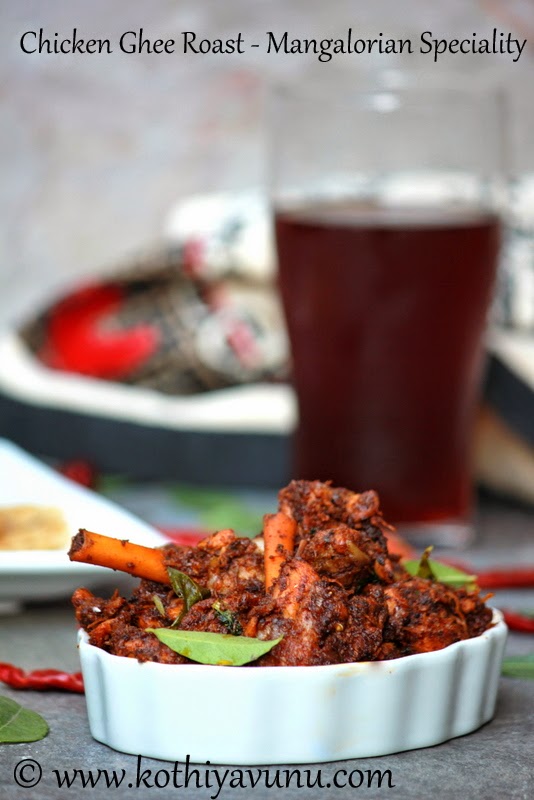 This recipe has been in my recipe collection for long time. Every time I buy chicken I wanted to give this recipe a try, but I always ended up making something else. Finally I gave it a shot and I'm wondering why I delayed in making these.
It is a very famous and delicious Mangalore delicacy. Its origins go back to a small town Kundapur, close to Mangalore. As the name says…chicken is roasted in Ghee/Clarified butter and red chili paste. There are a lot of version exits. Today I'm going to share the recipe, I bookmarked long ago from here. I also have bookmarked another version of the same which featured in Lakshmi Nair's cookery show 'Flavours of India', will share that too sometimes in future.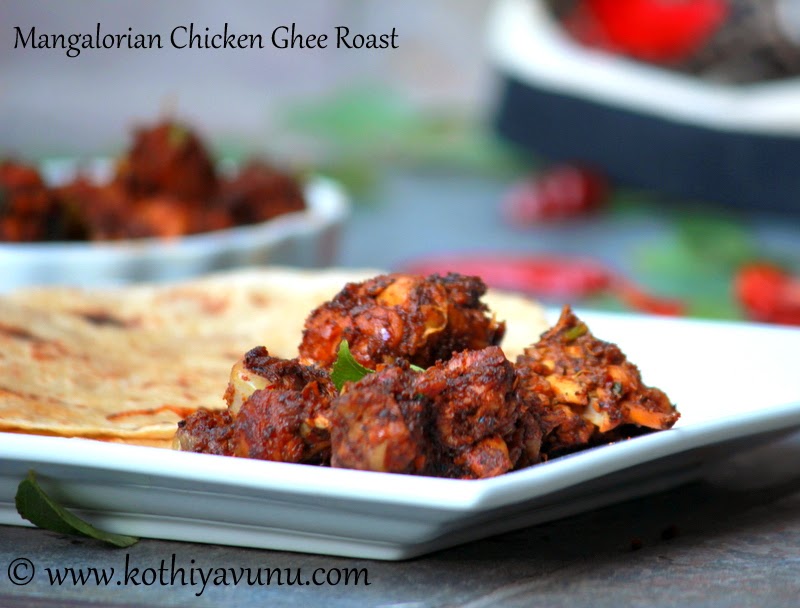 Disclaimer : This is definitely not for those who are looking for healthy recipe. If you wish you could make this dish little healthy by reducing the quantity of ghee, but it could miss the distinct aroma flavor which roasting in ghee gives it. This can be either served as sides or starters too.Hope you all get to try this recipe and enjoy as much as we did.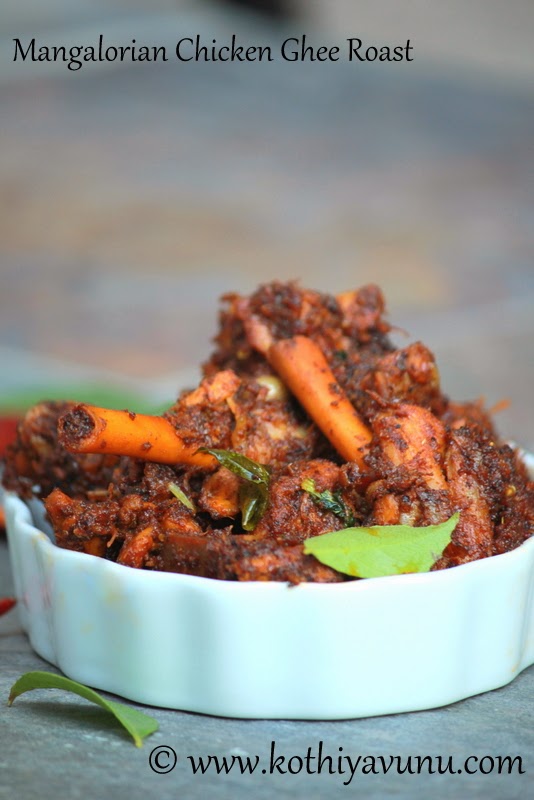 Other Roast Recipe You Might Like :
Shrimp Roast -Kerala Prawns Roast
Kerala Squid Roast -Nadan Koonthal-Kanava Roast
How to make Chicken Ghee Roast Recipe – Mangalorian Chicken Ghee Roast -Ghee Roast Chicken Recipe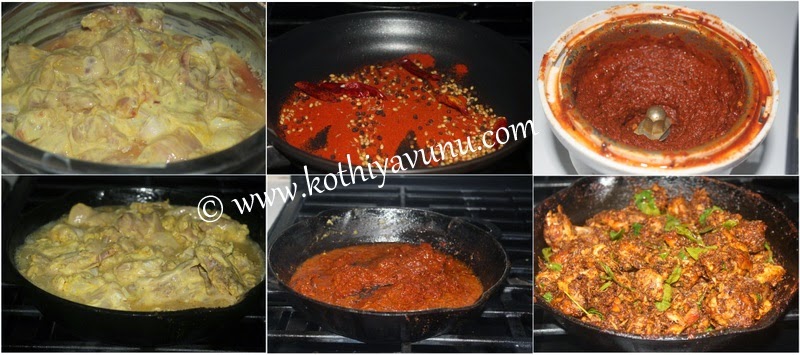 Chicken Ghee Roast - Ghee Roast Chicken Recipe
Ghee Roast Chicken is a very famous and delicious Mangalorian delicacy.As the name says,chicken is roasted in Ghee/Clarified butter and red chilly paste.
Cuisine:
India, Karnataka
Ingredients :
To Marinate :
Chicken with Bones : 1 kg /2 lb (clean & cut to medium pieces)
Lemon Juice of 1
Yogurt/ curds : ½ cup
Turmeric powder : 1 tsp
Salt to taste
To Grind :
Long red Kashmiri chillies : 20-25 or Kashmiri Chilli Powder : 4 tbsp
Coriander seeds :1 tbsp
Cumin seeds : ½ tsp
Peppercorns : 2 tsp
Fenugreek seeds : ½ tsp
Garlic : 12-15 cloves
Tamarind : cherry size (soaked in 2 tbsp water) or Tamarind paste- 1 tsp diluted in 2 tbsp water
Ghee : ¾ cup
Sugar or Jaggery : 2 tsp (optional)
Curry leaves : few
Coriander leaves : 2 tbsp (chopped) to garnish
How to Make :
Marinate the chicken with above listed ingredients "To Marinate" for atleast 1 hour or more. Refrigerate if marinating for more than an hour. I kept it over night.
Meanwhile roast red chillies, coriander seeds, cumin seeds, peppercorn and fenugreek seeds. Take care not to burn them.
Grind the roasted spices along with tamarind and garlic to thick and fine paste.
Place a heavy bottom pan/kadai on medium high flame and add ¼ cup ghee, when ghee is hot add the marinated chicken and cook till ¾th done. Toss it around often so it cooks evenly.
Once done, transfer the chicken to another vessel and reserve the stock released by the chicken in the separate bowl . Keep this aside.
To the same pan, add remaining ghee and add the grounded masala paste, saute it on medium heat till the oil starts leave the side of the pan. Keep stirring in between to prevent from burning and sticking to the pan.
Now add the cooked chicken, salt and ½ cup of reserved stock,taste and adjust the salt, mix well and fry it till the masala dries up and the chicken pieces is coated well with masala.
Now add sugar (optional), curry leaves and coriander leaves.
Remove from the heat and serve with Ghee Rice or any flavored rice of your choice or white rice or roti or as appetizer . Enjoy!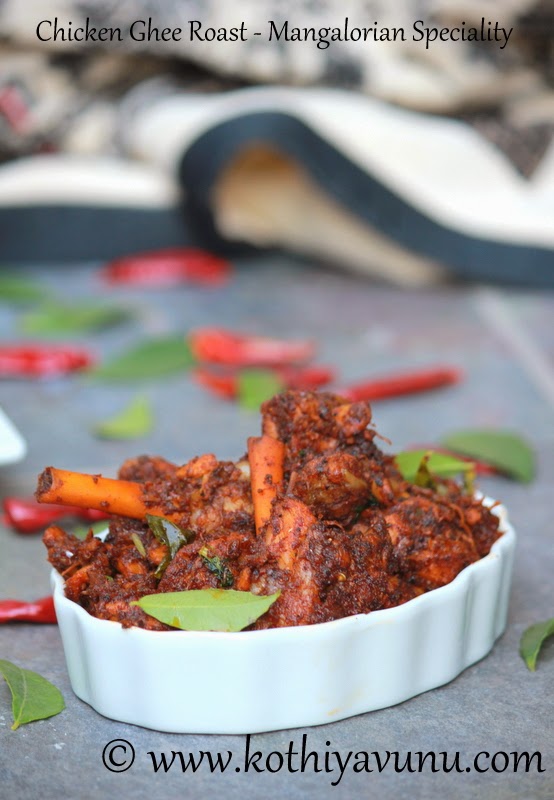 Do let me know your opinion  if you try this Mangalore Chicken Ghee Roast. Enjoy!
Until next time, Bon appetite,
Sangeetha
Like this Recipe? Sign up, and get more recipes delivered directly to your inbox.