Chicken Manchurian! Do I need to say more? No, but I will…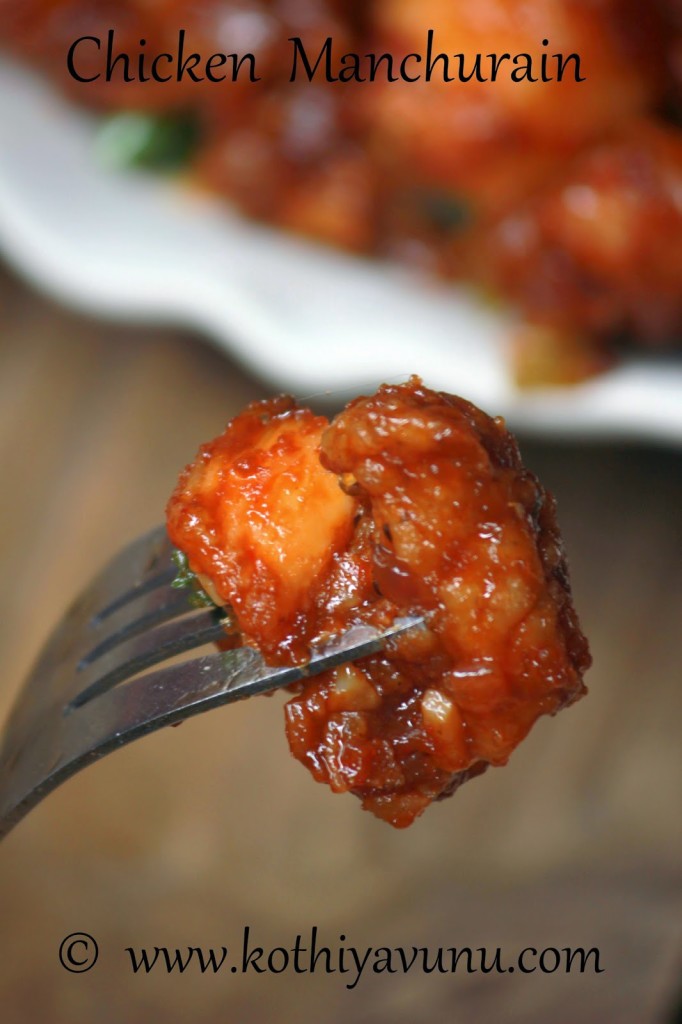 Chicken Manchurian is one of the famous chinese recipe, consisting of chicken with  a spicy sauce.
The recipe I'm sharing today is part of the Indian Chinese Cuisine. Unlike Chinese Chicken Manchurian, the Indian flavors in this recipe makes it more spicy. It is easy to prepare and it tastes really delicious.
Chicken Manchurian is good combo for Fried rice /Noodles  or good enough as a starter. This is one my family favorite recipes in my recipe book and made in my home countless times. Now let see how it's made…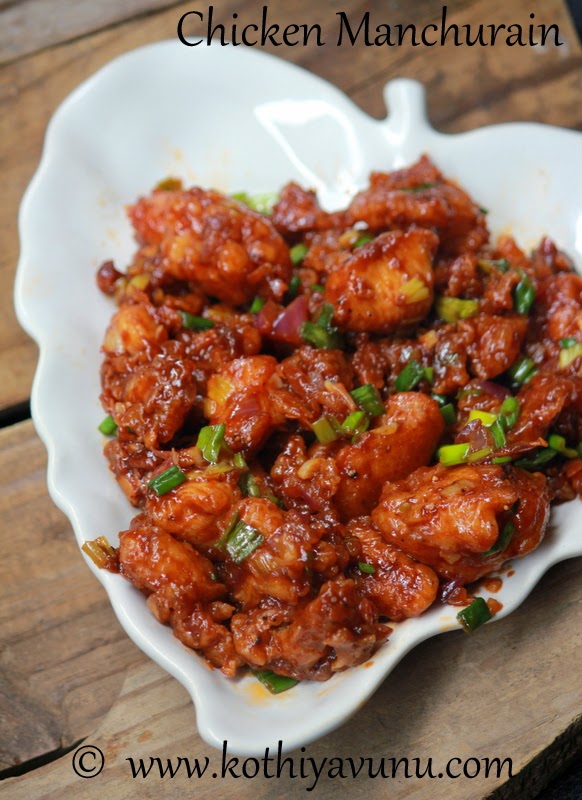 Other Indo-Chinese Recipes You Might Like
Chicken Manchurian Recipe – How to Make Chicken Manchurian 
Chicken Manchurian Recipe
Recipe type:
Appetizer, Side Dish
Ingredients :
Chicken : ½ kg /1.1 lb (Boneless,cut into very small pieces)
Oil for deep frying
For the Batter:
All-purpose flour : 5 tbsp
Corn starch : 3 tbsp
Black pepper powder : ¼  tsp
Water : ¼ cup
Salt to taste
For the Sauce:
Oil : 1 tbsp
Onion  :1/2 medium (finely chopped)
Green chilies : to taste, (cut diagonally)
Garlic : 3 large cloves, (finely,chopped)
Tomato ketchup : 3 tbsp
Red chili sauce : 2 tbsp or to taste
Soy sauce : 4 tsp or to taste
White vinegar : 2 tsp
Water : 6 tbsp
Corn starch : 2 tsp
Spring onions : 2 stalks, (cut diagonally for garnishing)
How to Make :
To make batter, add all-purpose flour, corn starch, salt,black pepper powder and water to a small bowl and mix until there are no lumps.Coat chicken pieces well with batter and set it aside.
Heat oil in a pan and deep fry until chicken is a medium dark brown color.Finish frying all of the chicken and drain it paper towel and keep it aside.
Heat oil in a medium non-stick pan, add onions, green chilies, garlic and cook until it turns to light brown and translucent.
Add tomato ketchup, red chili sauce and cook until oil starts to separate from mixture.Add soy sauce and vinegar and mix well.
Mix corn starch with water and add it to the pan, cook for 1-2 minutes until sauce starts to thicken, keep the prepared sauce aside.
Add the fried chicken to the pan with the sauce.Toss well to coat chicken completely and now add spring onions and toss again.
Serve hot with Fried rice /Noodles or as a starter and enjoy!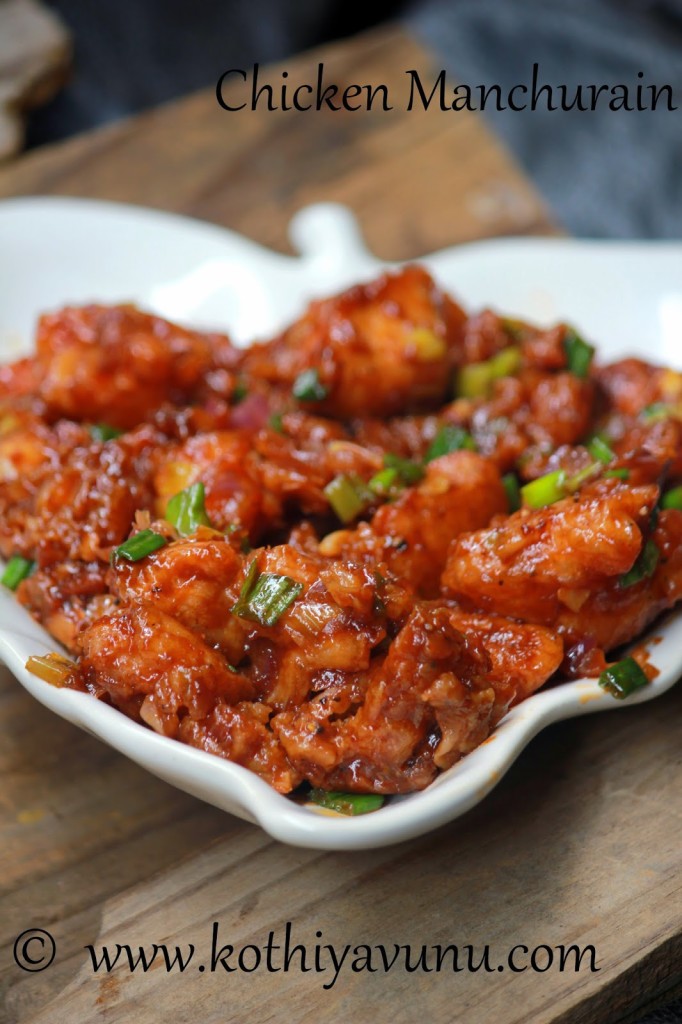 Do give a try this yummy Chinese Chicken Manchurian and am sure it will be loved by kids and adults equally…Enjoy!
Catch you with more yummy updates!
Sangeetha
Like this Recipe? Sign up, and get more recipes delivered directly to your inbox.