Are you like me? obsessed with soups lately? Then you have to try this Spinach Mung Detox Soup!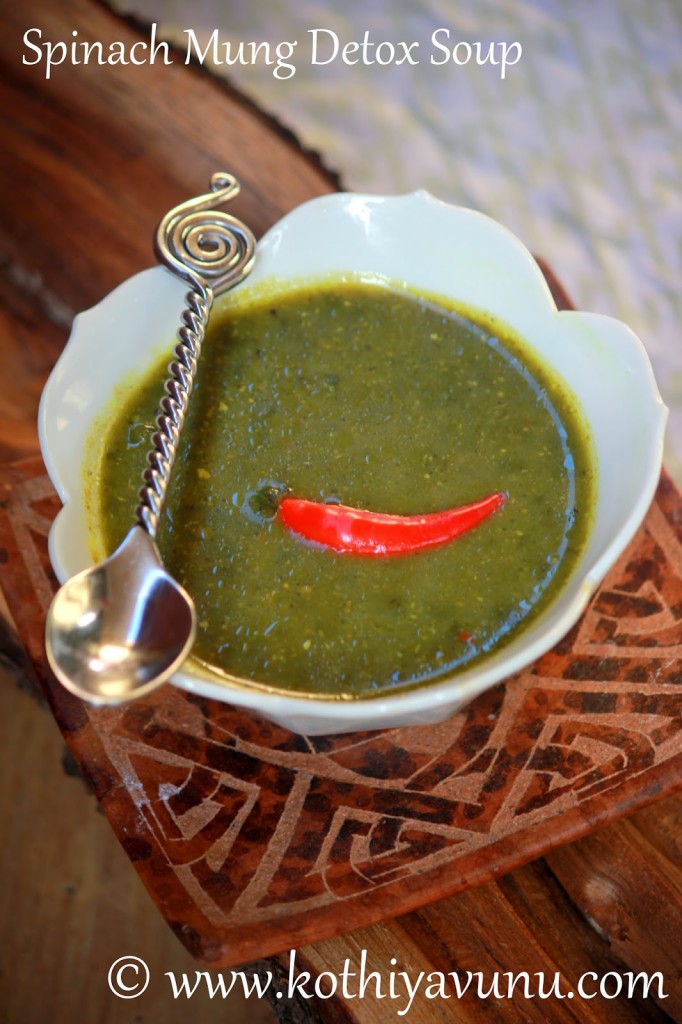 I bring you a super quick and easy healthy soup. Like I said, I'm obsessed. Soup has now robbed my kitchen lately, it was all because of the healthy diet regime. So more soups to come soon…Stay tuned!
Well, what you are getting here is creamy spinach meets green mung dal and it is easy, utterly delicious and healthy. This  Detox Spinach Mung soup is quite filling and can be a whole lunch or dinner on its own or with bread as you like. I got this recipe from one of my yoga teacher. Thanks 'Andrea' for sharing this wonderful recipe with us.
It was a big hit in our house, it turned out excellent. My family thoroughly enjoyed it.  If you're trying to lose weight or you simply want to detox your body to your healthy routine, then this recipe is for you.
Other Soup Recipes you Might Like :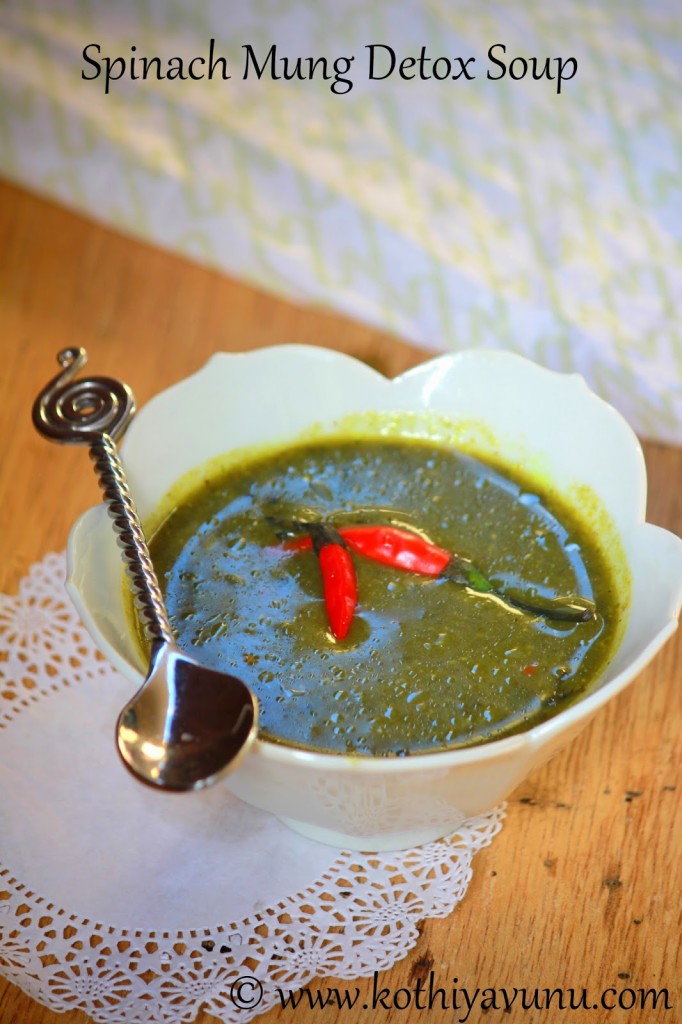 Spinach Mung Soup Recipe – Cheera Parippu Soup Recipe
Spinach Mung Detox Soup Recipe -Vegan & Gluten Free
Ingredients :
Spinach : ¾ cup (coarsely chopped)
Green Mung Dal-Beans : ½ cup ( cooked)
Carrots : ½ cup (diced)
Celery : ½ cup (chopped)
Onions : 1 cup (chopped)
Bay Leaves : 1
Hing/Asafetida : a pinch
Olive Oil /Butter : 1-2 tsp
Ginger : 1 tsp ( minced)
Garlic : 2 cloves (minced)
Crushed Black Pepper : 1 tsp
Turmeric Powder : ¼ tsp
Cumin Powder : 2 tsp
Cardamom Powder : ¼ tsp
Lemon/Lime Juice : 1 tsp
Red Chilli Flakes (optional)
Vegetable Stock or Water : 4 cups
How to Make :
Soak the green mung beans overnight in water. Pressure cook the green mung dal with salt, turmeric powder and water, when its done; remove from the fire and settle down the pressure and keep it aside.
In stock pot, add the olive oil or butter and saute the chopped onions, carrots, celery, ginger, garlic along with all the spice powder. Saute for 5-10 mins.
Now add the chopped spinach and vegetable stock or water to the mixture. Saute for couple of mins. (Note : Don't over cook it)
Add the mung dal and simmer until everything gets well incorporated.Remove from the fire and let it cool.
Transfer the above to blender or to food processor and blend everything for couple of minutes or until smooth and creamy.
Return soup to the pot and bring to a simmer; Sprinkle the lemon juice and little red chilli flakes(optional), taste and season with salt and pepper. Serve with some earthy bread and Enjoy!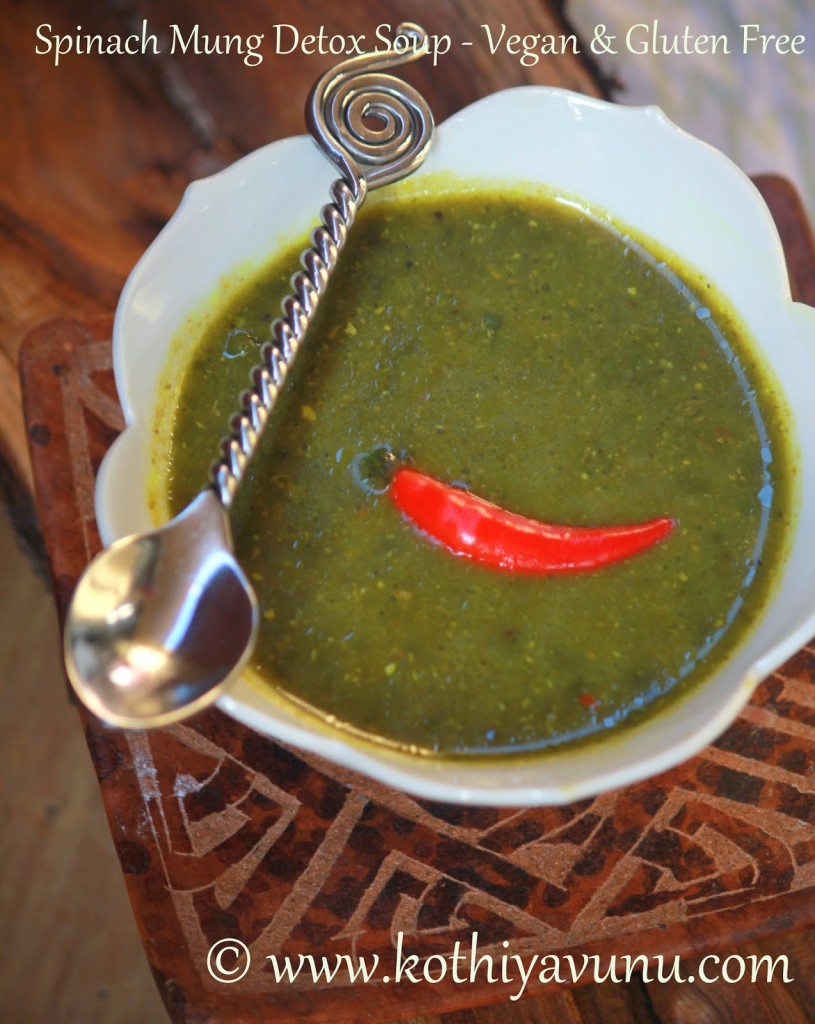 Don't miss out on this wonderful healthy Spinach Mung Soup recipe because you are simply going to love it! Enjoy!
Happy Cooking!
Sangeetha
Like this Recipe? Sign up, and get more recipes delivered directly to your inbox.