Here comes yet another addition to Vishu Sadya Recipes – Pazha Manga Perukku -Ripe Mango Curry.
So how is the preparation going on for Vishu Celebration? Planning to make sadya? I'm sure many of you are like me are planning to cook sadya.Yes, 2  more days from today, Hindu Malayalis around the globe will enjoy the blissful Kani (assortment of auspicious things which is seen first on Vishu Day) kaineetam,and vegetarian feast called "Kerala Sadya".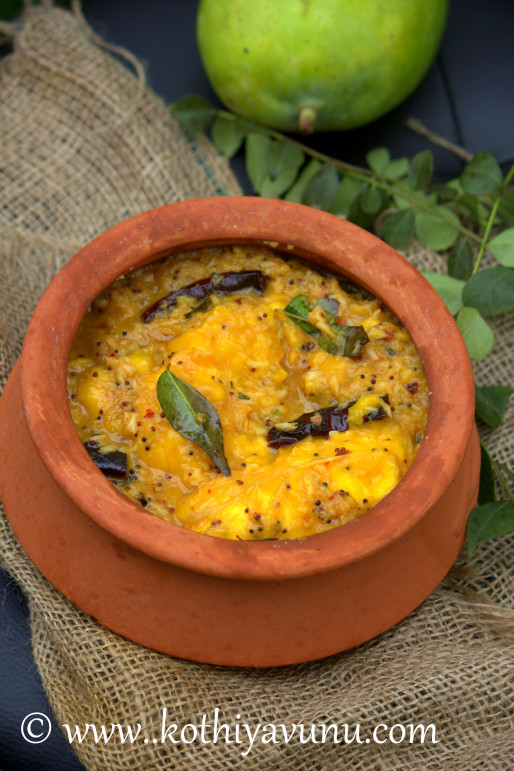 Of all the festivals, the one I look forward to the most is Vishu. The beauty of this season brings back good old childhood memories. I miss those days 🙁 Have you ever noticed whatever things you do with your kids over and over that they really remember? (Sometimes it's good things – and sometimes not) we have been far away from our family the past several years, so every year, my husband and I make sure that my girls gets a miniature version of all rituals and traditions. My family enjoys vishu and over the years has come to look forward to this celebration. On other days, If I try to wake up my girls early they would grumble, but on Vishu day, they always wakes up at the first call to see the Vishu Kani and receive the Kaineettam. 🙂
Pazha Manga Perukku – Ripe Mango Curry recipe is like mango pachadi-mambhazha pachadi  recipe, I posted earlier and that was my mom's way of making and this manga perkku is the way my MIL makes. In this recipes there is no cooking, except tadka/seasoning part, it's very easy recipe just squeeze the mango along with jaggery and mix coconut mixture and give a tadka/seasoning…that's it. My mom's method calls for cooking the mangoes along with spices and coconut mixture. I love both method. I hope you try both methods and  like them too. I can tell you even if it's simple to make its taste absolutely delicious, and my lil one  who doesn't like mangoes loved this curry.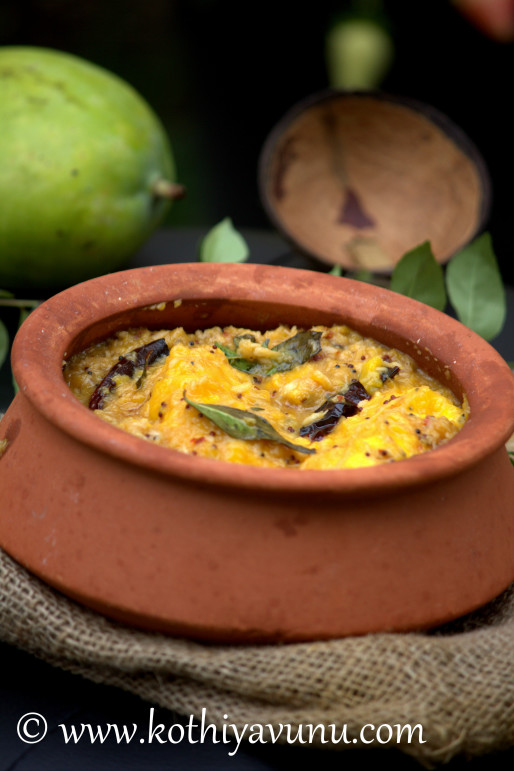 How to make Pazha Manga Perukku -Manga Pachadi – Ripe Mango Curry Recipe :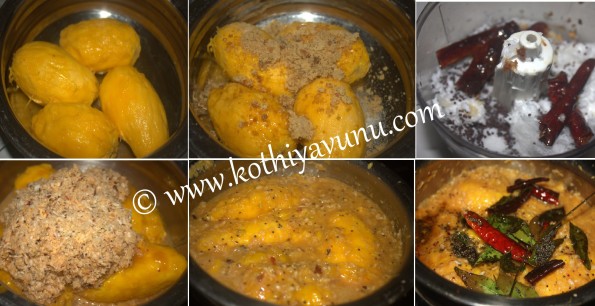 Other Pachadi's You Might Also Like :
Pazha Manga Perukku-Manga Pachadi-Ripe Mango Curry
Pazha Manga Perukku - Manga Pachadi is a sweet and sour gravy.If you haven't tried this yet, come and learn how to make ripe mango curry following this easy recipe.
Ingredients :
Ripe mango/Pazha Manga : 4
Jaggery : 3 tsp or 1 cube or up to ur taste
Grated coconut : ¼ cup
Dry red chilli : 2-3
Mustard seeds : ¼ tsp
Salt to taste

To Temper
Coconut Oil : 1 tbsp
Dry red chill : 2-3
Mustard seeds : ½ tsp
Curry leaves : 1 sprig
How to Make :
Peel and squeeze ripe mangoes well along with jaggery and salt to taste. Keep it aside.
Roast dry red chilli in coconut oil and grind grated coconut along with roasted red chilli and mustard seeds to a semi coarse paste.
Add ground coarse paste to the squeezed mangoes-jaggery mixture and mix well.
Heat coconut oil; add mustard seeds,dry red chilli and curry leaves.
Pour the seasoning over the mango curry and mix well.Keep covered till served. Let the flavor set.
Serve with steamed rice and enjoy!
Try this Pazhamanga Perukku -Ripe Mango Curry and let me know how it turned out buddies
Happy Vishu & Happy Cooking!
Sangeetha
Like this Recipe? Sign up, and get more recipes delivered directly to your inbox.