Chammanthi /Chutney is a spicy side dish and condiment served with
idli
,
dosa
and even with rice and rice gruel. There are several types of chammanthi recipes in Kerala which are delicious and easy to prepare. Usually it is prepared in 'Ammikkallu /Arakallu' – a variety of Mortar-Pestle, without adding any water. You can also prepare it either in a small jar of an mixer.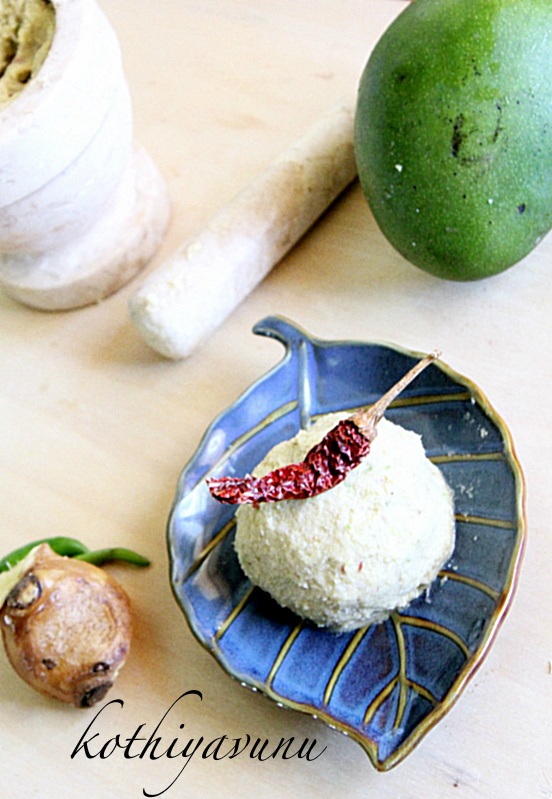 Here's the one of my family all time favorite recipe for Raw Mango Chutney/Manga Chammanthi that's usually served along with rice gruel in our place. If you haven't tried this one yet, Do give a try.. it tastes divine!
Pacha Manga Chammandi Recipe | Raw Mango Chutney Recipe | Nadan Manga Chammanthi
Preparation time : 3-5 mins

Cooking time : No Cooking

Serves : 4

Ingredients:
Raw Mango /Pacha Manga : 1/2 (medium sized) (Add more or less mango slices, according to your sourness level)
Grated Coconut : 1 cup
Shallots /Small Red Onion : 1
Ginger : 1/2 inch piece
Red chillies or Green Chillies : 3 nos
Salt to taste

How to make Pacha Manga Chammanthi | Nadan Manga Chammanthi :


1. Cut the mangoes into small pieces.(Note : If you want you can peel off the skin, but usually it is prepared with the peel on)
2. Coarsely grind everything together in the small jar of a mixie or on the 'ammikkallu /arakallu' without adding any water. (Note : The moisture for grinding will come from the raw mangoes. This is thick chutney and hence grind without adding water.)
3. If you are grinding using an 'ammikkallu /arakallu' grind the coconut and mango first followed by shallots /small red onion, dry red chillies or green chillies and salt. Finally grind everything and mix together.
4.Serve with rice or rice gruel and Enjoy!
Happy Cooking!
Sangeetha